RETURN TO SEARCH RESULTS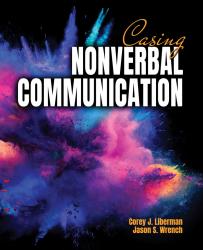 Details: Print Product |
New Publication Now Available!
Communication is not always something that human beings have control over. We communicate messages all the time, even though much of our communication is beyond our own awareness. And while the media through which humans communicate has transformed over the years, one thing has not changed: the mass inculcation of nonverbal communication.
Casing Nonverbal Communication provides 25 case studies that explore why communication is prone to failure, as well as how nonverbal communication can become more effective and more predictive of positively valenced outcomes. Now, as we are well into the third decade of the 21st century, nonverbal communication scholarship continues to thrive. Given our collective use of mediated technologies and our increased reliance on such media for interpersonal, group, and organizational endeavors, understanding how to best communicate, nonverbally, seems as (if not more) important as ever. Communication is a human need. Something that we require for social survival. The more we know about this process, the more equipped we will be at dealing with, and succeeding in, our communicative endeavors.
Acknowledgments
Introduction
About the Editors
About the Authors
Chapter 1— Temporal Characteristics of Speech: The Case of the Hesitant Stripper
Chapter 2— Nonverbal Communication in Couple Conflict: An Application of the Four Horsemen of the Apocalypse
Chapter 3— Nonverbal Communication in a Clinical Context: The Case of Psychotherapy
Chapter 4— Voice and Gestures in Nonverbal Communication: Evidence From Psychophysiological Studies
Chapter 5— Sync or Sink? Nonverbal Synchrony in Interviews at a Career Fair
Chapter 6— The Power of the Setting in Nonverbal Communication
Chapter 7— First Impressions on First Dates: A Case Study Exploring Nonverbal Cues and Dating
Chapter 8— The Ambiguity of Emotional Exchange Through Haptical Messages: The [Mis]Communication of Nonverbal Touch Following Bradley's Receipt of Bad News
Chapter 9— Do Faces Lie? Ted Bundy and the Smiles of Strangers
Chapter 10— Examining the Impact of Nonverbal Immediacy and Nonverbal Teacher and Student Misbehaviors on the Academic Experience
Chapter 11— Nonverbal Communication in Provider–Patient Interaction: A Case Study of a Mental Health Patient During COVID-19
Chapter 12— Doctors We Like and Doctors We Don't: How Nonverbal Immediacy Impacts Patient Satisfaction
Chapter 13—Behavioral Deception Detection: A Criminal Case Study
Chapter 14— Lying to Ourselves: A Case Study in Nonverbal Cues and Deception Detection Expertise
Chapter 15—Personal Artifacts and Nonverbal Identification: A Case Study
Chapter 16—Don't Stand So Close to Me: Unexpected Proxemic Violations
Chapter 17— Proxemics & COVID-19: Interpersonal Communication and Spatial Preference
Chapter 18— Everything but the Kitchen Sync: A Review and Case Study of Interactional Synchrony on the Job Interview
Chapter 19— Casing Presidential Debates: Nonverbal Communication in the Town Halls of 1992, 2000, and 2016
Chapter 20— From Yelling to Whispering: The Curious Case of Perceptions of Nonverbal Messages in Text-Only Environments
Chapter 21— Nonverbal Communication in Human–Machine Communication: Wait, Robots Can Have Faces?
Chapter 22— Zooming in on Privacy: Nonverbal Communication During a Pandemic
Chapter 23— Casing Nonverbal Communication Codes on the Screen: A Leadership Story
Chapter 24— Nonverbal Appropriateness and Gender Performance in American Football
Chapter 25— Communicating in a Land Not Your Own: Teaching Nonverbal Communication in Study Abroad
Print
$50.00
ISBN 9781792474552
Details Print Product