RETURN TO SEARCH RESULTS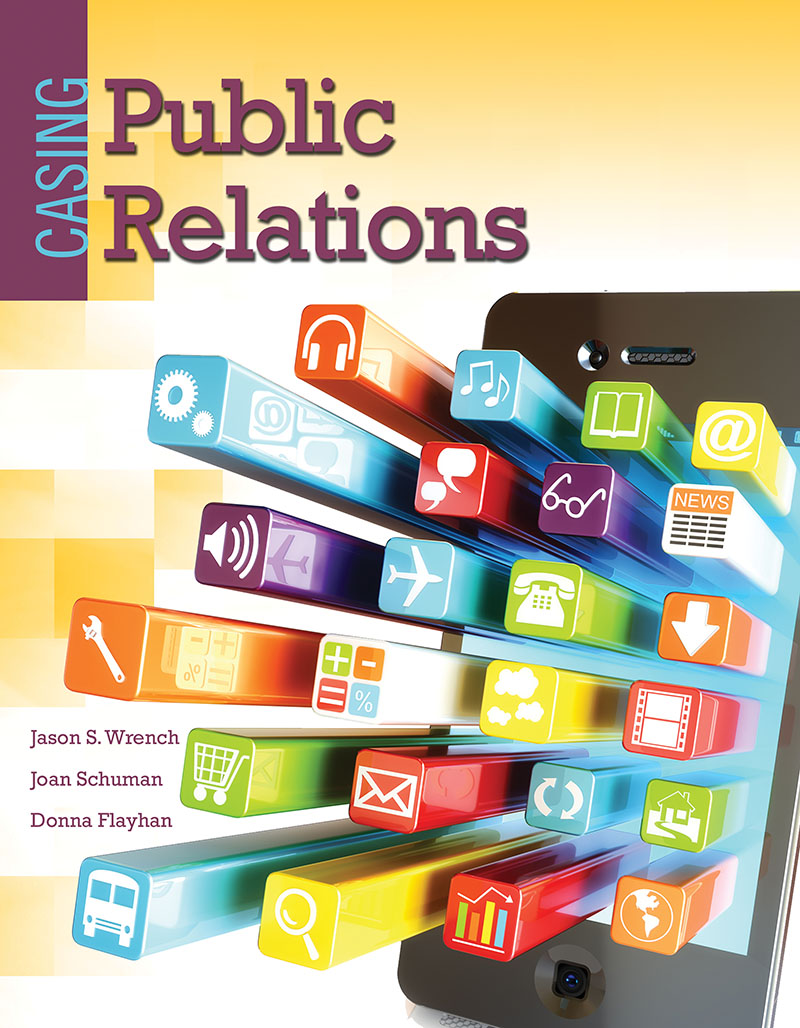 Details: Electronic Delivery EBOOK | 180 days |
Provide your students with a reasoning process that leads to good decision making in the fast paced world of public relations….
Students engaged in case analysis learn to think, analyze, react and evaluate so that they develop transferable critical, analytical, problem focused skills that can be used in all workplace settings and life in general. The process enables students to apply theories and concepts that they are learning in an immediately applicable fashion. This maximizes retention.
Casing Public Relations features more than thirty intriguing fictional case study scenarios that all levels of decision makers in our media and social media saturated world may face.
Casing Public Relations:
Is an invaluable supplementary book for in-person or online undergraduate/entry level graduate public relations and communication courses.
Uses the "safe distance case method of study" to analyze scenarios. This approach to teaching and learning is most notably used in the legendary Harvard Law School.
Brings issues to life by featuring case studies written by a diverse collection of public relations scholars and practitioners.
Does not limit the reader with potential solutions and best solutions to a problem. This enables a class to apply the concepts of a PR course to the case itself and come up with a decision on their own.
1 Why Cases?
2 Analyzing Case Studies

I. PR Ethics
3 Photo Op: Natural Disasters and Public Relations
- Thomas Wagner, Tyler Raible, Sarah Jolly, Maria Butauski
4 One, Two, Three Strikes You're Out
- Alisa Agozzino
5 Who's Press Release is it Anyway?
- Thomas Wagner, Maria Butauski, Tyler Raible, and Sarah Jolly
6 Search for a Winning Solution
- Pauline A. Howes
7 The Mysterious Case of Cosmo Sludge
- Jason S. Wrench and Francesca Rogo

II. Social Responsibility

8 Being Clear at the Clear River Nuclear Power Plant: Risk Communication Goes Critical
- William J. Kinsella
9 Health Care Disparities at Hope Hospital: Impotent Government Relations and Injured Communities
- Anastacia Kurylo
10 A Watered Down Case of Social Responsibility
- Allison Clearly and Juliann C. Scholl
11 Bad Taste? Responding to Organizational Crises and Rebuilding Reputations
- Lisa K. Hanasono
12 Playing Chicken
- Diana L. Tucker

III. PR and the Media

13 The Broadway Musical Mishap: A Story of Corruption and Lies
- Kathleen S. Tillman and Jason S. Wrench
14 Post on Facebook, Lose Your Business
- Felipe Gómez
15 Monkey Business
- Roy Schwartzman and Patricia Fairfield-Artman
16 TriQuinn's Tangled Web: What Do You Do if the Law And Ethics Disagree, And aSecret is The Only Thing Separating Corporate Image Repair From Ruin?
- Elizabeth Barfoot Christian, Hazel James Cole, and Jerry L. Allen
17 Universally Safe Communication
- Julian Jeter-Davis, Shannon M. Brogan, Erin E. Gilles, and Dotty Heady
18 FreshFood: A Case Study of the Organizational Image Repair Process
- Corey Jay Liberman

IV. Working with Stakeholders

19 Spinning Green Along the Rio Grande: Can Corporate Social Responsibility Really Pay Off?
- Kyle F. Reinson & Brett S. Vergara
20 In PR All Relationships Matter: A Lesson in Governmental and Media Relations
- Katherine R. Fleck
21 Fighting the Good Fight
- Leah M. Omilion-Hodges
22 A Case of Discrimination: Fostering an Inclusive Work Environment
- Dotty Heady, Erin E. Gilles, and Shannon M. Brogan
23 Spotlight on a Solar Energy Company: Investor Relations Crisis
- Joan Schuman

V. Reputation and Brand Management

24 #CHR. Disappearing Woman? Navigating Crisis Communication Internationally
- Arhlene A. Flowers and Cory L. Young
25 Who's Calling the Shots? Balancing Donor Relations and Nonprofit Branding
- Lacy G. McNamee
26 A Name to Success
- "Iris" Shuang Xia & Narissra Maria Punyanunt-Carter
27 A Matter of Reputation
- Amber Alsop
28 Can Superman Win this One?
- Julio A. Rodriguez-Rentas and Paul Ziek

VI. Risk and Crisis Communication

29 "Not in My Backyard!"
- Jason S. Wrench and Austin Schatz
30 Warehouse Under Water: Promised Delivery is Compromised
- Kristin Roeschenthaler Wolfe
31 A Wild Ride
- Erin C. Bryan
32 The Vicious Valentine
- Carl Glover and Alfred G. Mueller, II
33 Canaries in a Coal Mine: Crisis Communication and the Coal Industry
- LaKesha N. Anderson & Mary L. Kahl

Author Biographies

Appendix A – Case Analysis Worksheet
Ebook
$49.78
ISBN 9781465239716
Details Electronic Delivery EBOOK 180 days