RETURN TO SEARCH RESULTS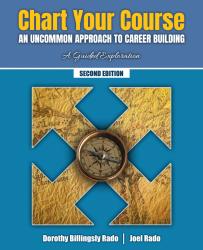 Chart Your Course: An Uncommon Approach to Career Building. A Guided Exploration
Author(s): Dorothy Billingsly, Joel Rado
Edition: 2
Copyright: 2022
Pages: 380




Details: Print Product |
So, where are you going? What if we told you there was a miraculous formula, a step-by-step building block process that by initiating and doing the work, you can manifest your career dreams, aims and be presented with unimaginable possibilities? That is what CYC is all about. It provides you the road map, how-to steps, guidance, and challenges you to aim high, along with the greatest gift of all — the ability to embrace and enjoy the journey every step of the way.
Welcome to Chart Your Course, one of the greatest gifts you can give your life and career! While this partnership requires you to do the work, CYC serves as your copilot that helps guide you, no matter where you are on your career journey. You are among thousands of CYC Travelers who dove into CYC and are soaring to heights they never imagined possible. They diligently applied the CYC steps, made discoveries, and received opportunities that have quickly changed the trajectory of their careers. Many of their testimonial success stories are integrated throughout this book and filled with practical application, inspiration, realism, and an ongoing enthusiasm for this lifelong learning career-building journey.
As many employers, educators, and business professionals can attest, having the required skill set and experience is only the start of distinguishing yourself and pursuing your career and life's ambitions. Why leave it to chance when a series of dedicated steps can lead you on a fulfilling path to differentiate yourself and reach never-envisioned milestones along your journey. You experience the empowering ability to take charge of your career, be the best you can be, and watch unexpected gifts arise from your efforts — sometimes appearing out of nowhere. These mysterious and wondrous ways are the manifestations and results of doing this work.
Foreword
Acknowledgments
CHAPTER 1 Getting on Board
CHAPTER 2 Simply Stated
CHAPTER 3 The Birth of Chart Your Course
CHAPTER 4 The Power of Words
CHAPTER 5 Dream Weaving
CHAPTER 6 Bedrock
CHAPTER 7 The Fundamental 4 — Food
CHAPTER 8 The Fundamental 4 — Mood
CHAPTER 9 The Fundamental 4 — Service
CHAPTER 10 The Fundamental 4 — Consistency
CHAPTER 11 Unique You — Resume Writing
CHAPTER 12 Unique You — Communication
CHAPTER 13 Unique You — Interviewing
CHAPTER 14 Networking Gems
CHAPTER 15 The Journey
CHAPTER 16 Finding the Treasure
CHAPTER 17 Mindfulness Matters
CHAPTER 18 Pack Your Bags
An Eclectic Booklist
I admit I was skeptical of CYC's simplicity. I thought to myself, 'How could the key to success be this easy?' An old proverb says, 'Knowledge is just a rumor until it lives in the body.' I encourage you to read and use the knowledge, allowing it to live in you. It will change your life!
Greg Yarmesch, Division President, LBM Holdings, LLC
I urge you to enjoy this work. It is truly a gift to pause and contemplate your own past, present, and future. Whether your current resume feels like a garage sale of skills, like mine did, or you're completely polished and rounding the corner into that c-suite position - you will find your aims to be greater and more robust by pursuing your CYC journey. I promise.
Jen Stephens, Creative Entrepreneur
Chart Your Course has been the most valuable resource to navigate the professional arena. By addressing every facet of achieving my professional aims, easing my anxiety in conquering the initial interview, professional etiquette, and maximizing the benefits of a strong network has been so relieving. What has been most impressive is how CYC addresses the most contemporary and unorthodox strategies employers and job-seeker use thoroughly, giving me confidence in any professional scenario. CYC's unique format allowed me to learn more about myself bringing understanding to the mantra, "Embrace the Journey." I regard Chart Your Course as scripture for success in every professional market.
Tip Ford, COO, RWJB Barnabas Health, New Jersey
Print
$75.00
ISBN 9781792493485
Details Print Product