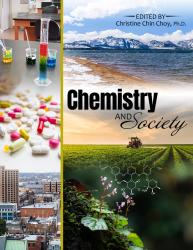 Chemistry & Society
Edition: 1
Copyright: 2022
Pages: 413
Chapter 1. The Amazing Table
Chapter 2. Bonding: Atomic Glue
Chapter 3. Ionic Compounds: Opposites Do Attract
Chapter 4. When Atoms Share Electrons
Chapter 5. Chemical Reactions: Atoms Find New Partners
Chapter 6. Energy Makes Things Happen
Chapter 7. Nuclear Chemistry: Nature's Power Pack
Chapter 8. Gases, Liquids, Solids: Going Through Phases
Chapter 9. Solutions: Mixing It Up!
Chapter 10. Acid/Base Chemistry: Proton Power
Chapter 11. Organic Molecules
Chapter 12. Essential Molecules of Life
Chapter 13. Soils, Plant Nutrition and Transport in Plants
Chapter 14. Plants as Food, Commercial Products, and Pharmaceuticals
Chapter 1. The Amazing Table
Chapter 2. Bonding: Atomic Glue
Chapter 3. Ionic Compounds: Opposites Do Attract
Chapter 4. When Atoms Share Electrons
Chapter 5. Chemical Reactions: Atoms Find New Partners
Chapter 6. Energy Makes Things Happen
Chapter 7. Nuclear Chemistry: Nature's Power Pack
Chapter 8. Gases, Liquids, Solids: Going Through Phases
Chapter 9. Solutions: Mixing It Up!
Chapter 10. Acid/Base Chemistry: Proton Power
Chapter 11. Organic Molecules
Chapter 12. Essential Molecules of Life
Chapter 13. Soils, Plant Nutrition and Transport in Plants
Chapter 14. Plants as Food, Commercial Products, and Pharmaceuticals