RETURN TO SEARCH RESULTS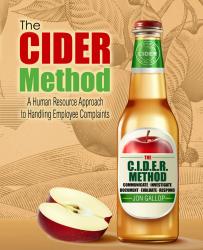 The C.I.D.E.R. Method: A Human Resource Approach to Handling Employee Complaints
Author(s): Jonathan D. Gallop
Edition: 1
Copyright: 2019
Pages: 142




Details: Print Product |
Sexual harassment and discrimination complaints can result in toxic work environments and huge plaintiff verdicts. This book teaches a novel, systematic method for addressing all employee complaints in a style that utilizes humor and case studies to help business students and human resource personnel comprehend the law, recognize issues and respond appropriately.
The method employs the acronym CIDER--Communicate, Investigate, Document, Evaluate and Respond--as the cornerstone for properly handling employee complaints. This innovative approach takes a potentially complicated matter and makes it easy to integrate into a company's policies, outlining the necessary elements for every investigation.
Scenarios of employee complaints are analyzed in-depth using the CIDER method to demonstrate the proper method for handling disputes. A practice section of additional worker grievances enables the reader to hone their new skills.
Section I What Is CIDER
Chapter 1 CIDER: Refined and Defined
Chapter 2 Communicate
Chapter 3 Investigate
Chapter 4 Document
Chapter 5 Evaluate
Chapter 6 Respond
Chapter 7 Follow-Up
Section II Employment Law, At-Will, and the Protected Categories
Chapter 8 The Relationship Between Employment Law and CIDER
Chapter 9 Sexual Harassment and Gender Discrimination
Chapter 10 National Origin Discrimination
Chapter 11 Religion
Chapter 12 Race and Color
Chapter 13 Age
Chapter 14 Disability
Chapter 15 Sexual Orientation
Chapter 16 Hiring Issues
Section III Putting the CIDER Method into Practice
Chapter 17 The Fun Begins: Using the CIDER Method to Handle Employee Complaints
Chapter 18 I Want to Save His Soul
Chapter 19 They Won't Ask Me to Join Them for Lunch
Chapter 20 Too Many Days Off
Chapter 21 Five More Employment Complaint Scenarios for Analysis
Chapter 22 The Fun Never Stops: Five Additional Scenarios to Hone the CIDER Skills
Chapter 23 CIDER in Action
Print
$35.28
ISBN 9781792452697
Details Print Product