RETURN TO SEARCH RESULTS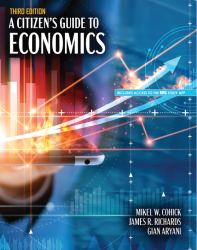 Details: Print Prod w/KHQ | 180 days |
A Citizen's Guide to Economics helps readers understand the economics that affects them as they go about their daily lives – training and learning, working and earning, providing for their family, planning for the future, starting up and running a business, and being good citizens.
Written in an easy-to-read, jargon-free language, A Citizen's Guide to Economics helps readers to understand and decipher what the news media and politicians are saying about the economy, more informed about what is happening in the world, and ultimately empowering them to thrive in their economic world.
A Citizen's Guide to Economics by Mikel W. Cohick and James R. Richards:
Demonstrates how free trade, unfettered by intrusive government prohibitions and restrictions, is the clearest way to maximizing a society's standard of living.
Analyzes the US economy by concentrating on inflation and unemployment rates – the two most significant macroeconomic variables.
Explains the impact of the Federal Reserve, Congress, and the President's actions and interventions on the economy.
Is Easy to Adopt! Homework answers, a test bank, and PowerPoint lectures are provided to all adopting instructors.
In this 3rd edition, the authors have added business decision making in oligopoly, expanded their discussion of the tools of the Federal Reserve, included the economic results of the 2017 to 2018 tax and regulatory cuts and of the government responses to the COVID-19 pandemic, and showed how the results of these responses triggered increase in inflation.
Preface
Chapter 1 The Basic Ideas of Economics
Chapter 2 How the Market System Works
Chapter 3 The Economics of Consumers
Chapter 4 The Economics of Business Firms: Costs, Profit, and Decision-Making
Chapter 5 The Economics of Business Firms: Business Organization and Market Structure
Chapter 6 The Economics of Government
Chapter 7 International Economics
Chapter 8 The Economics of Resource Markets
Chapter 9 Macroeconomic Measurements: Gross Domestic Product and Economic Growth
Chapter 10 Macroeconomic Measurements: Inflation and Unemployment
Chapter 11 Money and the Federal Reserve
Chapter 12 The Dynamics of the Macro Economy
Chapter 13 The Macro Model
Chapter 14 Macroeconomic Policies
Chapter 15 Economic Growth and Productivity
Chapter 16 Personal Financial Literacy
I was wowed by the clarity of its explanations of various aspects of economic activity. It is an extremely accessible and concise discussion of what drives the economy. It's a great book if you're looking for an engaging, easy to read, basic text.
Brad Elledge, Educator
Print Package
$60.90
ISBN 9798765700969
Details Print Prod w/KHQ 180 days