RETURN TO SEARCH RESULTS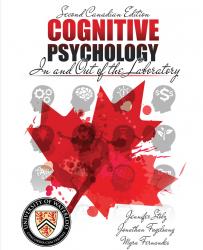 Details: Print Product |
This text includes all of the key features and basic findings from the field of cognitive psychology. Chapters are relatively short, in the hope instructors will supplement the text with other readings. This book is intended for a one-semester or one-term course for students who have already completed an introductory psychology course.
Cognitive Psychology: In and Out of the Laboratory is organized into four parts:
Part one locates the field historically, theoretically, and methodologically.
Part two reviews core aspects of cognition: perception, attention, and memory. ­The emphasis in these chapters is to review both the "classic" studies that define the field and the newer approaches that challenge long-standing assumptions.
Part three focuses on knowledge representation and organization.
Part four covers topics such as reasoning and decision making, as well as individual differences, effects of normal aging on cognition, and the ever-popular topic of gender differences. ­These chapters highlight how basic cognitive functions can be—and are—influenced by several factors.
New to the Canadian Edition
"Canadian Research Highlight" boxes allow the interested student to follow up on topics and researchers they find particularly interesting and might think of contacting for graduate school studies.
"In the Real World" boxes highlight cognitive phenomena, or interesting side stories relating to the topic being discussed.
­The Canadian edition includes changes to a number of chapters compared to the US edition.
Fewer chapters to make the book easier to use in a one-semester course.
When students finish this book, they will see why cognitive psychologists are so passionate about their topic and their research, and how this work broadens our understanding of how our cognition operates in the real world.
Preface
Acknowledgments
PART I
Overview
1 Cognitive Psychology: History, Methods, and Paradigms
2 ­ e Brain: An Overview of Structure and Function
PART II
Basic Cognitive Processes
3 Perceiving Objects and Recognizing Patterns
4 Paying Attention
5 Memory Structures
6 Memory Processes
PART III
Representation and Organization of Knowledge
7 Concepts and Categorization
8 Visual Imagery and Spatial Cognition
9 Language
PART IV
Using and Manipulating Information
10 ­Thinking, Problem Solving, and Reasoning
11 Making Decisions
12 Individual, Aging, and Gender Differences in Cognition
Glossary
References
Print
$77.18
ISBN 9781524977979
Details Print Product