RETURN TO SEARCH RESULTS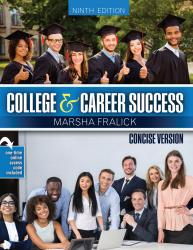 Details: Print Product with TruTalent and KHQ | 180 days |
9th Edition Now Available!
College and Career Success Concise 9th Edition is designed for one-two unit courses or for developmental students who need more time to read the material. It will help students have a successful journey through college and into their career with career planning and academic skills that will help them to successfully complete their education.
College & Career Success:
incorporates the latest research on motivation, positive psychology, mindset, and grit to improve the persistence rate of college students.
helps students choose a major by assessing their personality types, multiple intelligences, emotional intelligence, interests, and values.
includes an online portfolio with career assessment results and links to the O*Net database for career research.
translates the latest research in psychology, education, and neuroscience into practical learning strategies for students.
emphasizes the need for math success and provides practical strategies for studying math.
helps students think positively about the future, clarify what happiness means to them, and work toward attaining happiness in life.
has an interactive online edition, College & Career Success Online, Concise Edition.
College & Career Success Concise will enhance student learning through:
interactive activities that engage students in learning.
frequent quizzes and answer keys.
journal entries.
individual and group activities.
the accompanying College Success 1 website located at www.collegesuccess1.com contains faculty and student resources including interactive classroom exercises, handouts, video suggestions, PowerPoint, test bank, Word documents for the journal entries, Internet links to supplemental content, and much more.
Chapter 1 Understanding Motivation
Chapter 2 Choosing Your Major
Chapter 3 Managing Time and Money
Chapter 4 Using Brain Science to Improve Memory
Chapter 5 Using Brain Science to Improve Study Skills
Chapter 6 Taking Notes, Writing, and Speaking
Chapter 7 Test Taking
Chapter 8 Thinking Positively about the Future
Print Package
$55.13
ISBN 9781792464959
Details Print Product with TruTalent and KHQ 180 days