RETURN TO SEARCH RESULTS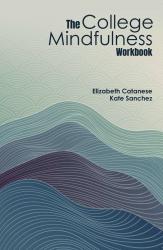 Details: Print Product |
At no time in the last 75 years have college students faced greater challenges as they struggle to prepare themselves for the future — pandemic-induced social isolation, drastically limited economic prospects with the likelihood of long-term scarring effects, and a dangerously divided nation rife with systemic racism.
Given these unprecedented challenges, The College Mindfulness Workbook arrives at a particularly important time. The College Mindfulness Workbook invites students to explore an exciting and engaging set of activities designed to introduce the principles of mindfulness – the ability to be fully present in the current moment without judgment — and incorporate these mindfulness principles into their academic and personal lives.
Each chapter includes exercises, prompts, and readings that help students develop skills like time management, collaboration and personal reflection through a mindfulness lens. Each exercise has been tested and honed over time by the authors in their own college classrooms, where they have witnessed the power of these techniques to increase students' success, mental health, and overall well-being. These exercises have been used in many courses, including English, First-Year Experience, and Nursing, but could fit seamlessly into any curriculum and yield profound results.
This workbook provides skills that will enable students not only to thrive in college, but also to prepare themselves to become active and productive citizens who are ready to meet whatever challenges lie ahead.
Introduction: Mindfulness & You
Testimonials
1 Beginning
1. Introduction & Self Assessment
2. Live with Intention
3. Engage Your Senses
4. Classroom Centering Poses
5. Color This Page: Anything is Possible
6. Mindfulness Reading: "Prairie Spring" by Willa Cather
7. Quotation to Contemplate
2 Creating Space and Time
1. Introduction & Self Assessment
2. Study Space
3. How I Spend My Time
4. Move
5. Mindful Moment
6. Mindfulness Reading: From The Sound of a Wild Snail Eating Elizabeth Tova Bailey
7. Meditation for a Calmer Atmosphere
3 Constructing Relationships
1. Introduction & Self Assessment
2. Your Professor's Goals for You
3. Mindfulness at Work
4. Teamwork Centering Pose
5. Tessellation
6. Mindfulness Reading: From Fun Home by Alison Bechdel
7. Meditation for Community
4 Cultivating Gratitude
1. Introduction & Self Assessment
2. Drink Gratitude
3. Grateful for Learning
4. Express Your Gratitude
5. Color This Page: Tree of Gratitude
6. Mindfulness Reading: From The Alchemist by Paulo Coelho
7. Quotation to Contemplate
5 Communicating
1. Introduction & Self Assessment
2. Be Mindful of Others
3. Email Mindfully
4. Smile
5. Interpret Teacher Feedback
6. Mindfulness Reading: "Kriah" by Darla Himeles
7. Quotation to Contemplate
6 Paying Attention
1. Introduction & Self Assessment
2. Mindful Paragraph/ Problem Solving
3. Emotion Search
4. Color Your Feelings
5. Draw
6. Mindfulness Reading: From The Odyssey by Homer
7. Class Meditation for Focus
7 Exploring Your Personality
1. Introduction & Self Assessment
2. Who are you?
3. Help Your Chickens to Hatch
4. Human Nature Walk
5. Color Your Personality
6. Mindfulness Reading: From Sherlock Holmes, A Case of Identity by Arthur Conan Doyle
7. Quotation to Contemplate
8 Embracing Diversity
1. Introduction & Self Assessment
2. Make a List
3. Create an Identity Portrait
4. Innovate
5. Where will you go?
6. Quotation to Contemplate
7. Meditation for Acceptance
9 Building Emotional Intelligence
1. Introduction & Self Assessment
2. Emotional Wellbeing Shopping List
3. Thought and Feeling Check-in
4. Facial Expression Challenge
5. The Weather in My Brain
6. Mindfulness Reading: From Walden by Henry David Thoreau
7. Quotation to Contemplate
10 Persisting
1. Introduction & Self Assessment
2. My Support System
3. Make a List
4. Mountain Pose
5. Containment Box
6. Mindfulness Reading: From "What Suffering Does" by David Brooks
7. Quotation to Contemplate
11 Being Well
1. Introduction & Self Assessment
2. Body/Mind Harmony\
3. Brain Dump
4. Theme song to your life
5. Fill in the Mandala
6. Mindfulness Reading: "Wild Geese" by Mary Oliver|
7. Quotation to Contemplate
12 Cultivating a Healthy Mindset
1. Introduction & Self Assessment
2. Drift Away
3. Create an Affirmation
4. Change the Message
5. Mindset
6. Mindfulness Reading: From "Ah, But the Breezes" by Noelle Oxenhandler
7. Quotation to Contemplate
13 Using Technology Mindfully
1. Introduction & Self Assessment\
2. Screen Time-out
3. Make a List
4. Well-being App
5. Positive Meme
6. Mindfulness Reading: Haiku by Barry George
7. Meditation Before Using Social Media
14 Looking Ahead
1. Introduction & Self Assessment
2. Path to Possibilities
3. Teach
4. Network
5. Diploma Mandala
6. Color This Page: Dreams
7. Quotation to Contemplate
15 Reflecting
1. Introduction & Self Assessment
2. Note to Self
3. Make a List
4. Mirror, Mirror
5. Transformation
6. Mindfulness Reading: From "Why You Should Make Time for Reflecting (Even if You Hate Doing It)" by Jennifer Porter
7. Quotation to Contemplate
Just after hearing about The College Mindfulness Workbook, I encountered a challenging time in my life. During this time I had moments of riding with the waves and moments of crashing and thrashing in the waves. One morning I sat down and explored the workbook. I spent time with different activities and did one of the reading reflections. I found a space of ease with all that is happening around me and within me – at least for a moment. As a faculty in the Social Work Department, I incorporate mindfulness practices into my courses on a regular basis. I'm looking forward to incorporating The College Mindfulness Workbook. The variety of activities and different ways to engage the senses are a wonderful way to explore mindfulness. I'm excited to share this resource with students.
Sue Rickers, MSW, PhD | Associate Professor
Bemidji State University
Most of the time, I do not stop to make time for myself. I am a working mom, going to college, failing at cleaning and cooking, and sometimes so stressed I can't think straight. When I was given the task for class to stop and take a look inside my own head I was wary. Was it going to be worth the effort? As it turns out, I really needed to take this look at what my mind was thinking when I wasn't listening. I honestly opened up The College Mindfulness Workbook thinking that it was going to be some random pictures to color and some meditation things to say to myself. I was convinced that I should not waste too much time and just get it over with. I was surprised that very quickly I was becoming very interested as to what my own answers to some of these challenges would be. I was curious about what was in my own head. Shouldn't I already know what my answers would be? Shouldn't I know what stresses me out or what's the most important thing to me right now? Shockingly enough, I didn't know. I think another lesson was that it's okay to just enjoy doing something fun, like coloring the sun. I am very glad that I decided to take this trip. Thank you very much to the wonderful authors who took their time to do this for their students. This book could benefit so many lives if people would just take the time out to stop and open it.
Stephanie Murray
Without these mindfulness exercises, I would probably be struggling to get my mind back on track. Our normal is on hiatus due to COVID-19; catastrophe's happening with violence and protests and other issues that have made this year difficult to bargain with! I especially enjoyed the coloring pages in this workbook. Reflecting while doing the coloring pages, I realized that coloring reminded me of good old times when I enjoyed art. Every day, I would color one page a day to calm myself down from all the schoolwork and other important duties that needed to be taken care of. To be able to have the ability to do so without being criticized was important. I understand criticism is valuable to learn and improve skills that can come in handy in the future, but sometimes I feel like it takes the pressure of not to be criticized! While doing these coloring pages, I felt happy doing them! I reminded myself that I'm adequate and can accomplish my goal path. I was today years old when I found that colors can represent feelings such as happiness and anger. For me, I didn't color based on my feelings, I colored because again that's what I loved to do!
Bryant Lane
The activity from The College Mindfulness Workbook that encouraged me to snap back into reality is living with intention. Living with purpose is essential because it enables us to create and achieve one goal rather than creating a list of goals that can crowd our minds. These past few days, my goal has been to stay focused. I chose this goal because I get distracted easily, and I overthink, and I wanted to give my mind a break and focus on staying on top of my studies. By telling myself to "stay focused," I noticed that my thoughts were slowing down, and it gave me the control to stay productive with tasks that were important to me. For instance, when I wake up, I have a habit of checking my phone and scrolling through Instagram, and I know that doing that does not benefit me. Yet by mentally telling myself to stay focused, I managed to put my phone down and stay productive with my studies. Practicing mindfulness can help people develop better relationships with themselves and improve life satisfaction. And this activity book is an excellent foundation to provide people with insight into restructuring their minds because it has helped me gain awareness of my thoughts and emotions. Though I am still trying to figure out how to process these thoughts, I enjoyed connecting with myself. And I find it interesting how we can reprogram our minds to view life from a different perspective by practicing mindfulness techniques.
Phelire Banda
After completing the gratitude assignment in The College Mindfulness Workbook, I learned I am most grateful for my life, health, and strength, my children, my husband, and my job. This year has been very stressful and unpredictable. So many lives were lost and depression is at its highest. Sometimes things get overwhelming and I see no way out, but these mindfulness assignments allow me to ponder the way things are, and they give me solutions for how I'm going to move on from here. What I am learning from these exercises is how to control stress. In my opinion, it is so important to take control of your thoughts and to keep your mind clear of negativity.I'm also learning to think of the positive things in my life and not to focus on what's going on around me that's out of my control. Being mindful matters so much to my wellbeing, and being optimistic in negative situations will help change my perspective on life as I continue school.
Latifa Barnes
Print
$31.49
ISBN 9781792461934
Details Print Product