RETURN TO SEARCH RESULTS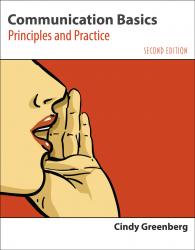 Communication Basics: Principles and Practice
Author(s): Cindy Greenberg
Edition: 2
Copyright: 2020
Pages: 190




Details: Print Prod w/Ancillary Site | 180 days |
Stories are used throughout the book as a focus, rather than a support, for principles of communication. For example, students will enjoy reading about the story of Super storm Sandy in NYC as they learn about the tenets and importance of critical listening for today's world.
Both students and professors alike will appreciate the wide range of pair work and individual practice exercises in each chapter. Exercises focus on chapter understanding as well as the student's development of speaking and listening skills. Clear directions make these exercises easy to use and perforated pages allow the instructor the option to collect and review the exercise work!
New second edition updates include:
• Old Chapter 2 (Nonverbal and Verbal Communication) is now two separate chapters written by Cindy Greenberg
• Chapter 4 Listening written by Cindy Greenberg replaces Old Chapter 3 Listening
• Chapter exercises are improved and streamlined
• Key Terms are now listed alphabetically at the beginning of each chapter
• Updated Research
• Index
• PowerPoints available via the student ancillary web site
Communication Basics- Principles and Practice works well as a main textbook or as a supplementary book for any basic communications course. A clear list of learning objectives and key terms is presented for each chapter as well as a concluding glossary.
Preface
Acknowledgements
to the Student and Instructor
Chapter 1 Communication
Chapter 2 Language – Verbal Communication
Chapter 3 Nonverbal Communication
Chapter 4 Listening
Chapter 5 Critical Listening
Glossary
Index
Print Package
$34.73
ISBN 9781792412875
Details Print Prod w/Ancillary Site 180 days