RETURN TO SEARCH RESULTS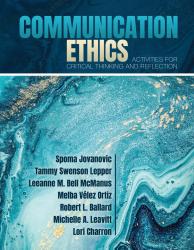 Details: Print Product |
Communication Ethics: Activities for Critical Thinking and Reflection helps readers make informed decisions about many of the ethical questions they will face throughout life. Instead of providing readers with the definitive answers, it provides guidance and empowers readers to make the best ethical decision.
Communication Ethics: Activities for Critical Thinking and Reflection:
presents communication ethics as less about rules—and even much less about clarity—than it is about discovery.
emphasizes the importance of asking questions, thinking about the possibilities, and reflecting on the consequences, rather than having answers handed to you.
integrates dozens of activities that revolve around four main areas of inquiry or questions, related to knowledge, skills, values, and action.
features questions to expand knowledge, focus on what you need to know to be ethical in the society you live in today, and how you can learn these things.
is interactive! The publication embeds activities to promote active learning.
Acknowledgments
About the Authors
Chapter 1 Introduction
Activity: Defining Communication Ethics
Welcome Activity
The Check In
Communication Ethics and Abilities
Chapter 2 Ethical Perspectives and Philosophical Thinking
What's in a Name?
Alligator River
The 42 Laws of Maat
How Well Do You Know Yourself?
Chapter 3 Interpersonal Communication Ethics
What is Dialogic Ethics?
Listening Otherwise
Life-Giving Gift of Acknowledgment
The Virtues of Identity
In-Class Activity for Reciprocity
The Ethical Inevitability of Conflict
Reading: The Question of Acknowledgment
Chapter 4 Organizational and Small Group Communication Ethics
Finding Your Fit
Hot Topics
Using Instructional Simulations to Identify Ethical Dilemmas and Apply Ethical Perspectives
What Choice Would You Make?
Racism and Stereotyping in the Workplace
Small Group Communication Ethics
Building the Character to Lead
Chapter 5 Communication in Public and Community Activism
Communication Ethics and Activism
Participating in Municipal Politics
News Talks
Voting, Elections, and Me
What Free Speech Boundaries, if any, Do We Want?
History Lessons
Reading: Communication, Dialogue, and Student Activism
Chapter 6 Social Media and Communication Ethics
Privacy
Dialogic Ethics Challenge
Coastal Succulents
What Do You Give Up to Keep Up with Your Friends?
Designing a Social Media Platform Based on Ethical Perspectives
No More Net Neutrality?
Chapter 7 Putting Ethics into Your Everyday Practice
Wrapping It Up
Crafting Your Ethical Voice
Your Ethical Credo
Your Ethical Journey
Print
$48.51
ISBN 9781792453588
Details Print Product