RETURN TO SEARCH RESULTS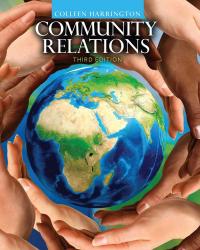 Details: Electronic Delivery EBOOK | 180 days |
The relationship between the community and the criminal justice system is an essential foundation for the protection of the community and the rights of each individual. This relationship has been challenging through history and remains so. The intricacies of the criminal justice system and community relationship are explored in this textbook. The significance of the historical treatment of marginalized groups is a foundation for understanding the challenges and tensions that remain. The perspectives of various community groups and criminal justice professionals are shared within the text.
Students begin the journey of exploring and understanding this essential relationship with a focus on the key learning outcomes. Important terms are identified throughout the text. Suggestions for individual and class activities are placed strategically throughout the material and supporting video links are provided. Review and critical thinking questions are provided at the end of each chapter and can be adapted for online discussions.
1 Exploring Difference and the Media Influence
2 The CJ System: Responsibilities and Expectations
3 Gender, Sexual Preference, and Identity: The Historical Treatment
4 The Chronicles of Immigrants
5 Race/Ethnicity and the Criminal Justice System
6 Juveniles and the CJ System
7 Mental Illness and the Criminal Justice System
8 Social Class: Does it Affect Justice?
9 Police and the Community: The Significance of this Relationship
10 Police and the Use of Force
11 The Collaborative Reform Model in Las Vegas
12 Courts and the Community: Behind the Cloak of Justice
13 Corrections and the Community: Is there a Relationship?
14 Reverse Discrimination and the Vilification of White Males
Ebook
$68.30
ISBN 9781792453724
Details Electronic Delivery EBOOK 180 days