RETURN TO SEARCH RESULTS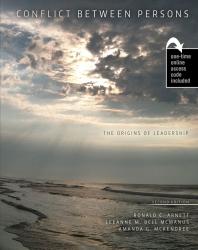 Details: Print Prod w/KHQ | 180 days |
We live in an age of ethical disputes, making conflict inevitable as we meet others with contrasting ethical positions and contrary communicative expectations. An ethical position held with conviction frequently generates conflict when one encounters another with a differing ethical standpoint embraced with equal assurance.
Conflict Between Persons: The Origins of Leadership conceptualizes communication and conflict as a pragmatically essential everyday education for future leadership.
Conflict Between Persons: The Origins of Leadership emphasizes creative and constructive reactions to conflict responsiveness with three basic coordinates: (1) learn before, during, and after a conflict, (2) understand what matters to you and others, and (3) acknowledge that conflict engagement involves alertness to, and understanding of, what matters in the interplay of self and others and the immediate and larger communicative environment. Leadership begins with the study and practice of communication ethics understood as background that carries a sense of a given good that we seek to protect and promote. The study of communication ethics does not shelter us from conflict; in fact, it invites conflict, providing clarity about what is important to us and to others. Leadership frames the larger significance of behavior by announcing what matters, turning isolated conduct and conflict into meaningful action situated within a story.
The authors conceptualize communication and conflict as an existential education for leadership that begins with a willingness to enter the fray of everyday disagreement propelled by a pragmatic objective: learning from others and difference. Communicative leadership in an era of routine contentiousness must engage and learn from diverse convictions and conceptions of what matters.
Conflict Between Persons: The Origins of Leadership:
Examines the complex issues of ethical diversity; ethical positions can now generate conflict.
Uses the insights of communication/leadership expert Gail T. Fairhurst, the book frames the reality of conflict as an ongoing pragmatic education for leadership.
Examines emotion, sentiment, conflict origins, difference, the interplay of relationships and perceptions, self talk and internal conflict, the power of opinion, multiplicity of conflict styles, the danger of anachronistic responses, and alternatives to destructive conflict.
Introduces the Odyssey in the final chapter as a case study to examine the interplay of conflict, ethics in dispute, and leadership in action.
Is student friendly! The publication incorporates key terms, glossary, index, and navigational aids such as boldface terms, headings, sub-heads, and informational sidebars to serve as helpful reference points.
Is instructor friendly! An instructor's manual includes chapter objectives, key terms, chapter outlines, learning activities, suggestions for supplemental movies and books, journal reflection questions, test questions (multiple choice, true/false, and essay), comprehensive Power Point presentations, and summarized Power Point presentations with discussion questions.
Acknowledgments
Chapter 1 Conflict in an Age of Ethical Dispute
Introduction
Communication Ethics and Conflict: Th e Engine for Dispute
A Communicative Gestalt
Goods that Matter: Understanding the Epicenter of Conflict
Responsibility for Conflict
Communicative Building and Construction
Framing Communicative Leadership: Th e Interplay of Ethics and Conflict
References
Chapter 2 Framing Communication: Conflict and Leadership
Introduction
Communication Responses to Fairhurst's Work
Fairhurst's Scholarship
Framing Communicative Leadership
References
Chapter 3 Human Sentiment: From Argument to Conflict
Introduction
Rationalism, Reason, and Rationality
Argument
Conflict and Human Sentiment
Framing Communicative Leadership: Sensing What Matters
References
Chapter 4 Conflict Origins: Understanding What Matters
Introduction
Narratives, Interests, and Goals
History and the Historical Moment as Power-Laden Possibilities
Engaging Power Resources: Otherwise than Convention
Framing Communicative Leadership: Story, Practices, and Meaning
References
Chapter 5 Conflict, Welcome, and Difference
Introduction
Environmental Communication
Family
Aggregate
Community
Culture
Society
Face Saving
Framing Communicative Leadership: Dwellings of Welcome
References
Chapter 6 Relational Perception in Conflict
Introduction
Web of Relationships
Jealousy and Envy
Individualism
Relational Perception and Revelatory Space
Framing Communicative Leadership: Relational Perception
References
Chapter 7 Emotion and Conflict
Introduction
Emotional Awareness: An Awakening
Attending to Advance Notice: Emotional Intelligence
Framing Communicative Leadership: Emotional Alerts
References
Chapter 8 Dialogue and Internal Conflict
Introduction
Internal Dialogue
Intrapersonal Communication
Uncertainty Reduction Theory
Creative Engagement and Conflict Maps
Framing Communicative Leadership: Internal Dialogue
References
Chapter 9 Attending to Opinions in Conflict
Introduction
Emotivism as Individualistic Decision Making
Attribution Theory
Evidence and Public Opinion
Framing Communicative Leadership: Beginning with Opinion
References
Chapter 10 Conflict Styles: The Dangers of Unthinking Familiarity
Introduction
The Danger of Unreflective Routine
Conflict Styles
Existential Trust and Communicative Environment
Framing Communicative Leadership: Existential Trust
References
Chapter 11 Conflict Routine: Anachronistic Responses
Introduction
Responding to Existence
Attentive Hearing and Responsive Listening
Roles and Responsibilities: Perspectives on Conflict
Conflict Confederates: Displaced Conflict
Framing Communicative Leadership: Innovative Responsiveness
References
Chapter 12 Thresholds of Sensitivity in Conflict
Introduction
Interactive Sensitivity
Impersonal Responsibility
Performative Trust
Framing Communicative Leadership: Sensitivity in Conflict
References
Chapter 13 Destructive Conflict: Do Not Do This to Me and to Us
Introduction
Divisive Conflict
Resistance to the Problematic
Framing Communicative Leadership: Attending to the Problematic
References
Chapter 14 A Conflict Odyssey: Story-Centered Leadership
Introduction
Engaging the Particular: Leadership as Loss, Betrayal, and Cunning
From Behavior to Action
References
Appendix
Glossary
Biography Glossary
Index
Print Package
$77.18
ISBN 9781792420870
Details Print Prod w/KHQ 180 days