RETURN TO SEARCH RESULTS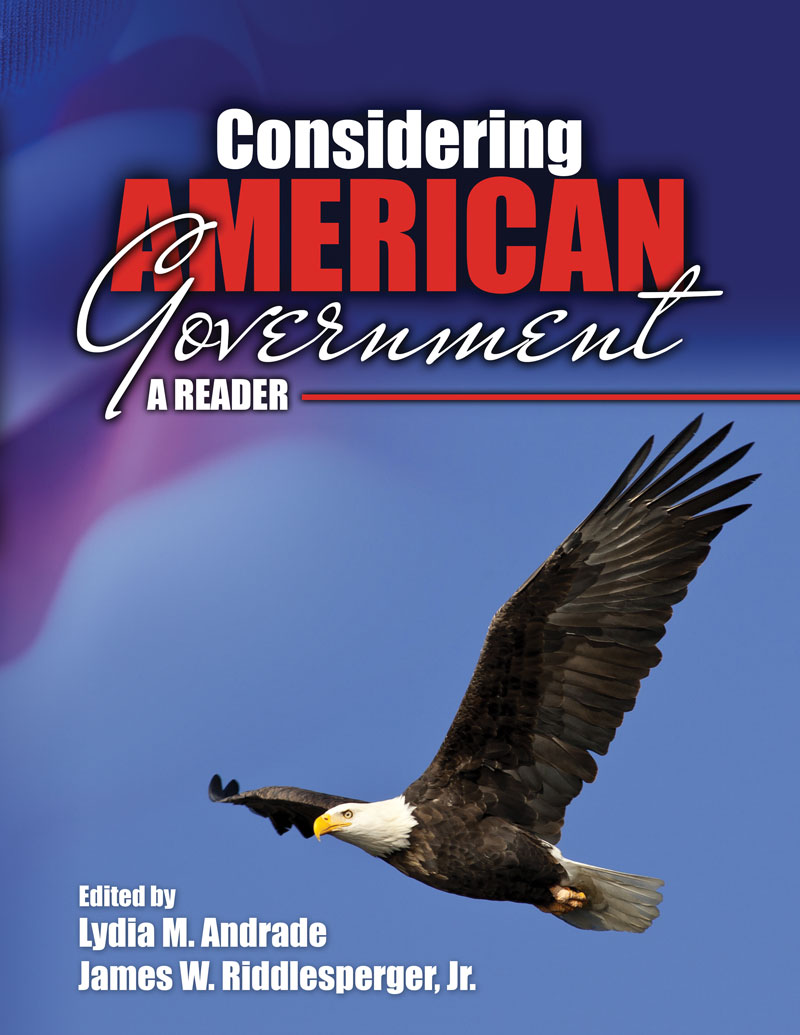 Considering American Government: A Reader
Author(s): Lydia Andrade
Edition: 1
Copyright: 2017
Pages: 182
CHOOSE FORMAT ?
Details: Print Product |
Governing is a challenging activity and was not meant to be easy. In the American republic, the struggle to find common ground is a constant challenge. The making of the Constitution and its structured conflicts between the states and the national government along with the establishment of political parties have triggered conflict in the United States for two and a quarter centuries. Considering American Government: A Reader, by Lydia M. Andrade and James W. Riddlesperger Jr, attempts to position struggle and competition in a contemporary context.
Considering American Government: A Reader describes:
The political environment which lays the foundations for governance, including building society on shared values that both define and limit decisions
Elements of institutions that connect Americans with their government, including public opinion, political parties and elections, and interest groups
The making of public policy, which involves spending our money, regulating our behavior, providing services and in the case of military members or first responders, and risking one's own safety for the survival of the system
Introduction
Chapter 1 Graduating from the Electoral College by Lydia Andrade
Chapter 2 When They Say the Issue is Federalism, It Isn't by James W. Riddlesperger, Jr.
Chapter 3 Who's That Charming Stranger with the Check? By Samuel H. Fisher III
Chapter 4 But They Didn't Call Me!: Why Polling Works by Adam J. Schiffer
Chapter 5 Americans Don't Agree; So What? By James F. Sheffield Jr.
Chapter 6 Not Even a Good Scandal by Jeffrey A. Fine
Chapter 7 How do you know ugly when you see it? By Richard N. Engstrom
Chapter 8 The Speech of a Lifetime by Richard W. Waterman
Chapter 9 Don't Know Much about Judiciary by Joseph Stewart, Jr.
Chapter 10 The Progress Problem in Congress: The Gender Gap in Congressional Female Political Representation by Jennifer Horan
Chapter 11 Who Gets to Have a Say in Policy Making?: A Look at Health Care Policy by Juan Carlos Huerta and Jo Marie Rios
Chapter 12 The Supreme's Greatest Hits by Lydia Andrade
Print
$40.00
ISBN 9781524941840
Details Print Product