RETURN TO SEARCH RESULTS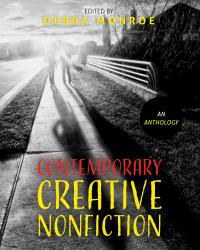 Contemporary Creative Nonfiction: An Anthology
Author(s): Debra Monroe
Edition: 1
Copyright: 2020
Pages: 488




Details: Print Product |
Existing creative nonfiction anthologies don't reflect the current cultural landscape. This anthology, featuring essays in forms both traditional and innovative, showcases the genre today—not how it was fifteen years ago when creative nonfiction seemed to include only memoir.
Contemporary Creative Nonfiction: An Anthology reveals how quickly the genre evolved into exciting subgenres. With essays by established and emerging writers, it mirrors the rich panoply of the current American experience.
Edited by creative writing professor and acclaimed author Debra Monroe, Contemporary Creative Nonfiction: An Anthology:
is demographically inclusive! It features writers from diverse racial, geographic, and socioeconomic backgrounds.
is aesthetically varied! It includes the traditional essay but also the lyric essay, the experimental essay, the essay as cultural analysis, and the researched essay.
teaches history, theory, and craft! The introductory chapter is widely researched yet concise, comprising history, theory, and craft principles—a careful synthesis of many teaching resources in a single chapter.
is interactive! Each selection includes introductory headnotes providing biographical information about the writer and pointing at one or two unique formal or thematic features, followed by writing prompts designed to move writers past fear of the blank page.
is easy to adopt! Instructors receive a one-of-a-kind manual that's thorough and insightful—reflecting the editor's years of teaching experience—to help them design dynamic syllabuses.
"The Woman who Loved Water" by Kathleen J. Alcalá
"You Owe Me" by Miah Arnold
"The Things I've Lost" by Brian Arundel
"Cousins" by Jo Ann Beard
"Time and Distance Overcome" by Eula Biss
"Mr. and Mrs. B" by Alexander Chee
"The Ana Files" by Bonnie Ilza Cisneros
"A House of My Own" by Sandra Cisneros
"Something from Nothing" by Bernard Cooper
"The Joni Mitchell Problem" by Meghan Daum
"Goddesses" by Sayantani Dasgupta
"Arrythmia" by Dawn S. Davies
"A Body of Athletics" by Natalie Diaz
"Yes" by Brian Doyle
"A Good Hike" by Camille T. Dungy
"The Performance of Drowning" by Terry Galloway
"Some Thoughts on Mercy" by Ross Gay
"To Scratch, Claw, or Grope Clumsily or Frantically" by Roxane Gay
"In the Kitchen" by Henry Louis Gates Jr.
"Victoria" by Dagoberto Gilb
"Kafka and Me" by Emily Fox Gordon
"We Transit" by John Griswold
"Other People's Secrets" by Patricia Hampl
"The Empathy Exams" by Leslie Jamison
"This Is East Tennessee Punk Rock" by Megan Kerns
"The Worst of White Folks," by Kiese Laymon
"Nota Bene: On The Bodies of Poor Boys" by Sonja Livingston
"The Lake of Suffering" by Phillip Lopate
"Manifesto à velo" by Valeria Luiselli
"Basha Leah" by Brenda Miller
"If Mr. Clean Had Been My Father" by Dinty W. Moore
"The Disciples of Memory" by Aimee Phan
"Now We Are Five" by David Sedaris
"The Thing About Life is that One Day You'll be Dead" by David Shields
"Ratio" by Sandra Sidi
"Dead Man Laughing" by Zadie Smith
"Laundry" by Maureen Stanton
"Byron Glacier" by David Stevenson
"Into the Country" by Ira Sukrungruang​
"Fathers in the Mirror" by Virgil Suárez
"Fountain Girls" by Samantha Tucker
"Sanctuary" by Luis Alberto Urrea
"Cherry Bars" by Ryan Van Meter
"Light Calling to Other Light" by Robert Vivian
"Trilogy" by Julie Marie Wade
"An Unkindness of Ravens" by Nicole Walker
"A Ticket to the Fair" by David Foster Wallace
"Ronald Wayne Lizana" by Jesmyn Ward
As director of the Wilkes University Creative Writing Program, I asked the creative nonfiction faculty to order an anthology with more diversity for our "Foundations" course. Our team researched CNF anthologies and discovered that Contemporary Creative Nonfiction: An Anthology is far and away the best of the new anthologies. It's a wonderful book!.
Dr. David Hicks
Maslow Family Graduate Program in Creative Writing
Wilkes University
With the inclusion of younger, contemporary writers of color such as Kiese Laymon, Roxane Gay, and Natalie Diaz (to name only a few) makes this standout versus other anthologies. Contemporary Creative Nonfiction: An Anthology is a welcome new addition to the field!
Dinty W. Moore, Professor and Director of Creative Writing
Ohio University
I love this textbook anthology! The writing my students are producing after studying the range of works here is really blowing me away.
Sandra Giles
Abraham Baldwin Agricultural College
It's such a great textbook! My students really loved the readings and prompts, and the intro gave us essential common language to build on throughout the semester.
Michael Wolfe
In my graduate nonfiction workshop, students have generated a lot of work based on this book. Excellent prompts!
Sayantani Dasgupta
Print
$77.18
ISBN 9781524980092
Details Print Product