RETURN TO SEARCH RESULTS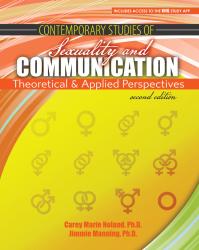 Contemporary Studies of Sexuality and Communication: Theoretical and Applied Perspectives
Author(s): Jimmie Manning, Carey Noland
Edition: 2
Copyright: 2022




Details: Print Prod w/KHQ | 180 days |
New Edition Coming Soon!
Our quality of life is inextricably linked to the quality of our communication and the quality of our personal relationships. The quality of sexual relationships has a significant bearing on our wellness, too.
Contemporary Studies of Sexuality and Communication: Theoretical and Applied Perspectives is a peer-reviewed volume that showcases scholarship about sexuality and communication. It includes readings on the current understandings in the field in an accessible format.
In Contemporary Studies of Sexuality and Communication, authors Jimming Manning and Carey Noland invite readers to talk and think about sex in meaningful ways. Moreover, the publication provides readers with the tools to transform understandings about sex and sexuality into practice, thus improving their relationships, their communities, their organizations, and their lives.
Written in a conversation, exploratory tone, Contemporary Studies of Sexuality and Communication:
features articles from top scholars across many disciplines that compile research about the most salient topics and aspects regarding communication about sex.
provides a diverse audience education to enhance their understanding of sexuality and communication.
highlights the positive aspects of sexual culture and introduces research about improving sexual satisfaction.
describes the impact of #MeToo, the COVID-19 pandemic, the roll-back of Title IX, and the internet (e.g., explosion of dating apps, pornography, online sex work) have influenced conversations about sex.
Section 1: Thinking about Sex and Sexuality
What Does it Mean When People Say They "Had Sex"? Connecting Communication to Behavior Brittnie Peck, Jimmie Manning, Andrew Tri, Daria Skrzypczynski, Morgan Summers, & Kayleigh Grubb
Memorable Messages about Sex: Theory and practice Angela Cooke-Jackson
A Genealogy of Sexual Consent from the Social Contract to Sex-Positive Feminism Larissa A. Brian
African Sexualities: Exploring Ọ̀ṣunality Zelaika S. H. Clarke
Polyamory, Sex, and the Communication of Commitment Jennifer Dixon
Queer Foreignness and Intersectionality: A Case for "Doing" Sexual and Cultural Mixing and Mingling across Borders Shinsuke Eguchi
Section 2: Sexual Relationships
A Constitutive Model of Coming Out Jimmie Manning
Sex as Enacted Identity: Gender, Sexuality, & Sexual Creativity Valerie Rubinsky & Nicole Hudak
Lifelong Communication: Senior Citizen Sex and Intimacy Jessica M. W. Kratzer
Chatting, Snacking, and Snuggling: An Overview of Research on Post-Sex Communication Amanda Denes & Annika Speer
A New Look for the "Little Black Book": Back Burner Relationships and Modern Communication Technology Jayson L. Dibble,& Narissra M. Punyanunt-Carter
Section 3: Sexual Health, Well-Being, and Safety
Teaching Medical Students to Take a Sexual History Carey Noland
College Students' Sexual Safety: The Verbal and Nonverbal Communication of Consent Diana K. Ivy
Intercultural Same-Sex Relationships: Masculinities, Sexualities, and Communication across Borders Gust A. Yep, Ryan M. Lescure, & Jace Allen
"You Are on Your Own": Magnifying Co-Cultural LGB/TQ Microaggressions in the Workplace Tim McKenna-Buchanan & Sara Baker
Section 4: Popular Culture, Media, and Sex
Sexuality in Popular Culture: Is It Okay to "Wanna Ride?" Lara Stache & Rachel D. Davidson
The Evolving Landscape of Online Sex Work Yachao Li
People with Disabilities and Self-Disclosure about Sexual Reproductive Health on the Internet Mauryne Kiruhiri Abwao & Muhammad Ittefaq
Biographies
Manning and Noland provide a remarkably thorough, comprehensive, and integrated view of human sexuality in all of its complexity. The chapters synthesize theory and research on a variety of topics and provide insight on current issues ranging from the forms, functions, and consequences of sex in traditional and nontraditional venues, to the individuals and couples who practice it and construct its personal and relational meaning, to the communities and cultures within which norms and sexual scripts shape sexual experiences. Readers are guided through this rich and diverse landscape by the recurring theme of communication processes that underlie, motivate, and manage the complexity of sex. Contemporary Studies of Sexuality and Communication: Theoretical and Applied Perspectives is an excellent, engaging, and accessible resource for scholars, practitioners, and instructors across the social sciences who are interested in sex and sexual communication.
Sandra Metts
Professor | School of Communication | Illinois State University
By treating sex and sexual identity as a communicative form, the editors and authors in Contemporary Studies of Sexuality and Communication: Theoretical and Applied Perspectives raise awareness of its importance across the lifespan and cross-culturally. They invite readers to talk about sex, whether it is to intervene as an ally when an interaction portends danger or just by asking an intimate friend to cuddle. Readers will learn how sexual pleasure and relational intimacy are so crucially related to our ability to communicate.
Betsy Widener
Professor | Center for Human Sexuality Studies | Widener University
Print Package
$78.75
ISBN 9781792491900
Details Print Prod w/KHQ 180 days