RETURN TO SEARCH RESULTS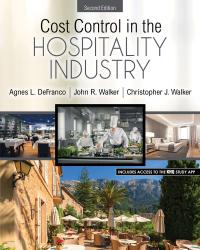 Details: Print Prod w/KHQ | 180 days |
There is a difference between cost control and successful cost control.
Cost Control in the Hospitality Industry takes a deep dive into the subject to illustrate that a mere balance of input and output isn't enough – just as important is the use of products and services for their intended purposes. This alone can make the difference between operational success and failure.
This second edition provides students, managers, and hospitality professionals with realistic steps to help manage resource control. The multi-faceted approach covers various angles: sales and cash control, and more. This authentic guide to daily procedures arms readers with practical, actionable instruction, helping to set them up for operational success.
The second Edition features:
Updated concepts, figures, and numbers to make the learning experience more realistic to the hospitality practice.
Deepend discussions on topics such as Accountability and Control, Restaurant Menu Selection and Pricing, Budgeting, Recordkeeping, Operational Expenses, and more!
NEW topics, such as Selling Alcoholic Beverages, Guest Expectations, Technology, Suggestive Selling, and more!
Included Ancillaries:
Instructor Manual outlining teaching & presentation suggestions for each chapter, plus answers to chapter review questions and case studies
PowerPoint slides for each chapter
Videos demonstrating calculation examples and sample exam problems
Test Bank
Chapter 1 Managing the Cost Control in the Hospitality Industry
Chapter 2 The Cost Control Function
Chapter 3 Cost Control Standards
Chapter 4 The Menu as a Cost Control Tool
Chapter 5 Forecasting and Budgeting for Cost Control
Chapter 6 Pricing Cost Control
Chapter 7 Purchasing Cost Control
Chapter 8 Receiving Cost Control
Chapter 9 Storing and Issuing Cost Control
Chapter 10 Production Cost Control
Chapter 11 Sales and Cash Cost Control
Chapter 12 Labor Cost Control
Chapter 13 Staffing and Scheduling Cost Control
Chapter 14 Controllable and Non-Controllable Expenses
Glossary
Index
Print Package
$115.76
ISBN 9781792433238
Details Print Prod w/KHQ 180 days