RETURN TO SEARCH RESULTS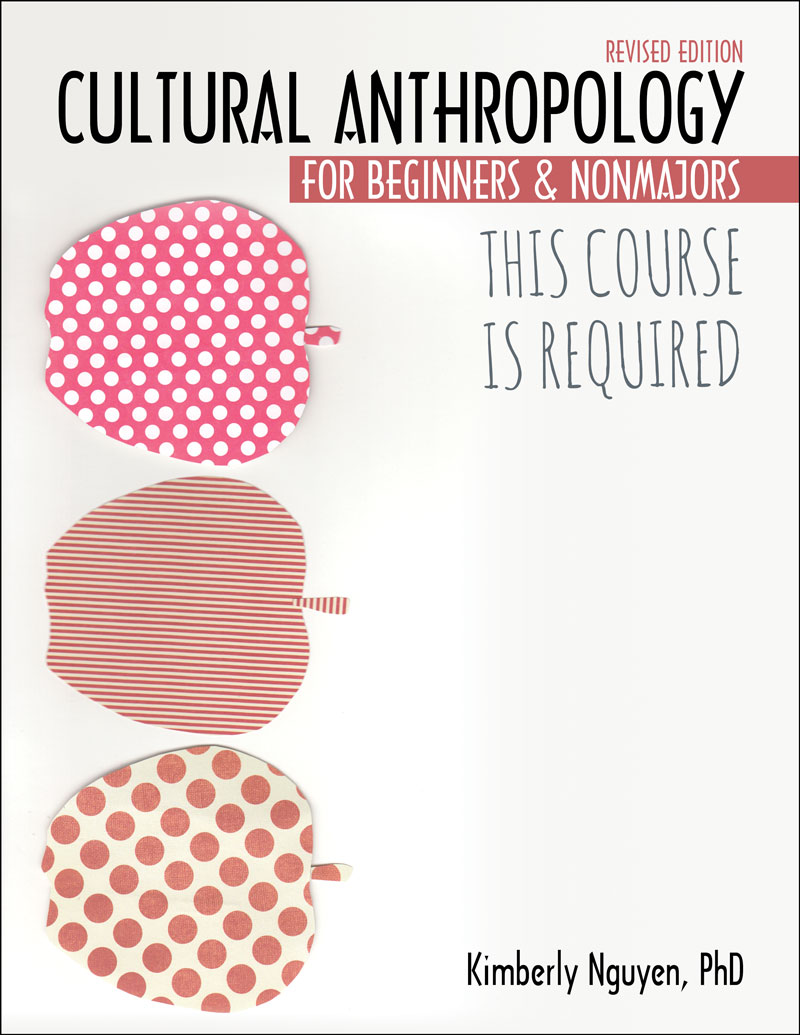 This Course Is Required: Cultural Anthropology for Beginners and Non Majors
Author(s): Kimberly Nguyen
Edition: 1
Copyright: 2017
Pages: 104




Details: Electronic Delivery EBOOK | 180 days |
Cultural Anthropology for Beginners and Non Majors is part of an ongoing project to create a student-driven textbook, largely inspired by Dr. Mitra's philosophy.
The approach to each topic is based on cases and concepts in which students expressed the most interest. Subsequently, chapter discussions stray from or completely omit many traditional concepts (e.g. kinship diagrams). This is not to diminish the importance of these topics, but to focus on application of broader concepts. However, emphasis placed on culture's influence on daily life, legislation, and official protocols is useful for students of all backgrounds.
The primary goal of this text is to demonstrate the impact that culture has on our daily lives. From this vantage point, the author believes that all readers can reap the benefits of applying an anthropological lens to their professional and personal lives.
CHAPTER I: YOUR PANTS ARE ILLEGAL
Why Culture Matters (Even for Non-majors)
* Everyday Anthropology
The Usefulness of Anthropological Methods for Everyone
* Born this Way
The Biological Roots of Culture
The Horrific Case of Ceausescu's Orphans
* Part I: Culture Club
One of Us
Norms
Symbols
Cultural Constructions
Values
Worldview
* Part II: Culture Club
The Dangerous "Others
* You Are Not a Beautiful and Unique Snowflake:
Enculturation, Identity, and Cultural Conformity
CHAPTER II: THE CASE OF FRANKLIN'S LOST EXPEDITION
An Investigation with Anthropological Frameworks
* Part I: Investigative Toolkit
The Three Frameworks of Anthropology
* Part II: The World of Sir John Franklin
The Makings of Disaster through an Anthropological Lens
* Part III: The Last Resource
Chilling Conclusions and Franklin's Fatal Mistake
CHAPTER III: WATER, WATER EVERYWHERE
Culture, Economics, and Poverty in the Land of Plenty
* Part I: Wife-Swapping & Wealth
Modes of Adaptation Shape Economic Views
* Part II: They Eat Rats
Past Views of Poverty and the American Dream
* Part III: Familiar Faces
American Poverty in the Present Day
* Part IV: How To Build A Poorhouse
Theories of Persistent Poverty
CHAPTER IV: THE FILMMAKER'S DAUGHTER
Cultural Constructions of Kinship and Marriage
* Part I: A Family Aff air
Forms and Functions of Kinship
* Part II: Love and Marriage
Forms and Functions of Marital Systems
CHAPTER V: SHAKESPEARE'S MAKEOVER: HAWT OR NAWT?
Culture and Language
* Part I: Functions of Language
* Part II: Nonverbal Language
* Part III: Verbal Language
* Part IV: The Unconscious Mind
CHAPTER VI: CONSTRUCTING THE "OTHER"
Race & Ethnicity
* Part I: Race
* Part II: Ethnicity
* Part III: Blurred Lines
Ebook
$44.10
ISBN 9781524947200
Details Electronic Delivery EBOOK 180 days