RETURN TO SEARCH RESULTS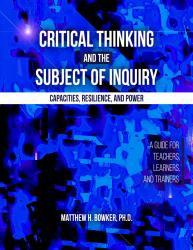 Critical Thinking and the Subject of Inquiry: Capacities, Resilience, and Power A Guide for Teachers, Learners, and Trainers
Author(s): Matthew Bowker
Edition: 1
Copyright: 2020
Pages: 250


Details: Electronic Delivery EBOOK | 180 days |
In Critical Thinking and the Subject of Inquiry, Matthew H. Bowker, PhD, offers a uniquely facilitative and substantive approach to the teaching and learning of critical thought. Treated not merely as a cognitive "skill" or "tool," critical thinking is examined as a psychological capacity of the mature subject, one that requires extraordinary resilience in the face of stultifying powers and pressures arising from within and without. Offering far more than exercises in logic, argumentation, verbal reasoning, Critical Thinking and the Subject of Inquiry focuses on the political and psychological contexts of critical thought, both inside and outside of the classroom.
Presented in two parts, Critical Thinking and the Subject of Inquiry first delves deeply into the process of facilitation. Part I, therefore, will be of use to teachers and learners alike, but will be of particular interest to teachers and trainers who wish to reflect upon their own work by analyzing the complex pedagogical dynamics of teaching, learning, and thinking. Part II summarizes and analyzes substantial original texts from the classical, modern, and contemporary eras, each of which grapples with the challenges associated with critical thinking in its own way.
Written to be accessible to teachers, learners, and trainers of diverse backgrounds, all chapters offer summaries of key points, Critical Questions for reflection and discussion, and references and resources for further study.
In sum, Critical Thinking and the Subject of Inquiry represents a new way to teach and learn critical thinking, guided by the belief that facilitating the capacity for critical thought is essential for the development of intelligent, judicious, responsible persons of all ages.
Overview
List of Figure and Table
Introduction
A Note on Terminology: "Teachers" and "Learners"
Facilitation and Substance
The Subject
The Subject (Topic) of Critical Thinking
Critical Thinking: A Brief History
What is Critical Thinking?
Paradigms
Critical Thinking: Central Questions
Scope and Method of This Book
Parts I and II
Outline of the Work
References and Further Resources
Part I
Chapter 1: The Subject
The Subject of Inquiry
The Problem with "Skills-Based" Approaches
The Apparent Paradox of Teaching Critical Thinking
The Meaning of Facilitation
Double-Binds and Empty Thoughts
Critical Questions
References and Further Resources
Chapter 2: Capacities and Resilience
Critical Thinking As a Capacity
What is a Capacity?
Two Benefits of Using the Term "Capacity"
Critical Thinking and Resilience
The Dilemma of Activation
Critical Thinking and Growing-Up Experiences
Critical Questions
References and Further Resources
Chapter 3: Facilitating Learners' Questions
The Rationale for Facilitating Questions
How to Facilitate Learners' Questioning
What Thwarts Questioning?
Overcoming Resistance
Critical Thinking and Groups
Disintegration in the Face of Leaderlessness
The Rejection of Facilitation
The Accusation of Withholding as the Projection of the Schizoid Compromise
The Rejection of the Facilitative Role
Groups Old and New
Critical Questions
References and Further Resources
Chapter 4: The Politics of Critical Thinking
A Relational Definition of Critical Thinking
Critical Thinking-Relationships in Context
The Denial of Desire and the Desire of the Other
Critical Thinking and Resistance: Narcissism and Degradation
Narcissism in Teachers and Learners
Critical Thinking: Politics and Ethics
The Ethical Practice of Critical Thinking
Critical Questions
References and Further Resources
Part II
A Note on the Content of Part II
A Note on Engagement with Primary Sources
Chapter 5: A (Very) Brief Summary of the History of Western Critical Thought
The Ancient and Medieval Periods
The Ancient World
The Medieval Period
The Modern World
The Social Division of Labor
The Contemporary Era
Critical Questions
References and Further Resources
Chapter 6: Critical Thinking, Reason, and Justice
Different Kinds of Knowledge
Plato's Tripartite Soul
Justice as the Psychological State of the Critical Thinker
Being Just in an Unjust World
The Metaphor of the Ship
The Metaphor of the "Flood"
The Metaphor of the Great Beast
The Cave Allegory
Critical Questions
References and Further Resources
Chapter 7: The Subject, Safe in the Inner World
Stoicism and the Hellenistic Age
Epictetus' Leg
What is Up to Us and What is Not
Knowledge of Nature and the Stoic Attitude
A Note on Criticism and Skepticism
Critical Questions
References and Further Resources
Chapter 8: Critical Judgment and the Essays of Michel de Montaigne
On Cannibals
Three Essays on Judgment, Reason, and Uncertainty
On Experience
Critical Questions
References and Further Resources
Chapter 9: The Critically Unthought: Albert Camus' The Stranger
The Modern World and the "The Kingdom of Ends"
Meursault's "Crimes"
Ambivalences of Modern Freedom
Critical Absurdities
Critical Questions
References and Further Resources
Chapter 10: Critical Thinking When Faced with Power and Authority
Stanley Milgram's Obedience Experiments
Philip Zimbardo's Stanford Prison Experiments
Psychological Interpretations
Critical Questions
References and Further Resources
Chapter 11: Psychological Assaults on Critical Thought: The Work of R.D. Laing
Confirmation and Disconfirmation
Attributions and Injunctions
Collusion
Critical Questions
References and Further Resources
Chapter 12: The Critically Unthinkable: The Works of Franz Kafka
The Judgment
A Report to an Academy
A Hunger Artist
The Metamorphosis
Critical Questions
References and Further Resources
Conclusion
Ebook
$60.64
ISBN 9781524982997
Details Electronic Delivery EBOOK 180 days