RETURN TO SEARCH RESULTS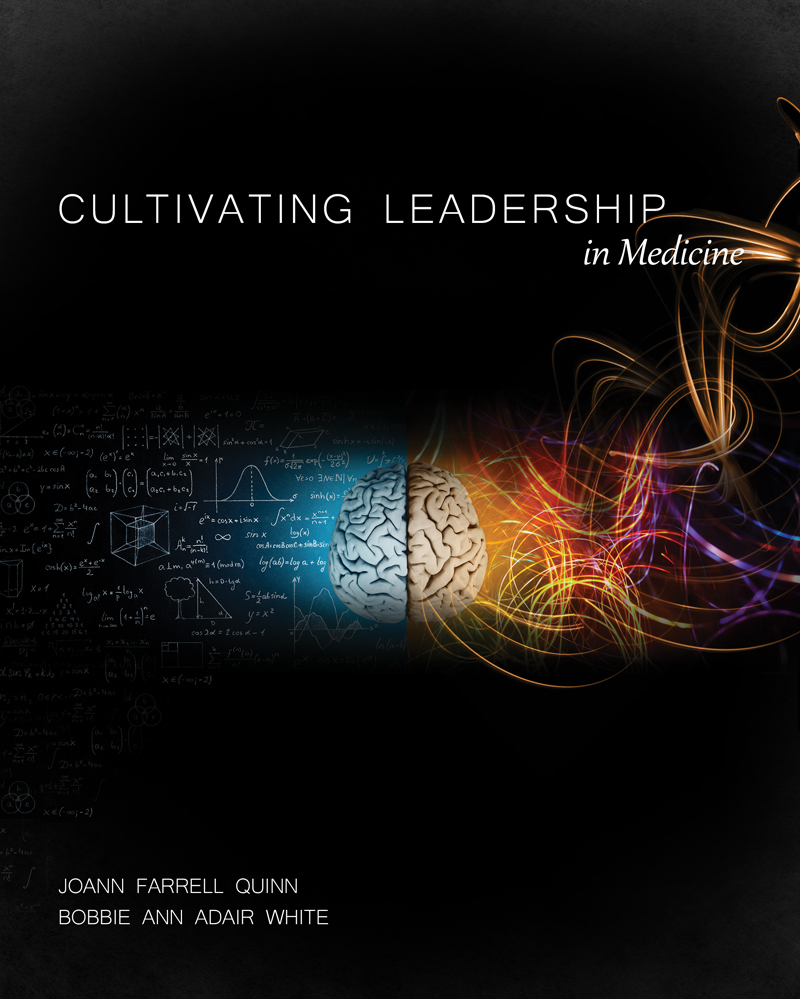 Details: Electronic Delivery EBOOK | 365 days |
New Publication Now Available!
Leadership is a core competency for all healthcare professionals. Physicians of the 21st century face complex challenges and will be called upon to lead at multiple levels. Medical professionals must be prepared for both the practice of medicine and the practice of leadership.
Cultivating Leadership in Medicine leads readers on the journey to discovering and practicing leadership skills in the world of medicine. Authors Joann Farrell Quinn and Bobbie Ann Adair White utilize a collection of 23 different readings to introduce the concept of leadership; help readers learn about personal development through emotional intelligence and social competencies; provide them with tools to navigate the organizational waters; and introduce examples of successful leadership skills training in medical education across the continuum. The publication concludes with first-hand reflections from leaders in the field of medicine.
To aid in the comprehension of concepts taught, chapter outlines, graphics / charts, chapter summaries, references, personal development activities and reflections, and coaching materials are provided.
About the Authors
About the Contributors
Section 1 Introduction to Leadership
Chapter 1 Leadership: The Why, What and How of Training Leaders in Medical Education
Catherine Florio Pipas, MD, MPH
Chapter 2 From Physician to Physician Leadership
Philip A. Cola, PhD
Section 2 Personal Development through Emotional Intelligence and Social Competencies
Chapter 3 Introduction to Emotional Intelligence
Joann Farrell Quinn, PhD, MBA and Bobbie Ann Adair White, EdD, MA
Chapter 4 Self-Awareness
Joe Doty, PhD and Bobbie Ann Adair White, EdD, MA
Chapter 5 Empathy and Social Awareness
Bobbie Ann Adair White, EdD, MA and Joann Farrell Quinn, PhD, MBA
Chapter 6 Positive Affect and Power and Influence
Leila E. Harrison, PhD, MA, Med, David H. Garcia, Med, and Alejandro C. Arroliga, MD, MS
Chapter 7 Conflict Resolution
Joann Farrell Quinn, PhD, MBA and Bobbie Ann Adair White, EdD, MA
Chapter 8 Effective Communication
Neil E. Grunberg, PhD and Erin S. Barry, MS
Chapter 9 Coaching and Mentoring
Amy Smith, PhD and Kira Zwygart, MD, FAAFP
Chapter 10 Renewal and Resilience—Preventing Burnout and Encouraging Healthy Practices
Catherine Florio Pipas, MD, MPH and Jeffrey Levy, MD
Section 3 Navigating the Organizational Waters
Chapter 11 Team Medicine in an Inter-Professional Environment
Erin S. Barry, MS and Neil E. Grunberg, PhD
Chapter 12 Leading Change
Sarah E. Hoffe, MD and Austin J. Sim, MD, JD
Section 4 Examples of Programs Teaching Leadership in Medical Education across the Continuum
Chapter 13 Uniformed Services University Leader and Leadership Education and Development Program
Erin S. Barry, MS, Neil E. Grunberg, PhD, and John E. McManigle, MD
Chapter 14 University of South Florida Morsani College of Medicine SELECT Program: Preparing Students to Become Physician Leaders Who Can Accelerate Change in Healthcare
Jeanne Jacoby, MD, Joann Farrell Quinn, PhD, MBA, Deborah DeWaay, MD, Amy Smith, PhD, and Kira Zwygart, MD
Chapter 15 Coaching in University of South Florida SELECT
Amy Smith, PhD and Kira Zwygart, MD, FAAFP
Chapter 16 Experience with Healthcare Leader Development at Cleveland Clinic
Tracy H. Porter, PhD and James K. Stoller, MD, MS
Chapter 17 The University of Michigan Medical School Leadership Development Program
Nell Kirst, MD and Brian J. Zink, MD
Chapter 18 How the Duke School of Medicine Educates and Develops Physician Leaders
Dean Taylor, MD and Joe Doty, PhD
Chapter 19 Vanderbilt University School of Medicine Approach to Leadership Development
Elizabeth Ann Yakes, MD and William B. Cutrer, MD, Med
Chapter 20 The Aventura Leadership Experience
Miriam Zylberglait Lisigurski, MD, FACP, Carmen Cartwright, MD, Carmen Elena Cervantes, MD, and Nader Lamaa, MD
Chapter 21 Elson S. Floyd College of Medicine at Washington State University: Leadership in the Curriculum
John Tomkowiak, MD, MOL and Jeff Haney, MD
Section 5 Reflections from Leaders
Chapter 22 Catalytic Conversations
Deborah DeWaay, MD and Shane Puckett, EdD
Chapter 23 Leading within a Culture of Authenticity
John Couris
Appendix 1 Personal Development Activities and Reflections
Appendix 2 Coaching Materials
Index
Ebook
$35.00
ISBN 9781792412615
Details Electronic Delivery EBOOK 365 days