RETURN TO SEARCH RESULTS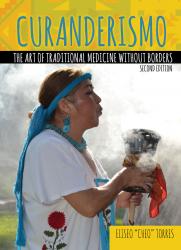 Curanderismo: The Art of Traditional Medicine without Borders
Author(s): Eliseo Torres
Edition: 2
Copyright: 2019
Pages: 176






Details: Print Product |
Curanderismo: The Art of Traditional Medicine without Borders presents a way of studying humanity, where one can recognize and connect with the entire global family. In this text, the primary sources described come from the Mexican indigenous traditions and from Spain, including its North African heritage.
The primary goals of Curanderismo are to:
guide the reader toward an understanding of the concepts of Curanderismo.
serve as a reference guide, indexing the healing modalities that define Curanderismo.
bridge the gaps between Western modern medicine and traditional healing.
Curanderismo is divided into two parts:
Curanderismo in the Southwest and Mexico emphasizes the traditional healing ways of Mexico and the Southwest.
Global Perspectives emphasizes perspectives and influences in curanderismo and begins with discussions by a group of traditional healers from Uganda, Africa.
Author's Biography
Acknowledgments
Introduction
PART 1 CURANDERISMO IN THE SOUTHWEST AND MEXICO
CHAPTER 1 El Ultimo: Chenchito, the Last of the Fidencista Healers
CHAPTER 2 Introduction to Medicinal Plants
2.1 Plants of the Southwest
2.2 Medicinal Plants for the Digestive System
2.3 Medicinal Plants for the Nervous System
2.4 Tinctures and Microdosis
CHAPTER 3 Juice Therapy (Jugoterapia)
CHAPTER 4 Introduction to Spiritual/Energetic Cleansings and the Evil Eye
4.1 Spiritual Cleansing with Laurencio
4.2 Healing Fright and Shock (Susto)
4.3 Spiritual Cleansings with Velia
4.4 Burning Incense for Harmonizing
CHAPTER 5 Intestinal Blockage (Empacho)
CHAPTER 6 Shawl Alignment (Manteadas)
CHAPTER 7 Introduction to Healing with Fire, Earth, and Oils
7.1 Fire Cupping (Ventosa)
7.2 Geotherapy
7.3 Healing with Herbal Oil
CHAPTER 8 Temazcal
8.1 The Native American Sweat Lodge
8.2 The Temazcal Experience in Mexico
8.3 The Temazcals in New Mexico
8.4 For Men and Women
8.5 A Temazcal Experience by Rita Navarrete
CHAPTER 9 Healing with Laughter, Sound, and Music
9.1 Laugh Therapy (Risaterapia)
9.2 Healing through Sound
9.3 Healing with Music
PART 2 GLOBAL PERSPECTIVES
CHAPTER 10 Introduction to the Influences of African Folk Healing
10.1 African Traditional Medicine from Uganda
10.2 African Healing through Music from Gabon
CHAPTER 11 Contributions of Afro-Latino Healing
11.1 Introduction to Afro-Latino Traditional Healing
11.2 Afro-Latino Healing through Music and Dance
11.3 Afro-Cuban Healing Techniques
11.4 Afro-Puerto Rican Healing Modalities
CHAPTER 12 Sacred Tobacco of Peru/Medicinal Plants for Women
CHAPTER 13 Herbal Smoke for Healing
CHAPTER 14 Creating Sacred Spaces for Healing
CHAPTER 15 Native American Feather Healing
CHAPTER 16 Bonesetter (Huesero)
CHAPTER 17 Mayan Traditional Healing
17.1 Introduction to Mayan Traditional Medicine
17.2 Mayan Acupuncture
17.3 Mayan Abdominal Massage
CHAPTER 18 Introduction to Traditional Body Work
18.1 Body Adjustment
18.2 Spinal Adjustment
CHAPTER 19 Hydrotherapy (Healing with Water)
CHAPTER 20 Tonalli Cleansing
CHAPTER 21 Traditional Healing for Infants and the Aging Community
21.1 Introduction to Traditional Healing for Infants and the Aging Community
21.2 Traditional Healing for Infants
21.3 Traditional Healing for the Aging Community
CHAPTER 22 Healing Grief through Day of the Dead (Dia de los Muertos)
Conclusion
References
Index
Print
$34.44
ISBN 9781524997038
Details Print Product