RETURN TO SEARCH RESULTS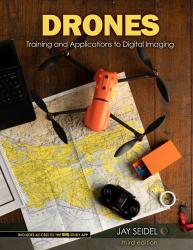 Drones: Training and Applications to Digital Imaging
Author(s): JAY SEIDEL
Edition: 3
Copyright: 2021




Details: Print Prod w/KHQ | 180 days |
New Publication Now Available!
From infrastructure inspection and crop maintenance to cinematography and package delivery, drones are being used worldwide and in a variety of fields. Drones: Training and Applications to Digital Imaging takes on a comprehensive approach to effectively train individuals on the use of drones for tomorrow's professions. This text guides students through the information necessary to successfully pilot these autonomous systems into the national airspace.
The foundation provided in Drones: Training and Applications to Digital Imaging:
prepares students to take the Federal Aviation Administration's Part 107 UAS piloting certification exam.
covers airspace knowledge, weather conditions, aeronautical decision-making and the laws governing drone usage.
discusses the history of unmanned aerial systems, as well as where they are going in the future.
examines the ethics surrounding the use of drones in the United States.
Chapter 1 An Overview of Drones and their Applications
Chapter 2 A History of Unmanned Aerial Vehicles
Chapter 3 Understanding and Navigating the National Airspace
Chapter 4 Weather You Need to Know
Chapter 5 Aerodynamics and Basic Aeronautical Principles
Chapter 6 Aeronautical Decision Making
Chapter 7 Night Operations
Chapter 8 Operations over People and Remote Identification (ID)
Chapter 9 Drone Camera Operations
Chapter 10 Great Power Needs Great Management
Chapter 11 Airport Operations and Communications
Chapter 12 Laws You Need to Know
Chapter 13 What about Ethics?
Chapter 14 Dealing with Emergencies
Chapter 15 The Future of Drones
Appendix 1 Checklist Form
Appendix 2 Drone Flight Log
Print Package
$86.00
ISBN 9781792475474
Details Print Prod w/KHQ 180 days