RETURN TO SEARCH RESULTS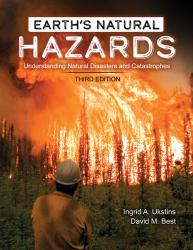 Details: Print Prod w/KHQ | 180 days |
OUR PLANET IS A DYNAMIC PLACE
There are numerous recent geological occurrences of life-changing events: earthquakes in Japan and the southwestern Pacific Ocean, the tsunami in South Asia, hurricanes in the Atlantic Ocean and typhoons in the Pacific, widespread flooding in the Midwest, as well as wildfires in California to name a few.
Earth's Natural Hazards: Understanding Natural Disasters & Catastrophes will help students understand the geologic background of these life-changing events and the dynamic and sometimes interrelated nature, of the Earth's geologic processes. This book goes beyond the geologic aspect of the disasters and discusses the human impact, climate change, and biological hazards that often result from major life-changing events.
Earth's Natural Hazards features:
a full-color text with photos, graphs, and maps to help illustrate the broad range of natural disasters that are discussed.
Questions for Thought at the end of each chapter.
several web sites that serve as additional resources.
brief lists of selected references and reading material.
a discussion of objects from outer space which provides information about hazards that are extraterrestrial.
Instructor's Ancillary Materials
Professors who adopt this text will have access to a separate site with Instructor's Guide, image database, and Test Bank.
Please Note: First two purchase options are 2nd Edition. Second two purchase options are 3rd Edition.
Ch.1 Living with Earth's Natural Hazards
Ch.2 The Dynamic Earth System
Ch.3 Volcanic Eruptions
Ch.4 Earthquakes
Ch. 5 Tsunami: The Utmost in Destruction from the Sea
Ch.6 Unstable Ground: Mass Movements and Subsidence
Ch.7 Threats from Space
Ch.8 Climate and Weather Hazards
Ch.9 Flooding
Ch.10 Coastal Regions and Land Loss
Ch.11 Hurricanes, Cyclones, and Typhoons
Ch.12 Wildfires
Ch.13 Epidemics, Pandemics and Infectious Diseases
Ch.14 Human and Natural Interactions on the Environment
Print Package
$105.00
ISBN 9781792420917
Details Print Prod w/KHQ 180 days