RETURN TO SEARCH RESULTS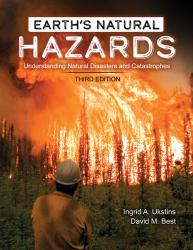 Details: Print Prod w/KHQ | 180 days |
OUR PLANET IS A DYNAMIC PLACE
Global pandemics, earthquakes, volcanic eruptions, cyclonic storms and many other natural hazards occur across our planet every day and have significant human impact. This textbook examines how normal processes of the Earth-atmosphere-hydrosphere-space systems result in events that are capable of dealing disastrous blows to humans on the scale of individual lives to civilizations.
Earth's Natural Hazards: Understanding Natural Disasters & Catastrophes focuses on events such as pandemics, earthquakes, landslides, volcanic eruptions, floods, hurricanes, tsunami, tornadoes, climate change, and meteorite impacts, and their local, national and global repercussions. In particular, we examine the spatial and temporal occurrences of these hazards, methods and processes for hazard preparedness, response and recovery, and the social, economic and policy aspects that affect and, in many cases, compound the magnitude of the disasters associated with these natural phenomena.
Earth's Natural Hazards features:
A chapter focusing on epidemics and global pandemics, with case studies from contemporary and ancient societies.
Case Studies highlighting current events with discussions of their timelines and impact.
An updated full-color text with photos, graphs and maps to help illustrate the broad range of natural disasters that are discussed.
Questions for Thought which function as study guide questions at the end of each chapter.
References to current websites and publications for additional resources.
Chapter 1 Living With Earth's Natural Hazards
Chapter 2 The Dynamic Earth System
Chapter 3 Volcanic Eruptions
Chapter 4 Earthquakes
Chapter 5 Tsunami: The Utmost in Destruction From the Sea
Chapter 6 Unstable Ground: Mass Movements and Subsidence
Chapter 7 Threats From Space
Chapter 8 Weather Hazards
Chapter 9 Flooding
Chapter 10 Coastal Regions and Land Loss
Chapter 11 Hurricanes, Cyclones, and Typhoons
Chapter 12 Wildfires
Chapter 13 Epidemics, Pandemics, and Infectious Diseases
Chapter 14 Environmental Sustainability and Our Role in Earth's Future
Chapter 15 Climate Change
Print Package
$90.00
ISBN 9781792461804
Details Print Prod w/KHQ 180 days