RETURN TO SEARCH RESULTS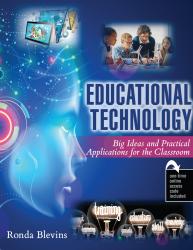 Educational Technology: Big Ideas and Practical Applications for the Classroom
Author(s): Ronda Blevins
Edition: 1
Copyright: 2022


Details: Ebook w/KHQ | 180 days |
One phrase that possesses a unique ability to elicit multiple, strong, and varied emotions from all stakeholders in the world of education is Educational Technology. There are all sorts of theories, arguments both for and against, and mandates dealing with the use of technology in the classroom. Educational Technology: Big Pictures and Practical Applications for the Classroom is a first of its kind in that it is looking at the integration of technology into the classroom from the perspective of an educator. The goal of this book is to be more than just a textbook that you use once for class; it is designed to be a resource that you can use throughout your teaching career. This book is full of practical ideas, suggestions, big pictures, things to remember, and ancillary materials that are a great resource for any educator or teacher candidate.
The book dives into different models of tech integration, qualities to look for when choosing tech to integrate, building your own classroom technology plan, assistive technologies, data literacy through technology, and so much more! With the addition of Practical Applications for Your Classroom, Big Picture Discussions, and Bonus Content in every chapter, you are sure to find ideas and applications that go beyond a course you are taking and help you continue to make good decisions regarding the integration of technology throughout your career.
Listen to The Perfect Chaos podcast here.
Visit The Perfect Chaos website here.
Author Bio
What is Educational Technology?

Defining Educational Technology
Ed Tech vs. Computer Science
ISTE Standards for Educators and Students

ISTE Standards for Educators
ISTE Standards for Students
Putting It Together

Chapter Summary

Models of Technology Integration

What is Technology Integration?
SAMR
The TPACK Model
TIM Model of Technology Integration
HACK Model of Innovative Instruction
Chapter Summary

Classroom Technology Plan

What is a Classroom Technology Plan and why do I need one?
Components of the Classroom Technology Plan

Current Use of Educational Technology in My Classroom
Mission and Vision for Integration of Educational Technology
Integration Model
Communication Plan
Integrating Instructional Technology
Differentiating Instruction through Technology
Technology to Support Assessment
Next Steps

Chapter Summary

Digital Safety and Digital Citizenship

Digital Safety and Digital Citizenship, What's the Difference?
Social Media

Benfits of Social Media in Education
Concerns of Using Social Media in Education
Social Media, In or Out?
Passwords
Digital Footprint
Teaching the Why
Setting Boundaries

Chapter Summary

Digital Equity

Digital Equity Defined
Internet Access
Device Access

Skill Divide
Speaking the Language

Chapter Summary

Adaptive Technologies

Assistive Technologies Defined
Need for Assistive Technologies

Different Types of Assistive Technologies
Arguments Against Assistive Technology

Chapter Summary

Choosing Great Technologies for the Classroom

Know What Your Students Are Using

Use the Tech Your Students are Familiar With in the Classroom

Where to Start

Thinking Back to Move Forward
What Is the Goal?

Qualities of Great Technology

Digital Safety
No Need for Puffery
Age Appropriate
Accessibility
Engagement

Noneducational Tools in the Classroom
Chapter Summary

Integrating Technology into Your Existing Lessons

Don't reinvent the wheel
Lesson First

Student, Logistical, and Resource Considerations Next

Chapter Summary

Using Technology to Increase Educator Efficacy and Efficiency

Spend the Time to Save the Time
What Can Be Automated
Increasing Educator Efficacy Through Technology
Communicating Through Technology
Chapter Summary

Technology for Instruction

Technology to Enhance Learning

Making it Applicable
Tech for Educator Use to Enhance Learning
Tech for Students Use to Enhance Learning

Technology to Create Opportunities

Making it Applicable
Tech for Educator Use to Create Opportunities
Tech for Students Use to Create Opportunities

Redefining the Plan

Changing the Narrative

Chapter Summary

Technology for Assessment

What is Assessment?

Assessment, Evaluation, and Testing
Formative and Summative
Formal and Informal Assessment

How Can Technology Change the Game of Assessment?
Chapter Summary

Experiences Beyong the Walls of the Classroom

What is a Global Network?
Unlock the World
Experimental Learning Through Technology
Virtual Field Trips
Chapter Summary

Data Literacy

Defining Data Literacy
What Makes "Good" Data?
We Have The Data, Now What?
Making Curricular Decisions
Discussion Time
Student Data Literacy
Chapter Summary

Classroom Management and Wasted Time

Technology and Classroom Management
Keep Them on Task
Keep Yourself on Task
No Rabbit Holes
Chapter Summary

Moving Forward

Navigating New Technologies
Don't Overtech
Lessons From a Pandemic
Chapter Summary
Glossary
References
Ebook Package
$89.25
ISBN 9781792490569
Details Ebook w/KHQ 180 days