RETURN TO SEARCH RESULTS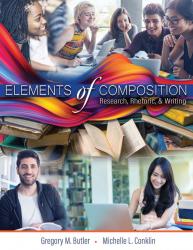 Elements of Composition: Research, Rhetoric, & Writing is a comprehensive first-year composition textbook that covers all aspects of formal academic writing. The first five chapters in part 1 focus on preparing students for all writing situations. Students will learn to navigate purpose and audience; to write effective introduction, body, and conclusion paragraphs; to create successful thesis statements; and to read and write rhetorically. Part 2's chapters review essential grammar skills to enhance writing proficiency. Of particular note in this section are the rules for correct comma and semicolon usage, written in clear, easy to understand examples. Part 3 demonstrates the importance of incorporating research into academic writing by examining how to conduct original research, to incorporate research from others correctly, and to recognize the differences between MLA and APA format in order to create accurate works cited and reference pages. The final four chapters shift away from a more scientific approach to academic writing by drawing attention to literature and literary analysis. There are chapters for each genre of literature: fiction/nonfiction, poetry, and drama.
Part 1 THE WRITING PROCESS
1. Understanding Writing Situations
Subject
Purpose
Audience
Paper Categories and Styles
Resources
Requirements
Prewriting
Working Thesis
2. Building Effective Paragraphs: Introductions, Bodies, and Conclusions
Paragraph Conventions
Introductions
Body Development
Conclusions
3. Strategies for Thesis Success
What is a Thesis, and Why Is It so Important?
The Six Guidelines for Thesis Success
Evidence in Support of Your Thesis
How Do I Know I Have the Best Evidence?
4. Reading Rhetorically
Rhetoric: An Unfairly Maligned Tool Set
Information Bubbles and Confirmation Bias
Statis Theory
Evaluating Sources
5. Writing Rhetorically
Academic Context
Professional Context
Civic Context
PART 2 GRAMMAR
6. Practical English Grammar 1
Introduction to Parts of Speech
Beginning
Nouns
Verbs
Verb Tenses
Advanced Verb Tenses
Articles
7. Practical English Grammar 2
Major Punctuation
Commas
Semicolons
Other Punctuation
8. The Ten Comma Rules and Three Semicolon Rules
The Ten Comma Rules
The Three Semicolon Rules
9. Word Choice and Tone
Commonly Confused Words
PART 3 RESEARCH
10. Conducting Original Research
How to Prepare for and Conduct an Interview
How to Create and Conduct a Simple Survey
How to Do Naturalistic Observation
What Is Participant Observation?
What Is Ethnography?
11. How to Incorporate Research and Ideas from Others
Direct Quotes, Paraphrases, and Summaries
Here's a summary of Townshend's paragraph
PART 4 LITERATURE
12. Reading and Writing about Literature
Pre-reading Activities
Reading about Literature
Intensive Reading or Re-reading
Interpreting Literature – How to Get It Right
Double-Entry Notebook
A Demonstration Double-entry Notebook on "The Necklace" by Julianne Wheeler
Literary Criticism
Pre-writing and Invention Activities
Writing about Literature and the Process
Revising and Editing Activities about Writings about Literature
13. Reading and Writing about Fiction
Elements of Fiction
Reading and Analyzing Fiction
Writing about Fiction
Revising and Editing an Essay about Fiction
Editing and Proofreading about Writing about Fiction
14. Reading and Writing about Poetry
Poetic Devices
Figures of Speech
Types of Imagery
Reading and Analyzing Poetry
Poems for Reading and Discussions
Writing about Poetry
Revising and Editing about Writing about Poetry
Editing and Proofreading about Writing about Poetry
15. Reading and Writing about Drama
The Structure of a Play
Literary Devices
Reading, Watching, and Analyzing Drama
Writing about Drama
Revising and Editing Writing about Drama
Editing and Proofreading about Writing about Drama

Ebook
$62.00
ISBN 9781792400414
Details Electronic Delivery EBOOK 180 days