RETURN TO SEARCH RESULTS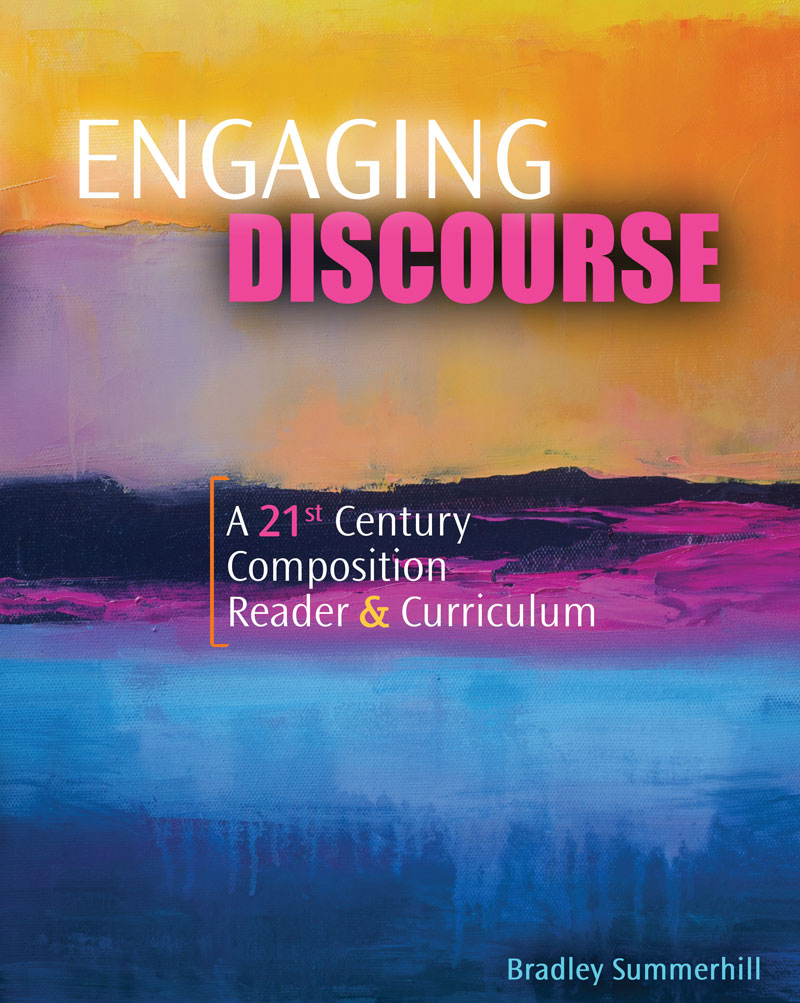 Engaging Discourse: A 21st Century Composition Reader & Curriculum
Author(s): Bradley Summerhill
Edition: 1
Copyright: 2020
Pages: 264




Details: Print Product |
We are diverse. We do not share the same ideology, religion, ethnicity, or socio-economic background.
We do not need to agree, but we do need to share ideas and to learn to communicate with a clear and open mind, in clear and meaningful language. We need to speak and write with thoughtfulness, even mindfulness, and with honesty.
Engaging Discourse: A 21st Century Composition Reader & Curriculum encourages students to engage in public discourse, the lost art of meaningful conversation. These "conversations" take place in writing, language composed in accordance with the guidelines of standard written English.
Written to address Millennials and Generation Z born and raised in the information age, Engaging Discourse is a collection of collection of classic and contemporary readings, assignments, and resources that:
instructs readers to evaluate a source material and analyze the author's language.
helps students to develop and sustain a reasonable point of view and encourages them to persuade others to respect, value, and share their own point of view.
explains how to compose a piece of writing that empowers its author through the composition's capacity to evaluate and to control language.
assesses comprehension of concepts taught throughout the publication by utilizing "Questions for Comprehension" activities.
Our Classroom is America
Welcome to Engaging Discourse
Editor's Note
The Definition of "Discourse"
READ THIS NOW! A Preface for Students and Instructors
Millennials or Gen Z?
Unit One: Education
Readings, Responsibilities, & Objectives for Unit One: Education
Readings
Isaac Asimov, "What Is Intelligence, Anyway?" (Publication date unknown)
Russell Baker, "School vs. Education" (1975)
Mike Rose, "I Just Wanna Be Average" (1989)
Assignments
Sentence Exercise #1
Sentence Exercise #2
Reader Response #1
Reader Response #2
Unit One Essay Topics
Resources
Reader Response Guidelines
Why MLA?
The Principle of Rising Rigor
Introducing Texts or Sources for the Benefit of the "Outside" Audience
Another Form of Quotation Integration
Quotation Integration
Suggested Outline for Essay One, Option 1a.
Further Inquiry & Research
Additional Source Materials by Topic
Unit Two: Feminism
Readings, Responsibilities, & Objectives for Unit Two: Feminism
Readings
Judy Brady, "Why I Want a Wife" (1971)
Margaret Atwood, "Pornography" (1988)
Gloria Steinem, "Erotica and Pornography" (1983)
Wendy McElroy, "A Feminist Defense of Pornography" (1997)
Susan Brownmiller, "Femininity" (1984)
"Rape and Modern Sex War" by Camille Paglia (1988)
Assignments
Sentence Exercise #3
Reader Response #3
Paragraph Exercise #1
Reader Response #4
Unit Two Essay Topics
Resources
"Feminism": Denotation and Connotation
Purpose & Audience
Logos, Ethos, or Pathos?
The Definition of Pornography in America
Further Inquiry & Research
Additional Source Materials by Topic
Unit Three: Political Correctness
Readings, Responsibilities, & Objectives for Unit Three: Political Correctness
Readings
Alleen Pace Nilsen, "Sexism in English: A 1990s Update" (1990)
George Orwell, "Politics and the English Language" (1946)
John Taylor, "Are You Politically Incorrect?" (1991)
Assignments
Paragraph Exercise #2
An Exercise in Peer Critical Analysis
Unit Three Essay Topics
Resources
Definition of "Politically Correct"
Definition of "Social Justice Warrior"
PC in the Classroom
The Importance of Attribution
The "N" Word
Further Inquiry & Research
Additional Source Materials by Topic
Unit Four: An Introduction to Research in the 21st Century
Readings, Responsibilities, & Objectives for Unit Four: An Introduction to Research in the 21st Century
Readings
Optional: a novel to be determined by the instructor
Suggestions:
Mark Haddon, The Curious Incident of the Dog in the Night-Time (2003)
Alice Walker, The Color Purple (1982)
George Orwell, 1984 (1949)
Assignments
Book Review Assignment
Research Assignment Associated with the Novel
Library Assignment
Annotated Bibliography Assignment
Unit Four Essay Topics
Resources
Research in the 21st Century
A Few Key Definitions
The National Council of Teachers of English (NCTE) Definition of 21st Century Literacies
Major Research Question
Further Inquiry & Research
Additional Source Materials by Topic
Unit Five: Social Psychology
Readings, Responsibilities, & Objectives for Unit Five: Social Psychology
Readings
Stanley Milgram and Paul Hollander, "Paralyzed Witnesses: The Murder They Heard" (1964)
Stanley Milgram, "The Perils of Obedience" (1974)
Assignments
Reader Response #5
Reader Response #6
Unit Five Essay Topics
Resources
A Worksheet on Stanley Milgram and Paul Hollander's "Paralyzed Witnesses: The Murder They Heard"
Integrating a Minor Source
The Rhetorical Situation
A Worksheet on Stanley Milgram's "The Perils of Obedience"
Comparing Quotations
Offering a Contrary Viewpoint as an Effective Rhetorical Strategy
Readability Score
Further Inquiry & Research
Additional Source Materials by Topic
Unit Six: The Web Effect
Readings, Responsibilities, & Objectives for Unit Six: The Web Effect
Readings
Langdon Winner, "Mythinformation" (1986)
Assignments
Reader Response #7
Unit Six Essay Topics
Resources
Brainstorming on "Mythinformation"
A Brief History of the Internet
Podcasting Your Abstract
Further Inquiry & Research
Additional Source Materials by Topic
Notes
Afterword for Deans and Department Chairs
Outcomes & Objectives for First Year College Composition
Suggested Course Structure, Hierarchy of Assignments, Timelines, & Point Values
Reading, Literacy, & Composition Standards
The Role of Two-Year Colleges in American Higher Education
Acknowledgments
"Questions for Comprehension" Response Key
Index
Print
$57.89
ISBN 9781524969066
Details Print Product