RETURN TO SEARCH RESULTS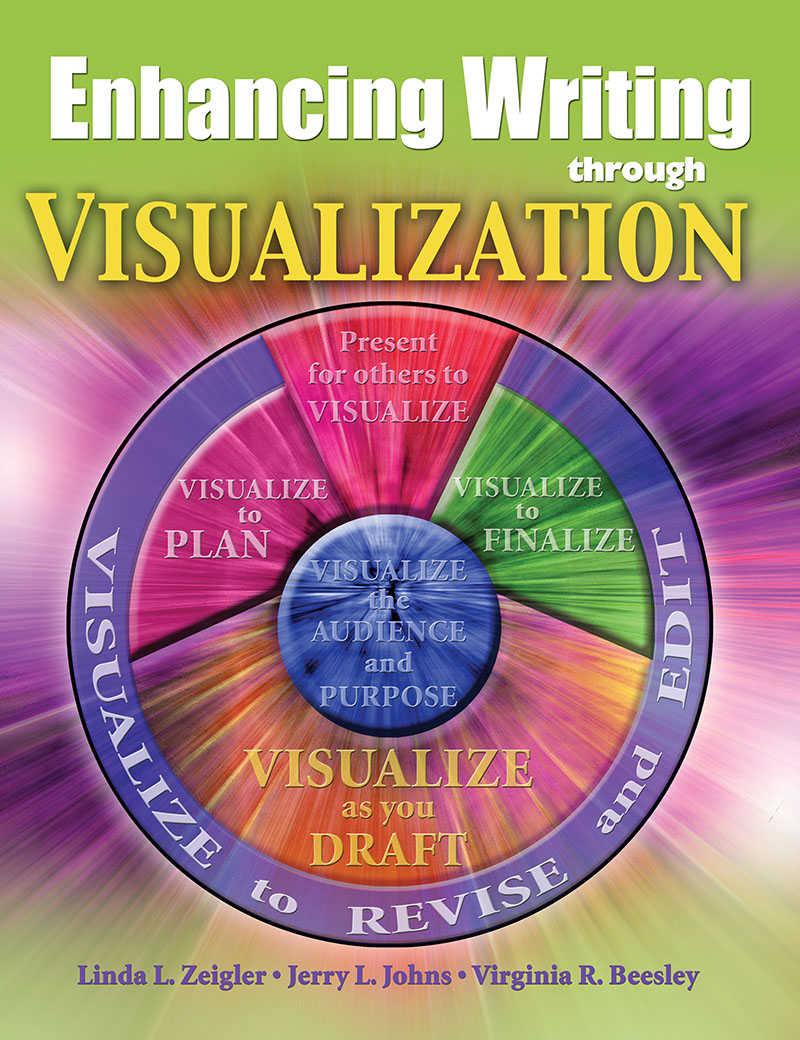 Details: Electronic Delivery EBOOK | 180 days |
View the Reading Resources Catalog
Now teachers have a "how to" book to help them teach students the strategy of visualization and the important role it plays in literacy.

By integrating visualization into the writing process, students think as they create. And since an image looks the same in any language--this research-based strategy benefits every learner! The ultimate goal is for students to become lifelong writers. This research-based book provides teachers with 55 lessons arranged developmentally into 15 goals.
FEATURES:
Writing Indicators - each lesson is prefaced with information to help teachers choose lessons that match the needs of their students. The indicators are labeled with writing traits to help teachers comprehend how each lesson incorporates multiple elements of writing.
Guided Practice - 55 lessons are arranged developmentally into 15 goals within three stages: realizing, understanding, and applying. Each of the stages contains goals to help students gain competence in that stage.
Modeling - sample lessons instruct teachers to share their thinking. Student writing examples serve as models to help teachers assess their students' writing.
Application - at the end of each goal, simple instructions help teachers apply the learning through reinforcement activities, questions/cues for individual students, and links to literature.
Instructional Focus - includes indicators found within writing standards of many states. These indicators easily link with the six traits of writing (see "Using the Lessons" sample for more information)
Book Design - this book is set-up as three stages: realizing, understanding, and applying.
Preface
About the Authors
Using the Lessons

Visualization Overview, Questions and Answers
STAGE 1: REALIZING

Overview 1

Goal 1: To help students realize that authors create text to stimulate mental images in a reader.

Lesson 1 Making Pictures
Lesson 2 Dare to Compare
Lesson 3 Do You See What I See?
Lesson 4 The Power of Words

Reinforcing Goal 1
Questions and Cues for Writers
Ways to Link Literature

Goal 2: To help students realize that mental images should be created before, during, and after writing.

Lesson 1 Ideas Galore
Lesson 2 Before, During, After
Lesson 3 Guided Imagery
Reinforcing Goal 2
Questions and Cues for Writers
Ways to Link Literature

Goal 3: To help students realize that mental images come from imagination and prior knowledge and can be used to create text.

Lesson 1 Beyond the Picture
Lesson 2 What-If
Lesson 3 Free Ideas: Connecting Painting and Writing
Reinforcing Goal 3
Questions and Cues for Writers
Ways to Link Literature
Writing Examples from Stage 1: Realizing

STAGE 2: UNDERSTANDING

Overview

Goal 4: To help students understand how to use visualization at all stages of the writing process (planning, drafting, revising and editing, and presenting).

Lesson 1 Envisioning the Writing Process
Lesson 2 Dogs for All Reasons
Lesson 3 Expand Thinking with Questions
Lesson 4 Visualize to Revise and Edit
Lesson 5 Big Picture Revision
Lesson 6 Big Picture Sequence

Reinforcing Goal 4
Questions and Cues for Writers
Ways to Link Literature
Writing Examples from Goal 4

Goal 5: To help students understand how to use appropriate word choice to help convey the desired detailed imagery to the reader.

Lesson 1 Visualize a Character
Lesson 2 Creation
Lesson 3 Word Collectors
Lesson 4 Creating Word Lists

Reinforcing Goal 5
Questions and Cues for Writers
Ways to Link Literature
Writing Examples from Goal 5

Goal 6: To help students understand how to create fluent sentences and use conventions to help readers visualize.

Lesson 1 Putting It Together
Lesson 2 Sentence Builder
Lesson 3 Sentence Generator
Lesson 4 Phrasing a Character

Reinforcing Goal 6
Questions and Cues for Writers
Ways to Link Literature
Writing Examples from Goal 6

Goal 7: To help students understand how to use effective organization to move the reader from one image to another.

Lesson 1 Making It Move
Lesson 2 One Thing Leads to Another
Lesson 3 See the Question to See the Answer
Lesson 4 From Here to There and Back Again

Reinforcing Goal 7
Questions and Cues for Writers
Ways to Link Literature
Writing Examples from Goal 7

Goal 8: To help students understand how to create text so readers can experience sensory and/or emotional images.

Lesson 1 Emotions Lead to Communication
Lesson 2 Ways to Persuade
Lesson 3 Zoom In and Focus
Lesson 4 Words Matter

Reinforcing Goal 8
Questions and Cues for Writers
Ways to Link Literature
Writing Examples from Goal 8

Goal 9: To help students understand how to use figurative language and literary techniques to deepen the reader's visualization experience.

Lesson 1 The "Eyes" Have It
Lesson 2 Remember When/Flashback
Lesson 3 Authors Show Us How
Lesson 4 If Judy Were a Shoe
Lesson 5 Making Heads and Tails of Idiomatic Expressions

Reinforcing Goal 9
Questions and Cues for Writers
Ways to Link Literature
Writing Examples from Goal 9

STAGE 3: APPLYING

Overview

Goal 10: To help students use visualization to create narrative text.

Lesson 1 Plan a Narrative
Lesson 2 Color My World
Lesson 3 Hat Stories

Goal 11: To help students use visualization to create expository text.

Lesson 1 Fact Finders
Lesson 2 Finding Out
Lesson 3 Analyze a Poem

Goal 12: To help students use visualization to create technical text.

Lesson 1 Act Like an Animal
Lesson 2 Artifact Investigation
Lesson 3 Favorite Pastimes

Goal 13: To help students use visualization to create persuasive text.

Lesson 1 Fact and Opinion
Lesson 2 To Do or Not to Do
Lesson 3 Nature Reflection Pro and Con

Goal 14: To help students use visualization to create text to express unique thoughts and ideas.

Lesson 1 Inspiration
Lesson 2 Reflect and See
Lesson 3 Free-painting a Response to Literature

Goal 15: To help students use visualization to create multiple text types.

Lesson 1 From Facts to Fiction
Lesson 2 Rethinking a Character

Lesson 3 Poetry PowerPoint

Reinforcing Goals 10-15
Questions and Cues for Writers
Ways to Link Literature

Appendices: A: Writing Indicators B: Genre Checklist C: Powerful Prompts
References
Index
Ebook
$35.28
ISBN 9781465241009
Details Electronic Delivery EBOOK 180 days