RETURN TO SEARCH RESULTS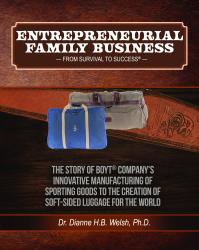 Entrepreneurial Family Business: From Survival to Success
Author(s): Dianne Welsh
Edition: 1
Copyright: 2022
Pages: 166




Details: Print Product |
Entrepreneurial Family Business: From Survival to Success is a comprehensive look at the impactful elements surrounding family business and entrepreneurship throughout time. It emphasizes the importance of overlap between family, business, and ownership by utilizing story-telling techniques. By explaining the role of entrepreneurship with a story, the author is able to show practical applications and highlight important cornerstones of family business. Historical documents and records are provided throughout the text in order to supply fact-based evidence.
The author, Dr. Dianne H.B. Welsh, discusses the creation, experiences, and evolution of her family business, Boyt®, which began in 1901 as a horse and animal equipment company, evolved into Boyt® Division Welsh Sporting Goods that revolutionized the soft-sided luggage industry around the world, and is now in its next phase and ownership.
Entrepreneurial Family Business: From Survival to Success focuses on the role of innovation in the development and longevity of Boyt®. It highlights the integral roles that each person plays in the success of a business and emphasizes that each role deserves respect and praise. This text allows readers to consider the outcomes of their decisions and the impact on the sustainability of the family, business, and ownership.
Chapter 1: Know How to Get Home
Chapter 2: Know Where Else to Go
Chapter 3: Know the Beginnings of Innovation
Chapter 4: Know Your Direction
Chapter 5: Know What You Stand For
Chapter 6: Know to Protect Your Story
Chapter 7: Know the Financials
Chapter 8: Know Sales and Marketing
Chapter 9: Know the Family
Chapter 10: Know Leadership
Chapter 11: Know the Importance of Learning
Chapter 12: Know that Too Big Too Fast Can Become a Liability
Chapter 13: Know to Not Let the Cornerstones Crack
Chapter 14 (Epilogue): Know History Repeats Itself
Chapter 15: Know the Rest of the Story
Print
$44.00
ISBN 9798765715529
Details Print Product