RETURN TO SEARCH RESULTS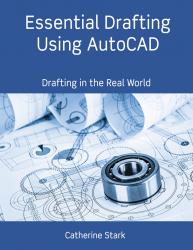 Essential Drafting Using AutoCAD: Drafting in the Real World
Author(s): Catherine Stark
Edition: 1
Copyright: 2021


Details: Electronic Delivery EBOOK | 180 days |
What sets this book apart from other finely written and illustrated AutoCAD drafting books?
It is the call to Think.
No, this book will not teach you how to think. You already do that quite well! For this point in your life, with all the successes and challenges you've experienced, you are precisely where you are, right now. And where you are is just fine.
Instead, this book will attempt to help you more accurately see how you see. We all observe things a little differently from one another and we all bring our own brand of curiosity with us. Within this book are many explanations and illustrations and options for understanding, all with the hope that you will be able to find some examples that speak to you and expand your understanding and therefore your world.
To observe:
"To watch carefully especially with attention to details or behavior for the purpose of arriving at a judgment"
To be curious:
"Marked by desire to investigate and learn"
(Merriam-Webster)
What is your response to this? This can be the first thing to observe. Your response in many ways is unconscious and as hard to stop as a sneeze. Are you thinking you're bored with this overview? Are you thinking you're hungry, or don't like the font, or are intrigued? All these responses are valid, including the one you have right now. Being aware of your responses may give you a clue about how to best use this book for your unique and personal benefit. Or it may not!
The point is, we all learn in different ways. I personally want to know the end of the story first so I can enjoy the middle more and know where it's going. I don't like being surprised. Other people like the suspense of not knowing how a story will end. Both are valid, neither is wrong.
This foundational concept of this book is that is supports differing styles of learning and of gathering and retaining information. As you work through the book, WATCH what captures your interest. Watch for those things that make you wonder where time has gone, as well as those things that make you yawn in the middle of the day and want to watch TV.
BE CURIOUS when you like or don't like something in particular. DIVE IN and really question if you will take up the challenge of learning something that makes you feel annoyed and might be a waste of time or if this time you'll go get that cup of coffee or take a nap. DIVE IN and capture the sparks of interest that happen when you come across something that makes you feel like suddenly the world makes sense. DIVE IN and question, question, question. ("How can I get that ellipse to actually look like an ellipse?")
The information you'll gather about yourself are gems of wisdom.
Question HOW (not why) you are thinking about something. ("I'm thinking that an ellipse is nothing more than a squished circle, which means circle to me, and maybe that's why my ellipses are all circular."). See if you can observe your perspective. Then see if your perspective shifts. See if you can be curious about observing how you're thinking RIGHT NOW, and wonder if there is a different way of looking at it.
Remember, your thinking is just fine the way it is. Your thinking is not wrong. Your thinking doesn't have to change. When you observe your thinking in the moment and use it as a springboard to expand your perspective, it might perhaps also expand your life. Or not!
So challenge yourself, observe yourself, be curious about yourself, own your struggles. Have fun with your challenges and successes throughout this book. Drop me a line and let me know how you're doing and what you think or thought.
And yes, this is a Drafting Book and a book about how to use AutoCAD. But the drafting book and the drafting application are only tools. YOU are the most important part of the equation.
Contents
LINES AND EDGES NO. 1
Learning Objectives
Box
Cylinder
Circular Holes (Another type of Cylinder)
Circular Holes—Another Linetype
Where Do Lines End?
When a Line Becomes a Point
LINES AND EDGES NO. 2
Learning Objectives
Perpendicular View
Foreshortening
Examples of Things That Are Foreshortened
The Other Instance That Requires a Line
Putting It All Together
Review
More Examples
EMPIRICISM
Learning Objectives
Empiricism
Another Example Using Empiricism
ISOMETRICS
Learning Objectives
Isometric Views (or "Isometrics")
THIRD-ANGLE PROJECTION
Learning Objectives
Third-Angle Projection
Relationship between Views
Another Method for Transferring Information
Quick Note about Dimensions
TANGENTS AND QUADRANTS
Learning Objectives
SECTION VIEWS
Learning Objectives
Scale
Section Views
Different Types of Circular Holes
Review of the Rules for Sections
ISOMETRIC VIEWS
Learning Objectives
Materials Needed for This Chapter
Example
Drawing an Isometric Circle
TRICKY VIEWS
Learning Objectives
Drafting Disciplines
Presentation Drawings
Technical Drawings
CARTESIAN COORDINATE SYSTEM
Learning Objectives
RIGHT HAND RULE
Learning Objectives
ABSOLUTE VERSUS RELATIVE
Learning Objectives
Interactive Method to Use the MOVE Command
Absolute Method to Use the MOVE Command
Direct Distance Method to Use the MOVE Command
Relative Rectangular Method to Use the MOVE Command
Relative Polar Method to Use the MOVE Command
COMMAND-DRIVEN
Learning Objectives
Typing a Command
Selecting a Command Icon
Typing a Command Alias
LAYERS
Learning Objectives
Accessing AutoCAD Layers
REAL-WORLD
Learning Objectives
LAUNCHING AUTOCAD
Learning Objectives
COMMAND LINE
Learning Objectives
RIBBONS, TOOLS, AND TOGGLES
Learning Objectives
F12
Learning Objectives
Summary
DRAW LINE
Learning Objectives
MOVE LINE
Learning Objectives
DRAW CIRCLE
Learning Objectives
COPY CIRCLE
Learning Objectives
Selection Sets
TRIM CIRCLE
Learning Objectives
EXTEND Command
MORE LINES AND CIRCLES
Learning Objectives
OSNAPS
Learning Objectives
MODIFYING LINES AND CIRCLES
Learning Objectives
STRETCH Command
ROTATE Command
MIRROR Command
SCALE Command
REFERENCE Option for ROTATE and SCALE Commands
FILLET Command
ARRAY Command
OFFSET Command
Grips and Grip Editing
LAYERS AND LINETYPES
Learning Objectives
PAPER SPACE, MODEL SPACE
Learning Objectives
PSLTSCALE Command
LAYOUTS
Learning Objectives
Altering the Viewport
TITLEBLOCK
Learning Objectives
Creating a Titleblock
Using the Titleblock
MULTIPLE IDENTICAL ITEMS
Learning Objectives
Two Types of Blocks
BLOCK Command
Steps to Redefine a Block
Blocks and Layers
Libraries
MODIFYING BLOCKS
Learning Objectives
TEXT
Learning Objectives
Text Styles
DTEXT Command
MTEXT Command
Advantages and Uses of DTEXT and MTEXT
Changing STYLEs
ATTRIBUTES
Learning Objectives
Creating an Attribute
Attribute Section
Text Settings Section
Other Uses for Attributes
DIMENSIONS
Learning Objectives
VIEWPORTS
Learning Objectives
SCALE
Learning Objectives
Drawing Scale
Dimension Scale
Paper Space Approach to Dimensioning
TIPS FOR DETAILS
Learning Objectives
Create Dimensions Styles per View—Resolving First Dimension Issue
Create Layers per View—Resolving Second Dimension Issue
Labeling Views
One Last Item…
WRAPPING IT UP
Learning Objectives
Ebook
$78.75
ISBN 9781792462726
Details Electronic Delivery EBOOK 180 days