RETURN TO SEARCH RESULTS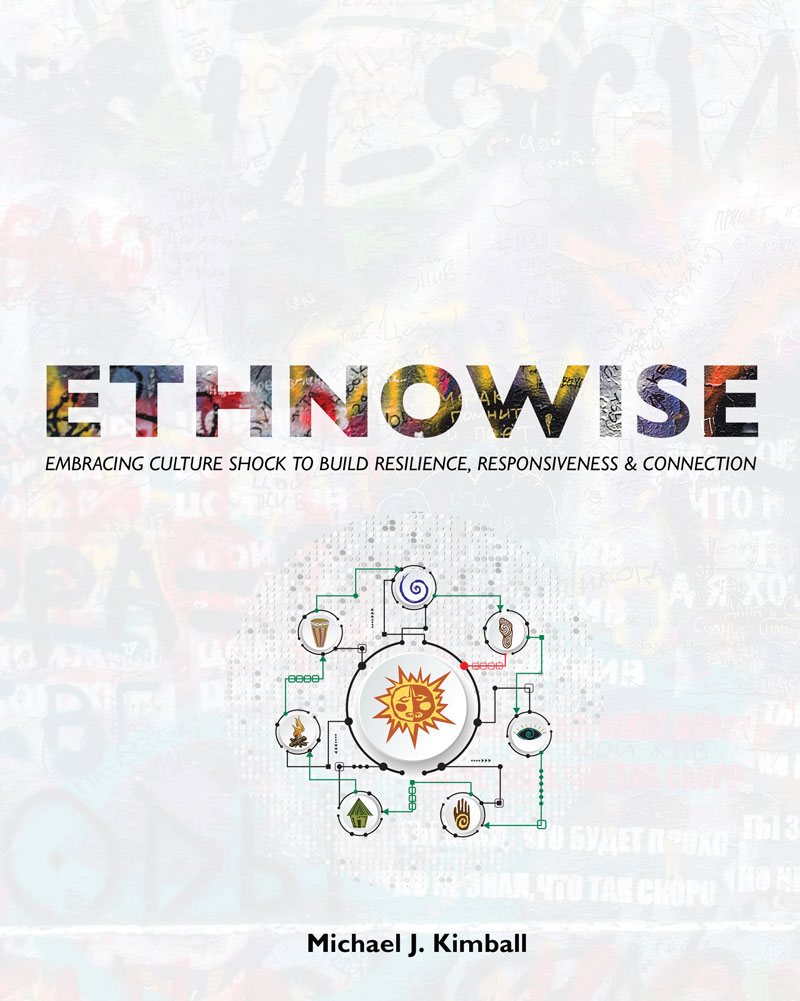 Ethnowise: Embracing Culture Shock to Build Resilience, Responsiveness, & Connection
Author(s): MICHAEL KIMBALL
Edition: 1
Copyright: 2017
Pages: 358




Details: Print Product |
Negative intercultural encounters have diverse causes – fear, anger, ignorance, actual danger in some cases. But many simply boil down to culture shock – a knee-jerk reaction to the culturally unfamiliar.
The signs of culture shock are everywhere these days—on social media, between nations and groups, in our streets and homes.
Ethnowise: Embracing Culture Shock to Build Resilience, Responsiveness, & Connection provides a path that invites readers to not only face, but actually embrace culture shock. The publication uses popular culture metaphors (The Matrix and Alice's Adventures in Wonderland) throughout to apply concepts and scenarios to real-life.
Ethnowise: Embracing Culture Shock to Build Resilience, Responsiveness, & Connection by Michel J. Kimball:
Provides a set of engaging principles and techniques rooted in anthropology, neuroscience, psychology and the science and practice of mindfulness.
Helps readers to disrupt their habitual reactions to the unfamiliar, grow their resilience to cultural discomfort, and transform culture shock into connection.
Presents a set of Ethnowise Insights, Efforts, and Tools that you will need to penetrate the dreamlike milieu of your cultural matrix and see the "code" that underlies it.
Helps chart the steps along an ethnowise path as the reader works to penetrate the secrets of other cultural matrices, and, in the process, cultivate the resilience, responsiveness and connections you need to thrive in a rapidly changing world.
Utilizes data from electronic Human Relations Area Files (eHRAF) as a primary source.
Welcome to the Cultural Discomfort Zone!
CDZs
Call
Confession
Choice
Crossroads
Components
3 things to know about culture shock.
The gist
1. Culture shock hits your ABCs.
2. Culture shock makes you reactive.
3. But you can transform culture shock into resilience, responsiveness and connection
References
Part I: 5 ethnowise principles
Know yourself to know others.
Principle 1: Your culture is a matrix.
The gist
The Matrix is everywhere.
1. Your cultural matrix is everywhere. It is all around you. Even in you.
2. You are a co-architect of your cultural matrix.
3. Some cultural matrices are weirder than others.
4. There are many portals into your cultural matrix.
The gist
Your stuff is a portal into your cultural matrix.
The gist
There's a world behind your shirt
Stuff gets exchanged
Stuff marks status
Stuff embodies belief
Your language is a portal into your cultural matrix
Your notion of family is a portal into your cultural matrix
Finding a portal through kinship terms
Finding a portal through soft kinship
Finding a portal through marriage
Your sense of time is a portal into your cultural matrix.
Your emplaced body is a portal into your cultural matrix
Where do you point to the future?
Your brain is a portal
Your posture and movement are portals
Your emotions are portals
Your sensorium is a portal
Next steps
References
Principle 2: Stories feed your matrix.
The gist
The power of stories.
1. Your brain is pre-wired for storytelling
Me Storytelling
We Storytelling
2. Stories put you in your place
Me/We Storytelling
Emplaced storytelling
3. You understand stories through traditions of belief and disbelief
Next steps
References
Principle 3: Your cultural matrix warps your view.
The gist
Through a glass, darkly.
1. Face it, you are ethnocentric.
2. Your cultural values tint your lens.
3. Your cultural logic tints your lens.
Next Steps
References
Principle 4: You are pre-wired to find your tribes.
The gist
The problem and potential of tribes.
1. You have a "hive switch"
2. You use shibboleths to sort your tribes
3. Your tribal identities help to define you
The gist
Identities are like a name tag
1. Your tribal identities define your place
2. Your tribal identities define what matters to you
3. Your tribal identities are contingent
Next steps
References
Principle 5: You are an avatar.
The gist
Your culturally conditioned Self.
1. Your Self is an avatar
2. Your "I" is culturally conditioned
Your independent and interdependent I
Your ephemeral and abiding I
Your essential and inessential I
3. Your "mine" is culturally conditioned
4. Your "me" is culturally conditioned
Next steps
References
Part II: Ethnowise insights, efforts & tools
You can hack your cultural matrix.
Mindfulness practices
7 ethnowise insights
The gist
1. Mindful awareness of your intentions means fewer unpleasant surprises
2. Mindfulness + wonder = openness to experience.
3. Present-time awareness increases your options and improves your confidence.
4. Turning toward experience – painful, joyous, everything in between – grows your resilient zone.
5. Mindfulness + nonjudgment = more freedom to respond appropriately
6. Locating your emotions in your body helps you manage and respond to them
7. You need to keep training your mindfulness muscle.
References
Ethnographic sensibilities
7 ethnowise efforts
The gist
1. Embrace vulnerability, uncertainty, and humility.
2. Go beyond the limits of your own taken-for-granted world.
3. Be a responsive witness.
4. Build rapport.
5. Situate your knowledge.
6. Look for both houses and carpenters
7. Give voice to lived experience
References
4 ethnowise tools
Tool 1: Mindfulness meditation
Strengthen your attention muscle. Get to know yourself better
Tool 2: Mindful awareness
Witness the flow of your reactivity
Tool 3: Deep hanging out
Pay attention to everything. You are your method
Tool 4: Deep listening
Don't listen to react. Listen to learn.
References
Part III: 7 ethnowise steps
There's a difference between knowing the path and walking the path
A synopsis of ethnowise principles
A synopsis of ethnowise insights, efforts, and tools
Follow your white rabbit.
Down the rabbit hole
Know the One
Implicit Association Test
Aukland Individualism and Collectivism Scale
Moral Foundations Vignettes
Disgust Scale-Revised
Curiosity and Exploration Inventory II
Mindful Attention Awareness Scale
[EMAN]'s Adventures in [FOOD]land
References
An ethnowise path
Breathe
Enter
Wonder
Investigate
Situate
Express
Respond
A splinter in your mind
About the Author
Book Description
Kimball draws on a rich spectrum of sources to disclose the bona fide intersections of anthropology, psychology, literature, contemporary culture and everyday life experience. The result is a useful— and amusing—collection of insights about human relations in our rapidly changing world. Ethnowise is a special treat to read. Moreover, it will inspire reflections on your own multi-cultural encounters—as it should.
Richard Borden
Author of Ecology and Experience: Reflections from a Human Ecological Perspective
What does it mean to know oneself as a cultural being? That fundamental question animates Michael Kimball's wonderful new book. Cultural misunderstanding and its attendant suffering is an interdisciplinary problem. Kimball brings some of the best of anthropology, mindfulness and neuroscience to bear on this conundrum. We discover that appreciating the peculiarity of everything that seems 'natural' affords a basis for tolerance, cultural appreciation and ultimately, self-understanding.
Matthew Brensilver
Mindful Schools & UCLA Mindful Awareness Research Center
At a moment when the global tide of fear of the unknown is on a steep rise and social cohesion eroding, Michael Kimball's book Ethnowise is a timely and thoughtful contribution. Through captivating mini-case studies and illustrative scenarios taken from an incredible array of fields including sociology, psychology, literature, philosophy and lived experience he takes the reader on an exploratory journey of how our instincts and perspectives of the world drive our interpersonal scripts. By deconstructing the concentric circles of the 'I' and contextualizing it in the bigger picture of our families, communities and cultures the reader is challenged to examine our biases, stereotypes and narratives and then encouraged in a nonjudgmental but provocative way to really think about how each of us, through increased mindfulness, could get just a little bit more 'ethnowise.'
Waidehi Gokhale
CEO, Soliya
Ethnowise is an educational and enlightening look at the way our cultural biases create discord and 'culture shock' anytime we confront difference in our lives. Kimball's delightful use of storytelling makes the book fun to read and brings his concepts to life. An important book for our times, Ethnowise offers a path towards greater understanding and connection across cultures.
Holly Rogers
Author of The Mindful Twenty-Something: Life Skills to Handle Stress…and Everything Else
Print
$56.23
ISBN 9781524911867
Details Print Product