RETURN TO SEARCH RESULTS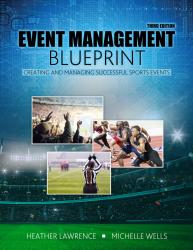 Details: Electronic Delivery EBOOK | 180 days |
Written from a practitioner's viewpoint, Event Management Blueprint: Creating & Managing Successful Sports Events bridges the gap between classroom instruction and on-the-job required tasks by providing current and future event managers with an event management template that can be used in the sports industry.

The NEW third edition of Event Management Blueprint challenges readers to create a sport event using a step-by-step process that breaks down tasks into manageable pieces including the processes associated with conceptualizing and planning an event. The end result of the project is a set of realistic guidelines that encompasses much of what is needed to execute the proposed event.

Written for advanced students and industry professionals with basic knowledge of general management practices, sport management, sport marketing, sport sponsorship, sport finance, risk management, and sport facility management, Event Management Blueprint: Creating & Managing Successful Sports Events:
Utilizes a practical approach to creating and managing sports events of all types and sizes.
Is written by experts in the field - contributing authors share knowledge of experience in event management, facility management, and overseeing sport organizations.
Is student friendly! Each chapter includes an introduction and author biographies and concludes with a summary.
Student Challenges at the conclusion of each chapter systematically guide students through the creation of their own sports event.
Includes New Chapters on emerging topics such as event sustainability, event travel packages and sports tourism, event technology and social media, and more.
AUTHOR BIOS
CHAPTER 1: EVENT FOUNDATIONS
Heather Lawrence, Athena Yiamouyiannis, and Michelle Wells
CHAPTER 2: EVENT FEASIBILITY
Heather Lawrence
CHAPTER 3: EVENT BIDDING
Maria Solomon & Heather Lawrence
CHAPTER 4: EVENT IMPACT
Norm O'Reilly
CHAPTER 5: EVENT BUDGETING
Michelle Wells and Alexis Sigler
CHAPTER 6: EVENT CONTRACTS
Kelley K. Walton, JD and B. David Ridpath
CHAPTER 7: EVENT EXTERNAL RELATIONS
Packy Moran
CHAPTER 8: EVENT MARKETING
Melissa Davies, Matthew Cacciato, and Jim Kahler
CHAPTER 9: EVENT SPONSORSHIP
Annie Valeant and Jim Kahler
CHAPTER 10: EVENT DIGITAL ENGAGEMENT
Jackie Reau & Michael Pfahl
CHAPTER 11: EVENT PARTICIPANT REGISTRATION
Roy Edmondson and Heather Lawrence
CHAPTER 12: EVENT TICKETING
Robb Wade, Ken Troupe, and Landon Huffman
CHAPTER 13: EVENT STAFFING
Colleen McGlone, Heather Lawrence, and Kelley K. Walton, JD
CHAPTER 14: EVENT VOLUNTEER MANAGEMENT
David Pierce, and Florence May
CHAPTER 15: EVENT RISK MANAGEMENT AND EMERGENCY PREPAREDNESS.
Heather Lawrence and Ericka P. Zimmerman
CHAPTER 16: EVENT LOGISTICS
Anup Daji, Stephen Brauer, and Cris Cicirello
CHAPTER 17: EVENT DOCUMENTS
Michelle Wells
CHAPTER 18: EVENT FOOD AND BEVERAGE
Michael DePerro
CHAPTER 19: EVENT RETAIL SALES
Jon Searle
CHAPTER 20: EVENT OPERATIONS
Heather Lawrence
CHAPTER 21: EVENT WRAP UP
Lynda Reinhart, John P. Tafaro, and Heather Lawrence
MICRO-CHAPTER 1: BUSINESS PLANS FOR THE EVENT MANAGER
Paul Benedict
MICRO-CHAPTER 2: ANALYTICS FOR THE EVENT MANAGER
Liz Wanless
MICRO-CHAPTER 3: SELLING ASSETS FOR THE EVENT MANAGER
Mark Rossi
MICRO-CHAPTER 4: INCLUSION, DIVERSITY, EQUITY, AND ACCESS (IDEA) FOR THE EVENT MANAGER
Christina Wright
MICRO-CHAPTER 5: SUSTAINABILITY FOR THE EVENT MANAGER
James Strode, Ph.D.
MICRO-CHAPTER 6: VENUE PLANNING FOR SAFE EVENT MANAGEMENT
Jon Niemuth, AIA, NCARB, LEED®AP
MICRO-CHAPTER 7: YOUTH SPORTS FOR EVENT MANAGERS
Mauro Palmero
MICRO-CHAPTER 8: INTERSCHOLASTIC ATHLETICS EVENT MANAGEMENT
Aaron Wright
MICRO-CHAPTER 9: INTERCOLLEGIATE ATHLETICS EVENT MANAGEMENT
Dan Butterly
MICRO-CHAPTER 10: ESPORTS EVENT MANAGEMENT
Brandon M. Wright
MICRO-CHAPTER 11: ADVENTURE RACE EVENT MANAGEMENT
Melissa Davies
MICRO-CHAPTER 12: OUTDOOR RECREATION FESTIVAL EVENT MANAGEMENT
Danny Twilley
MICRO-CHAPTER 13: MULTI-DISCIPLINE EVENT MANAGEMENT.
Justin Bergh
MICRO-CHAPTER 14: VIP EVENT MANAGEMENT
Jackie Reau
Ebook
$62.48
ISBN 9781792429057
Details Electronic Delivery EBOOK 180 days