RETURN TO SEARCH RESULTS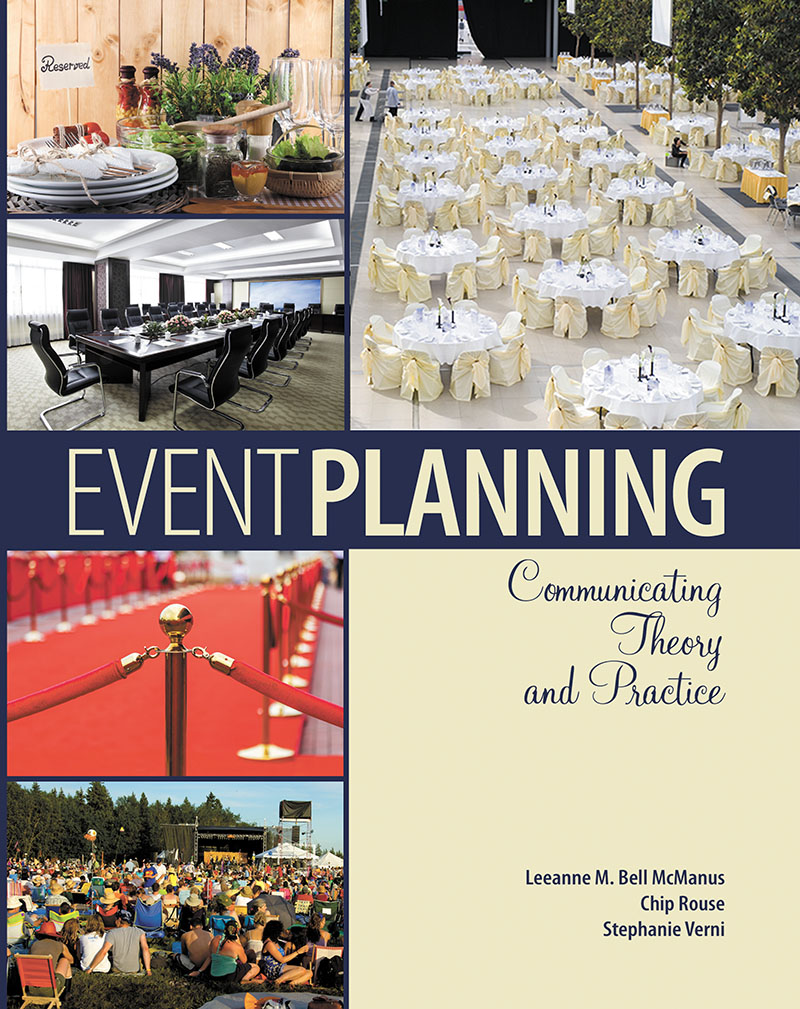 CHOOSE FORMAT ?
Details: Print Product Only (SA,CP, Pak, all Print) |
Event Planning: Communicating Theory and Practice offers a unique approach to the topic: through the use of intriguing case studies, the authors connect concepts in communication to practical event planning ideas. Understanding the "why" behind successful events is key to creating the perfect experience for clients. With a solid basis in communication theory, the text will enable event planners to manage each aspect of the planning cycle with clarity and precision.
Chapter 1—Communication: The Secret To Success in Event Planning
Event Planning
Definitions of Event Planning
Responsibilities of an Event Planner
Types of Events
Communication Connection
Communication Competence
Interpersonal Interactions
Diversity
Dialogue

Chapter 2—Listening: Generating Possibilities for You and Your Client
Hearing and Listening
Improving Your Listening

Chapter 3—Nonverbal Communication: The Unspoken Words of Event Planning
Nonverbal Communication
Kinesics
Facial Displays
Oculesics
Olfactics
Haptics
Physical Appearance
Artifacts
Paralanguage
Proxemics
Chronemics

Chapter 4—Interpersonal Relationships: Building Relationships That Matter
Interpersonal Communication
Rhetorical Sensitivity
Self-disclosure
Uncertainty Reduction Theory
Perception
Attribution Theory

Chapter 5—Skills of the Event Planner: Your Road Map to Success
Skills for Successful Event Planning
Responsibility and Self-Control
Availability
Flexibility
Organization
Time Management and Multi-Tasking Skills
Detail-Oriented Skills
Business Savvy
Design
Vision and Intuition
Passion

Chapter 6—Creativity: Event Planning with Panache
Creativity
Fostering Creativity
Creativity in the Environment
The Creative Process
Barriers to Creativity

Chapter 7—Leadership: Empowering Others in Event Planning
Leadership
Delegation of Responsibility
Vision
Perseverance and Self-Confidence
Emotional Intelligence
Motivation

Chapter 8—Budgeting: The Financial Side of Event Planning
Budgeting
Social Exchange Theory
Client Collaboration
Budget Stress

Chapter 9—Negotiation and Contracts: The Ethical Side of Event Planning
Negotiation
Contracts
Ethics

Chapter 10—Staging: Setting the Scene for the Event
Staging the Event
Venue
Travel
Mapping the Space
Hospitality and Seating
Décor and Theme
Ambiance
Music and Sound

Chapter 11—From Scripting to Reflecting
Scripting
Food and Beverages
Invitations
Programs
Registration
Speakers, Guests, and Special Invitees
Multi-Media
Gifts
Reflection

Chapter 12—Conflict and Crisis: Dealing with Unexpected Issues
Conflict
Conflict Management Methods
Crisis
Crisis Response
Calm Under Pressure

Chapter 13—Integrated Marketing Communication: Promoting the Event
Integrated Marketing Communication
Public Relations
Marketing
Advertising
Promotions
Social Media

Chapter 14—Entrepreneurship: Starting Your Own Event Planning Business
Entrepreneurship
Qualities of an Entrepreneur
Advantages of an Entrepreneurial Life
Disadvantages of an Entrepreneurial Life
They Hybrid Approach
The Business Plan
Branding Your Business
Branding Your Business Through Social Media
Networking
Mentorship
Print
$95.00
ISBN 9781465284471
Details Print Product Only (SA,CP, Pak, all Print)