RETURN TO SEARCH RESULTS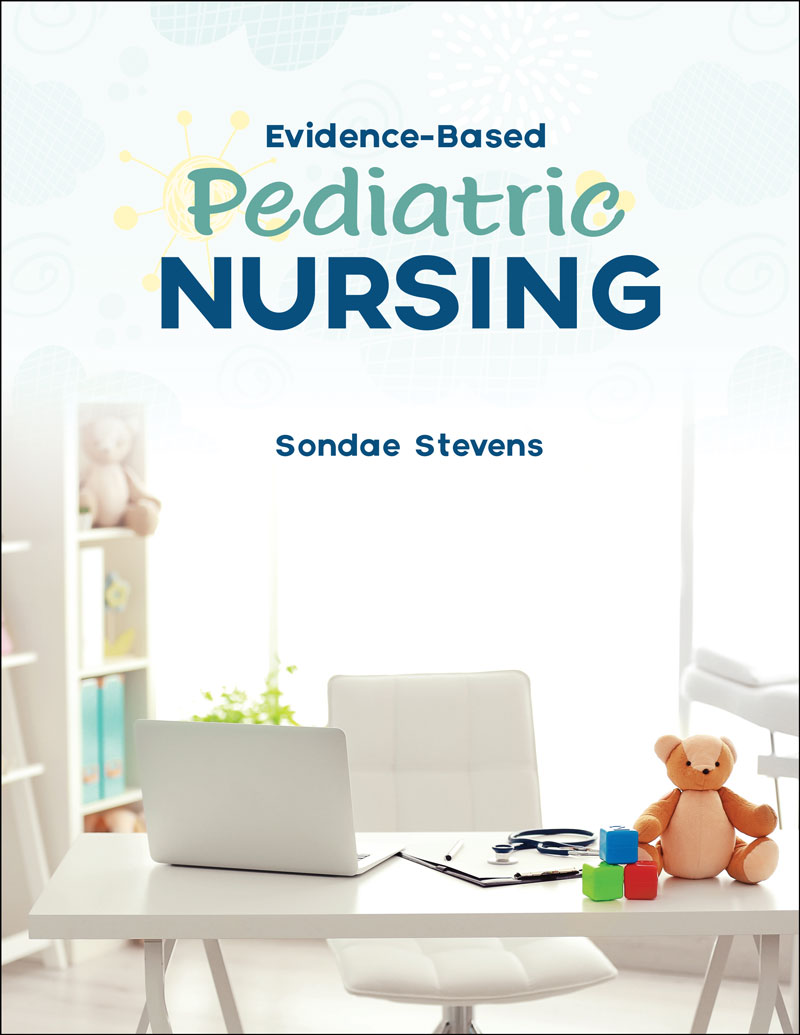 Evidence-Based Pediatric Nursing
Author(s): Sondae Stevens
Edition: 1
Copyright: 2018




Details: Print Prod w/KHPContent Code | 180 days |
This text is designed to promote critical thinking in nursing care for infants, children, and adolescents in hospitals and the community. Evidence-based Pediatric Nursing supports students to discover and synthesize new knowledge through the use of current evidence-based findings. This knowledge promotes collaboration with children, families, and other members of the health care team to create a holistic plan of care. It views health promotion and health maintenance interventions as an essential, continuous process that begins in pregnancy and develops throughout the lifecycle, regardless of pathology. This text also provides an introduction to evidence-based research to promote a research-practice connection to guide nursing practice.
This text uses the American Academy of Pediatrics, the World Health Organization, and Healthy People 2020 recommendations to guide nursing interventions. In addition, the Institute of Medicine and Quality and Safety Education for Nurses (QSEN) competencies give context to the evidence-based interventions. This text takes a visual approach with photographs, charts, and illustrations to reinforce concepts. After briefly introducing the physiologic basis for each nursing problem, it progresses through the steps of the nursing process, clearly delineating the role of the pediatric nurse. From normal growth and development, medication administration, and nutrition to an analysis of pathology that guides nursing and medical management of pediatric diseases and conditions—and chapter summaries emphasize important concepts.
The text also comes with a code in the front of each new book that unlocks instructor and student resources. There are 300 questions to test student learning and further experience with NCLEX-style questions.
Chapter 1 Pediatric Considerations
Pediatric History and Perspectives
Family Structure
Family-Centered Care
Play and Socialization
Physical Assessment
Medication Administration
Injections
Intravenous Medication
Pain Management
Pain Assessment & Interventions
Evaluation & Nursing Considerations
Hospitalization, Illness, and Play
Assessment
Psychosocial Assessment
Nursing Interventions
Child Life Specialists
Pediatric Emergencies
Respiratory Emergencies
Assessment
Diagnostic Tests
Interventions and Teaching
Obstructed Airway
Drowning
Assessment
Diagnostic Tests
Interventions and Teaching
Apparent Life-Threatening Event
Assessment
Diagnostic Tests
Interventions
Sudden Infant Death Syndrome
Assessment
Interventions and Teaching
Poisoning
General Assessment
Acetaminophen
Acetylsalicylic Acid (Aspirin)
Lead
Supplemental Iron
Hydrocarbons and Corrosives
Diagnosis and Interventions
Teaching
End-of-Life Issues
Nursing Assessment and Considerations
Nursing Interventions for the Family
Chapter Highlights
References
Chapter 2 Growth and Development
Principles of Growth and Development
Developmental Theorists
Erickson
Piaget
Infants
Assessment
Growth
Communication with the Infant
Cultural Influences
Premature Infants
Milestones
Cognitive Development
Language Development
Dentition
Psychosocial Development
Social Development
Age Appropriate Toys
Nursing Diagnoses
Outcomes
Interventions and Health Promotion
Nutrition
Vegetarian Diets
Nutritional Barriers
Preventative Screenings and Interventions
Injury Prevention
Toddlers
Assessment
Communication with Toddlers
Cognitive Development
Language Development
Psychosocial Development
Age Appropriate Activities
Toddler Milestones
Nursing Diagnoses
Outcomes, Interventions, and Health Promotion
Nutrition
Language
Immunizations
Toddler Screenings
Injury Prevention
Preschoolers
Assessment
Communication
Cognitive Development
Language Development
Psychosocial Development
Moral Development
Body-Image Changes
Social Development
Age Appropriate Activities
Nursing Diagnoses
Outcomes
Interventions and Health Promotion
Nutrition
Sleep and Rest
Dental Health
Immunizations
Injury Prevention
School Age Children
Assessment
Communication
Cognitive Development
Psychosocial Development
Moral Development
Self-Concept Development
Body-Image Changes
Social Development
Age Appropriate Activities
School-Age Screenings
Nursing Diagnoses
Outcomes
Interventions and Health Promotion
Nutrition
Sleep and Rest
Dental Health
Immunizations
Injury Prevention
Adolescent
Assessment
Communication
Cognitive Development
Psychosocial Development
Social Development
Age Appropriate Activities
Nursing Diagnoses
Outcomes
Interventions and Health Promotion
Nutrition
Sleep and Rest
Dental Health
Sexuality
Immunization
Health Screenings
Injury Prevention
Chapter Highlights
References
Chapter 3 Caring for Children with Neurological Conditions
The Neurological System
Acute Neurological Disorders
Meningitis
Assessment
Diagnostic Tests
Interventions
Teaching
Reye's Syndrome
Assessment
Diagnostic Tests
Interventions
Teaching
Seizures
Assessment for Generalized Seizures
Assessment of Partial Seizures (Focal or Local)
Diagnostic Tests and Procedures
Interventions
Teaching
Head Injury
Assessment
Diagnostic Procedures and Tests
Interventions
Cognitive and Sensory Impairments
Down Syndrome
Assessment
Diagnostic Tests
Interventions
Teaching
Sensory Deficits
Visual and Hearing Impairment
Diagnostic Procedures
Interventions and Teaching
Chronic Neuromusculoskeletal Disorders
Cerebral Palsy
Assessment and Diagnosis
Interventions and Teaching
Spina Bifida
Assessment
Diagnostic Testing
Interventions and Teaching
Neurological Psychosocial Issues of Infants, Children and Adolescents
Attention-Deficit/Hyperactivity Disorder
Assessment
Interventions and Teaching
Autism Spectrum Disorder
Assessment
Diagnostic Tools
Interventions and Teaching
Substance-Exposed Infants
Assessment
Diagnostic Tests
Interventions
Teaching
Chapter Highlights
References
Chapter 4 Caring for Children with Respiratory Conditions
The Respiratory System
Acute Respiratory Conditions
Respiratory Assessment
Allergic Rhinitis
Assessment
Diagnostic Tests
Interventions, Medication, and Teaching
Nasopharyngitis
Assessment
Interventions and Teaching
Acute Streptococcal Pharyngitis (Strep Throat)
Assessment
Diagnostic Tests
Interventions, Medications, and Teaching
Tonsillitis and Tonsillectomy
Assessment
Tonsillectomy Hemorrhage Assessment
Diagnostic Tests
Interventions for Tonsillectomy
Bacterial Epiglottitis (Acute Supraglottitis)
Assessment
Diagnostic Test
Interventions, Medications, and Teaching
Acute Laryngotracheobronchitis (ALTB) or Croup
Assessment
Interventions, Medications, and Teaching
Bronchitis
Assessment
Diagnostic Test
Interventions, Medications, and Teaching
Bronchiolitis
Assessment
Diagnostic Tests
Interventions
Teaching
Viral and Bacterial Pneumonia
Assessment
Diagnostic Tests
Interventions
Influenza A and B
Assessment
Diagnostic Tests
Interventions, Medication, and Teaching
Chronic Respiratory Disorders
Asthma
Assessment
Diagnostic Tests
Interventions
Cystic Fibrosis (CF)
Assessment
Diagnostic Tests
Interventions and Medications
Chapter Highlights
References
Chapter 5 Caring for Children with Infectious Diseases
Conditions Caused by Bacterial or Viral Pathogens
Conjunctivitis
Assessment and Interventions
Acute Otitis Media (AOM)
Assessment and Diagnosis
Medications and Interventions
Surgical Procedures
Conditions Caused by Viral Pathogens
Mononucleosis Assessment, Diagnosis, and Interventions
Fifth Disease Assessment, Diagnosis, and Interventions
Mumps/paramyxovirus Assessment and Interventions
Rubella (German Measles)/Rubella Virus Assessment and Interventions
Rubeola (Measles)/Rubeola Virus Assessment
Varicella's (Chickenpox)/Varicella-Zoster Virus Assessment, Diagnosis, and Interventions
HIV
Assessment
Diagnosis
Interventions
Conditions Caused by Bacterial Pathogens
Pertussis Assessment and Interventions
Influenza and Vaccine
Interventions for all Communicable Diseases
Teaching
Other Adverse Effects, Contraindications, and Precautions
Vaccine Administration
Chapter Highlights
References
Chapter 6 Caring for Children with Cardiac Disorders
Congenital Heart Disease
Defects that Decrease Pulmonary Blood Flow
Defects with Obligatory Mixing
Defects that Increase Pulmonary Blood Flow
Atrial Septal Defect (ASD)
Ventricular Septal Defect (VSD)
Patent Ductus Arteriosus (PDA)
Obstructive Defects
Pulmonary Stenosis
Aortic Stenosis
Coarctation of the Aorta
Defects that Decrease Pulmonary Blood Flow
Tetralogy of Fallot and Tricuspid Atresia
Mixed Defects
Transposition of the Great Arteries and Truncus Arteriosus
Hypoplastic Left Heart Syndrome
Surgical and Medication Interventions
Shunt Closure
Pulmonary Stenosis
Aortic Stenosis
Coarctation of the Aorta
Tricuspid Atresia
Tetralogy of Fallot (TOF)
Transposition of the Great Arteries (TGA)
Truncus Arteriosus
Hypoplastic Left Heart Syndrome
Pulmonary Artery Hypertension
Diagnosis
Interventions and Teaching
Infective (Bacterial) Endocarditis
Assessment
Diagnosis
Interventions and Teaching
Cardiomyopathy
Assessment
Diagnosis
Shock
Assessment
Diagnosis
Interventions
Therapeutic Procedures
Extracorporeal membrane oxygenation (ECMO)
Ventricular-Assist Device (VAD)
Cardiac Catheterization
Cardiac Interventions
Teaching
Rheumatic Fever
Assessment
Diagnosis
Interventions
Teaching
Kawasaki Disease
Assessment
Diagnosis
Interventions
Teaching
Chapter Highlights
References
Chapter 7 Caring for Children with Gastrointestinal Conditions
Cleft Lip and Palate
Assessment and Interventions
Postoperative Assessment and Interventions
Teaching
Gastroesophageal Reflux Disease (GERD)
Assessment
Diagnosis
Interventions
Surgical Procedures
Hypertrophic Pyloric Stenosis
Assessment
Diagnosis
Interventions
Surgical Procedures
Preoperative Interventions
Postoperative Interventions
Hirschsprung's Disease
Assessment
Diagnosis
Interventions
Surgical Procedures
Preoperative Interventions
Postoperative Interventions
Teaching
Intussusception
Assessment
Diagnosis
Interventions
Teaching
Appendicitis
Assessment
Diagnosis
Interventions
Pre-Procedure Interventions
Surgical Procedures
Preoperative Interventions
Postoperative Interventions
Teaching
Infectious Gastroenteritis
Assessment
Interventions
Teaching
Meckel's Diverticulum
Assessment
Diagnosis
Interventions
Surgical Removal of the Diverticulum
Preoperative Interventions
Postoperative Interventions and Teaching
Failure to Thrive
Assessment and Diagnosis
Interventions
Chapter Highlights
References
Chapter 8 Caring for Children with Urinary Conditions
Enuresis
Assessment
Diagnosis
Interventions and Teaching
UTI
Assessment
Diagnosis
Laboratory Tests
Interventions and Teaching
Acute Post-streptococcal Glomerulonephritis
Assessment
Diagnosis
Interventions
Teaching
Minimal Change Nephrotic Syndrome
Assessment
Diagnosis
Interventions
Teaching
Hemolytic Uremic Syndrome (HUS)
Assessment and Diagnosis
Interventions
Teaching
Acute Renal Failure
Assessment
Diagnosis
Interventions
Chronic Renal Failure
Assessment
Diagnosis
Interventions
Teaching
Chapter Highlights
References
Chapter 9 Caring for Children with Endocrine and Metabolic Conditions
Growth Hormone Deficiency
Assessment
Diagnosis
Interventions
GH Stimulation Test
Radiologic Assessments
Teaching
Diabetes Mellitus
Assessment
Diagnosis
Interventions
Teaching
Chapter Highlights
References
Chapter 10 Caring for Children with Hematologic Conditions
Hematologic Disorders
Iron Deficiency Anemia (IDA)
Assessment
Interventions
Teaching
Sickle Cell Anemia
Assessment
Diagnosis
Interventions
Teaching
Hemophilia
Assessment
Diagnosis
Interventions
Teaching
Chapter Highlights
References
Chapter 11 Caring for Children with Musculoskeletal Conditions
Fractures
Assessment
Interventions
Orthopedic Casting
Cast Care
Osteomyelitis
Therapeutic Procedures
Traction Care
Halo Device
Surgical Interventions
Teaching
Congenital Musculoskeletal Disorders
Clubfoot
Assessment
Diagnostic
Interventions
Legg-Calve-Perthes Disease
Assessment
Diagnosis
Interventions and Teaching
Developmental Dysplasia of the Hip (DDH)
Assessment
Diagnosis
Intervention and Teaching
Osteogenesis Imperfecta
Assessment
Diagnosis
Interventions
Teaching
Scoliosis
Assessment
Diagnosis
Interventions
Teaching
Acquired Musculoskeletal Conditions
Plagiocephaly
Assessment
Interventions and Teaching
Chronic Musculoskeletal Conditions
Juvenile Idiopathic Arthritis
Assessment
Diagnosis
Interventions and Teaching
Muscular Dystrophy
Assessment
Diagnosis
Interventions
Chapter Highlights
References
Chapter 12 Caring for Children with Cancer
Organ Neoplasms
Wilm's Tumor and Neuroblastoma
Assessment
Diagnosis
Interventions
Teaching
Blood Neoplasms
Assessment
Diagnosis
Cerebrospinal Fluid (CSF) Analysis
Interventions
Chemotherapy
Hematopoietic Stem Cell Transplant (HCST)
Radiation Therapy to the Brain
Complications and Teaching
Infection
Hemorrhage
Anemia
Bone and Soft Tissue Cancers
Bone Tumors
Assessment
Diagnosis
Interventions
Surgical Interventions
Teaching
Rhabdomyosarcoma
Assessment
Interventions
Surgical Interventions
Complications
Chapter Highlights
References
Index
Print Package
$126.79
ISBN 9781524979812
Details Print Prod w/KHPContent Code 180 days