RETURN TO SEARCH RESULTS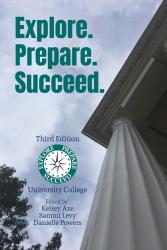 Explore. Prepare. Succeed.
Author(s): UNC WILMINGTON
Edition: 3
Copyright: 2021
Pages: 246


Details: Electronic Delivery EBOOK | 180 days |
Why are you here, at this institution, in this class? As educators and students we are quick to think about the 'what' and the 'how' of the college experience. What is general education? How can I get these requirements completed? What do I do with myself in this new environment? While all important, the answers to these questions come with time and relative ease given the abundance of student resources and services.
Why are you here, how do you see the world, and what do you want to do in your life? These questions lack straightforward answers, but they are crucial for instructors to ask and students to address individually and uniquely. Finding personal meaning in one's education requires introspection and self-awareness that comes through grappling with core assumptions and values, and rummaging through implicit expectations to identify genuine interests and concomitant goals.
This text facilitates this learning process by posing these fundamental questions and providing frameworks for thinking about how they might impact a student's approach to their learning and life. It has less to do with the content of the articles and more to do with guiding students as they ponder a range of 'whys' and grapple with the juxtaposition of new perspectives with their current viewpoints. It encourages students to examine themselves, their worldview, their resiliency, their purpose, and their calling. It invites them to entertain thoughts that may seem dissonant or ambiguous in order to encourage a deeper level of learning.
Foreword
CHAPTER 1 Transition
■ Congratulations, You're in College! Now What?
Elissa Nadworny
■ Advice from a Formerly Lonely College Student
Emily Bergmann
■ Claiming an Education
Adrienne Rich
■ Confronting Change: The Joy of Change
Leonard Mlodinow
■ The W-Curve and the First Year of College
William J. Zeller and Robert Mosier
■ Studying 101: Study Smarter, Not Harder
The Learning Center, The University of North Carolina at Chapel Hill
■ UNCW Advising Guide: Advising 101
CHAPTER 2 Communication and Critical Thinking
■ What is Critical Thinking?
Stephen D. Brookfield
■ Elon Musks' "3-Step" First Principles Thinking: How to Think and Solve Difficult Problems Like a Genius
Mayo Oshin
■ Conversation Is a Survival Skill
Celeste Headlee
■ Fake News or Real? How to Self-Check the News and Get the Facts
Wynne Davis
CHAPTER 3 Success and Goals
■ Inside the Mindsets
Carol Dweck
■ Give Yourself a Break: The Power of Self-Compassion
Serena Chen
■ Self-Efficacy and Why Believing in Yourself Matters
Kendra Cherry
■ Why You Procrastinate (It Has Nothing to Do with Self-Control)
Charlotte Lieberman
■ UNCW Advising Guide: Involvement Opportunities
CHAPTER 4 Self-Care and Mental Health
■ The Real Campus Scourge
Frank Bruni
■ Velcro for the Bad
Rick Hanson
■ When College Students Look After Themselves: Self-Care Practices and Well-Being
Jemma Moses, Graham L. Bradley, and Frances V. O'Callaghan
■ Is Facebook Making Us Lonely?
Stephen Marche
■ Relax! You'll Be More Productive
Tony Schwartz
CHAPTER 5 Values and Identity Development
■ 10 Things You Don't Know About Yourself
Steve Ayan
■ Missing People and Others: Joining Together to Expand the Circle
Arturo Madrid
■ We're All a Little Biased, Even If We Don't Know It
Emily Badger
■ Microaggressions Don't Just 'Hurt Your Feelings'
Alia E. Dastagir
■ White Privilege: Unpacking the Invisible Knapsack
Peggy McIntosh
■ UNCW Advising Guide: Educational Planning
CHAPTER 6 Major and Career Exploration
■ A Butterfly Flaps Its Wings and You Find a Job
Katharine Brooks
■ Four Steps to Choosing a College Major
Nathan Gebhard
■ How a College Major Might Be Minor
Sian Beilock
■ It Takes More than a Major: Employer Priorities for College Learning and Student Success
Hart Research Associates
■ The Skill Seeker 2.0
Used with the permission of the National Association of
Colleges and Employers, copyright holder
■ UNCW Advising Guide: Major and Minor Planning
Appendix:
■ Speaking the Language of the Dub
■ Student Academic Honor Code Policy
Ebook
$71.40
ISBN 9781792484544
Details Electronic Delivery EBOOK 180 days