RETURN TO SEARCH RESULTS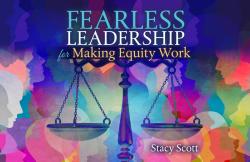 Fearless Leadership for Making Equity Work
Author(s): Stacy Scott
Edition: 1
Copyright: 2021
Fearless Leadership for Making Equity Work highlights lessons for leaders focused on how to get results through proven practices that are intended to help create the needed breakthroughs in education in the US, including:
Creating and adapting processes is a norm for a learning system. Capturing this energy, codifying it and ensuring that it evolves are the work of effective leadership. This requires planning, strategy and tools for effective implementation.
Destabilization is their best hope for not settling on a plateau that is short of the system's goal. This means tackling the tough issues, the areas where inequity and barriers to learning exist.
Getting results requires that capacity is built focused on the most important needs identified for the system.
Leadership, with an eye to the horizon, has to see what the next level of challenge and possibility is and engender effort to meet the needs of the future effectively. In doing so, effective organizational practice makes possible the breaking of current barriers in public education. Such breakthroughs are sorely needed. Improvement not only has to become the norm but it has to be driven by systems, models and practices that manage change. Even success has its down-side because eager and diligent practitioners can settle into a mode of practice that should be temporary. This book is a leadership guide to managing equity in education. The writing methodology is a study guide that is an easy read, including case studies in call out boxes and templates for easy implementation of the strategies.
Introduction
Chapter 1 Equity
Chapter 2 Vision Making And Guiding Principles
Chapter 3 Improvement Process
Chapter 4 Managing Reform
Chapter 5 Building Capacity
Chapter 6 Building an Effective System and Destabilizing Systems
Chapter 7 Cultural Analysis
Chapter 8 Designing New Systems and Processes (Basic Innovation)
Chapter 9 Assessing Districts
Chapter 10 Equity Audits
Chapter 11 Equity Proficiency Check
Chapter 12 Equity Operationalized - Strategic Planning
Conclusion
Epilogue
Website
$93.45
ISBN 9781792460166
Details KHPContent 180 days