RETURN TO SEARCH RESULTS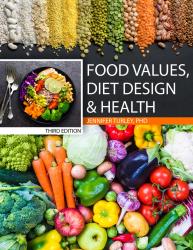 Food Values, Diet Design & Health
Author(s): Jennifer Turley
Edition: 3
Copyright: 2021
Pages: 264
Food Values, Diet Design & Health provides a refreshing nutrition educational perspective for students and instructors. The content is delivered in the format of literature review articles with review question and study sheet features included for each article. The 14 topic articles are relevant for nutrition enthusiasts and unique for modern nutrition curriculum. Students learn nutrition concepts a step deeper than a foundation level and apply the knowledge. The nutritional values of food are mastered through this applied approach. There is currently no other nutrition textbook available written in a succinct manner on these relevant nutrition topics with well-crafted appendices. It includes a glossary as well.
Its content is perfectly suited to facilitate learning for a variety of teaching and learning styles and course content delivery methods including face-to-face, online, and hybrid.
To make the transition to this publication virtually seamless for adopting instructors, there are numerous instructor resources and ancillaries available that were created by the author. These include concise professional audio-streamed lectures with captions, presentation slides, detailed applied homework assignments and case studies, topic quizzes, exams, and syllabus.
Preface
Author Biography
Topic 1 Energy and Carbohydrates
References
Study Sheet
Topic 2 Lipids/Fats
References
Study Sheet
Topic 3 Proteins
References
Study Sheet
Topic 4 Micronutrients by Body System
References
Study Sheet
Topic 5 Nutrigenomics
References
Study Sheet
Topic 6 Diet Planning
References
Study Sheet
Topic 7 Obesity
References
Study Sheet
Topic 8 Heart Health and Disease
References
Study Sheet
Topic 9 Hypertension
References
Study Sheet
Topic 10 Diabetes
References
Study Sheet
Topic 11 Functional Foods and Phytochemicals in Adulthood
References
Study Sheet
Topic 12 Diet and Cancer
References
Study Sheet
Topic 13 Anemia
References
Study Sheet
Topic 14 Allergy and Intolerance
References
Study Sheet
Appendix A Reference Tables
Appendix B The Exchange Lists and the Glycemic Index
Appendix C Food Sources of Nutrients
Glossary
Ebook
$53.55
ISBN 9781792472879
Details Electronic Delivery EBOOK 180 days