RETURN TO SEARCH RESULTS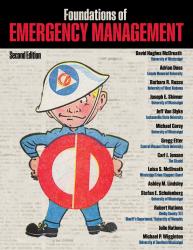 Details: Electronic Delivery EBOOK | 180 days |
New Publication Now Available!
On a daily basis, the United States, and the entire world in general, face the reality and responsibility of managing hazards, emergencies, and disasters. A disaster may strike at any time with little or no warning. Incidents may also occur with speed, surprise, and violence. Any location is vulnerable to some form of hazard.
The 2020 COVID-19 outbreak is just one indication that dangers, often unanticipated, may impact an area, region, nation, or in the case of COVID-19, the global community. Thus, communities throughout the world must acknowledge the importance and relevance of emergency management with respect to an array of diverse threats.
Foundations of Emergency Management highlights the importance of effective emergency management and provide a cumulative overview and introduction to the fundamental aspects of emergency management. Emergency management is a discipline of global importance.
Foundations of Emergency Management examines the history, hazards, power, role, future, and other aspects of emergency management. To help the reader comprehend concepts covered, the publication includes learning objectives, numerous images / graphics, chapter summaries, key terms, references, and thought and discussion questions.
CHAPTER 1 Foundations of Emergency Management
CHAPTER 2 An Overview of the First Two Hundred Years of Emergency Management in the United States
CHAPTER 3 Principal Hazards Facing the United States
CHAPTER 4 The Department of Homeland Security
CHAPTER 5 Power and Policy of Stakeholders and First Responders
CHAPTER 6 Roles in Emergency Management
CHAPTER 7 Strategy
CHAPTER 8 Roles in Emergency Management: Volunteer Organizations and NGOs
CHAPTER 9 Role of the Emergency Manager and Developing an Effective Emergency Management Organization
CHAPTER 10 The Emergency Management Process: Risk Perception and Analysis, Prevention, and Hazard Mitigation
CHAPTER 11 The Emergency Management Process: Disaster Recovery
CHAPTER 12 Professionalization of Emergency Management
CHAPTER 13 International Emergency Management
CHAPTER 14 Future of Emergency Management
Ebook
$62.86
ISBN 9781792432521
Details Electronic Delivery EBOOK 180 days