RETURN TO SEARCH RESULTS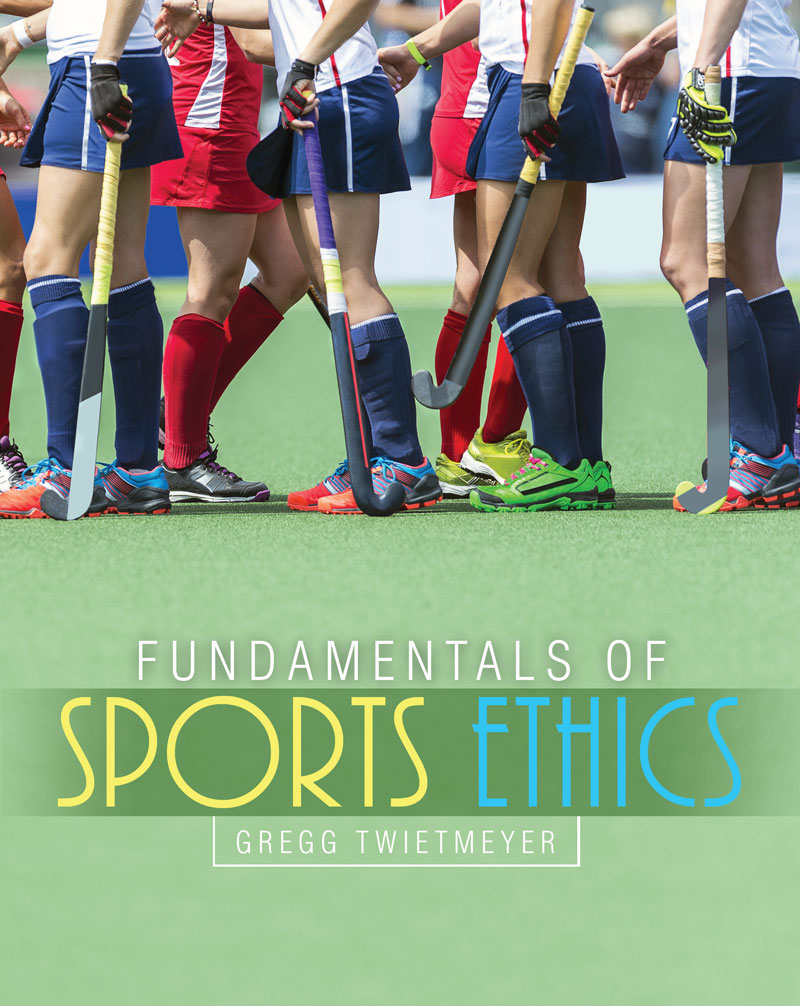 Fundamentals of Sports Ethics
Author(s): Gregg Twietmeyer
Edition: 1
Copyright: 2017
Pages: 266
Details: Print Product |
Many students come into sports ethics course with no previous exposure to academic philosophy at all. Students no longer have basic philosophic literacy.
Fundamentals of Sport Ethics sets a serious philosophic foundation upon which readers can engage sport ethics. The book introduces basic philosophic concepts that far too often sport philosophers take for granted and which students struggle.
Just released, Gregg Twietmeyer's Fundamentals of Sport Ethics:
Is written in a hybrid format that includes original narrative/prose on each topic
Contains selections from philosophy, literature and journalism
Can be utilized with a myriad of sources and readings, including primary texts.
Chapter 1 What is Ethics? Why Bother Studying Sport Ethics?
Foundational Concepts
Normative & descriptive ethical claims
Intrinsic and extrinsic goods
What is Ethics?
Ethics and other branches of philosophy
Why bother with sports ethics?
Sport and human culture
Just Win?
Sport is about the process not merely the product
There are many shared excellences in sport
Philosophic Selections
Suggested Readings
Bibliography
Chapter 2 Good and Evil in Sport
We Don't Live Compartmentalized Lives
There is More To Life than Practicalities
Moral Questions Abound in Sport
Accounts of Good and Evil
Transcendence
Hedonism
Good & evil as an illusion
Both Good and Evil Occur in Sport
Philosophic Selections
Suggested Readings
Bibliography
Chapter 3 Realism and Relativism in Sport
The Strengths of Relativism
Modesty, tolerance, and empiricism, oh my!
The Weaknesses of Relativism
Moral Realism is the Only Tenable Position
Why Does the Status of Moral Truth Matter to Athletes, Coaches, Administrators or Fans?
Philosophic Selections
Suggested Readings
Bibliography
Chapter 4 Utilitarianism
Bentham's Quantitative Hedonism
J.S. Mill's Qualitative Hedonism
Act versus Rule Utilitarianism
The Strengths of Utilitarianism
The Weaknesses of Utilitarianism
Utilitarian Responses
Utilitarianism & Sport
Philosophic Selections
Suggested Readings
Bibliography
Chapter 5 Deontological Ethics
Kant and the Categorical Imperative
Ross, Prima Facie Duties and Intuitionism
The Strengths of Deontological Ethics
The Weaknesses of Deontological Ethics
Deontologist Responses
Deontology and Sport?
The nature of sport?
Rule enforcement?
Philosophic Selections
Suggested Readings
Bibliography
Chapter 6 Virtue Ethics
Aristotle's Nicomachean Ethics
The Cardinal Virtues
The Strengths of Virtue Ethics
The Weaknesses of Virtue Ethics
Virtue Ethicist Responses
Virtue Ethics and Sport?
Philosophic Selections
Suggested Readings
Bibliography
Chapter 7 Why be Good?
The Ring of Gyges
Socrates' response
Tit- for-Tat
Plato & Singer: Is Justice Something We Serve or Merely Something We Use?
"Why Be Good?" and Sport
The practical implications of intrinsic and extrinsic accounts of justice
Transcendence and sport?
Philosophic Selections
Suggested Readings
Bibliography
Chapter 8 How Do We Promote Ethical Behavior?
Mediating Institutions
Solidarity & subsidiarity
The Strengths of Mediating Institutions
The Weaknesses of Mediating Institutions
Responses in Defense of Mediating Institutions
Solidarity, Subsidiarity, Mediating Institutions, Sport?
Sport, Philosophy and the Good Life
Philosophic Selections
Suggested Readings
Bibliography
Appendix
Index
Twietmeyer has produced an excellent introduction to the subject that will be a hugely valuable resource for undergraduate sports students. Twietmeyer's commitment as a sport philosopher to 'articulation rather than consensus' (p. 236) informs his treatment of the subject: this is a textbook with 'a stiff moral spine'.
Mike Tyler, University of Worcester, UK
Read the Full Review in Journal of the Philosophy of Sport
Twietmeyer writes in a clear, concise, and uncompromising way. Applications of ethics to sport are on target and need to be heeded in this day and age. The book is an important addition to our literature in sport philosophy.
Scott Kretchmar, Penn State University
Dr. Twietmeyer's book is filled with thorough and varying philosophical perspectives. The text is quite riveting, and truly made me think about the challenges of being a sports practitioner. The transparency and honesty are valuable components, because one is prompted to think about all the potential points of concern necessary to efficiently operate in such a wide-ranging field.
Leo, Mississippi State University Student
Print
$85.00
ISBN 9781465287496
Details Print Product