RETURN TO SEARCH RESULTS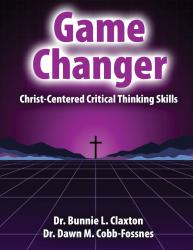 Details: Electronic Delivery EBOOK | 180 days |
Game Changer: Christ-Centered Critical Thinking Skills is curriculum written to teach students the skills they need to approach their thought processes from a biblical and Christ-centered approach. Students will learn to collect data, analyze data, search for the truth, and think for themselves with the Bible as their guide. Students are bombarded with information, much of which is inaccurate, misleading, and even hurtful. This curriculum is designed to teach students to think critically and make wise decisions based on evidence.
Students will learn through The Five R's as they:
Receive information,
Research information,
Restructure their thinking based on the new information,
Respond to the information, and
Reflect on the experience.
These five critical steps will help students learn to:
think independently
consult the Bible for guidance
work collaboratively
conduct practical research
collect data
analyze data
understand themselves
learn problem-solving strategies
respond appropriately
pray for discernment
resolve conflict
learn Christ-centered social norms
listen to others point of view
practice acceptable social media etiquette
make wise decisions based on evidence
practice reflective thinking

Both the teacher's edition and the consumable student workbook are presented using a step-by-step approach. Both are printed in full color and are spiral bound for an attractive and functional presentation.
View the Teacher's Edition here
Chapter 1: Know Yourself
• Lesson 1: Who Am I?
• Lesson 2: Family Dynamics
• Lesson 3: Choose Your Friends
• Lesson 4: Respect
• Lesson 5: Where Are You Going?
Chapter 2: Communication
• Lesson 1: Listen Up
• Lesson 2: Active Listener
• Lesson 3: Eye Contact
• Lesson 4: Facial Expressions
• Lesson 5: Body Language
• Lesson 6: Tone of Voice
• Lesson 7: Verbal Communication
• Lesson 8: Public Speaking
Chapter 3: Collaboration
• Lesson 1: Synergy
• Lesson 2: Be a Leader
• Lesson 3: Social Media Analysis
• Lesson 4: Social Media Manners
• Lesson 5: Brainstorming
• Lesson 6: Service Project
Chapter 4: Truth Detector
• Lesson 1: Identifying Fake News
• Lesson 2: Social Media Mayhem
• Lesson 3: Article Analysis
• Lesson 4: Photo Analysis
Chapter 5: Quality Questions
• Lesson 1: Great Questions
• Lesson 2: Disagreement Dialogue
• Lesson 3: Image Investigation
• Lesson 4: Reading Realization
Chapter 6: Decisions, Decisions
• Lesson 1: Making Decisions
• Lesson 2: Teen Brain
• Lesson 3: Influencers
• Lesson 4: Value Verdicts
• Lesson 5: Avoiding Mistakes
• Lesson 6: Mending Mistakes
• Lesson 7: Problem Solving
• Lesson 8: Personal Problems
Chapter 7: Teamwork
• Lesson 1: Take a Stand
• Lesson 2: Team Player
• Lesson 3: Team Building
• Lesson 4: Peer Challenge
Chapter 8: Critical Thinking
• Review and Reinforce
• Know Yourself
• Communication
• Collaboration
• Truth Detector
• Quality Questions
• Decisions, Decisions
• Teamwork
Ebook
$35.00
ISBN 9798765700600
Details Electronic Delivery EBOOK 180 days