RETURN TO SEARCH RESULTS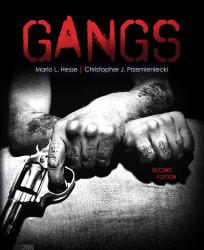 Details: Print Product |
Gangs specifically and sufficiently covers essential gang topics as well as new topics not found in any of the competing books in the marketplace. This text presents a traditional and brief overview of the history of gangs. It also includes four areas not extensively covered in other textbooks: Gangs and Corrections, Gangs and Law Enforcement, Gangs and The Law, and Gangs and The Media.
Gangs:
Features Gangs and the Media and Gangs in the Military; topics currently not covered in any other gangs textbook.
Engages the reader with vignettes, points to ponder, and more!
Provides students with an excellent overview and encourages them to discuss major issues, problems, policies and practices in the field of gang studies.
As a supplement, it is appropriate for use in introductory law enforcement, corrections, or justice type courses. It can also serve as a primary textbook for a lower or upper-level gang course.
Chapter 1 The Emergence of Gangs in the United States – Then and Now
Chapter 2 Theories of Gangs and Gang Membership
Chapter 3 Gangs and Mental Illness
Chapter 4 Girls and Gangs
Chapter 5 Gangs and Native Americans
Chapter 6 Gangs and the Police
Chapter 7 The Courts and Gangs: Laws, Legislation, and Injunctions
Chapter 8 Corrections: Prison Gangs and STGs
Chapter 9 Entrepreneurship, Finances, and Gangs
Chapter 10 Gangs in the U.S. Military
Chapter 11 The World of Sports, Athletes, and Gangs
Chapter 12 Gangs, the Internet, and Social Media
Chapter 13 Gang Prevention, Intervention, Suppression, and Best Practices
Print
$65.00
ISBN 9781524976866
Details Print Product