RETURN TO SEARCH RESULTS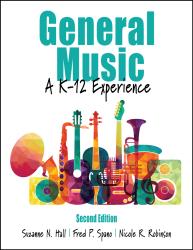 Details: Ebook w/KHQ | 180 days |
General Music: A K-12 Experience equips the preservice music teacher with tools to effectively teach general music to elementary and secondary students. This text features research-based content and provides a myriad of resources. It is perfect for general music methods courses for preservice music majors, as well as in-service music educators.
General Music: A K-12 Experience is divided in to four parts:
The "Nuts and Bolts": Laying the Foundation for Teaching General Music – provides an overview of content standards, components of lesson planning, and assessment of student learning.
Engaging Music Learners – introduces the primary music education methodologies (i.e., orff, etc.) and incorporates the "–ings" of music making (I.e. singing, playing, moving/dancing, listening/analyzing, and composing).
Teaching Music in the K-8 Classroom: Building a Foundation for Music Learning – explores the core elements of music (i.e., melody, harmony, rhythm, form, timbre, and expressive qualities) and provides teaching plans for beginning (K–2), intermediate (3–5), and advanced (6–8) learners
Secondary General Music: Experiencing, Engaging, and Exploring Music – provides "ready to use" six–week secondary general music curricula of a variety of topics, including world music ensembles, general music with the related arts, and music business and technology.
Preface
Part I: The Nuts and Bolts: Laying the Foundation to Teaching Music
Chapter I: Preparing to Teach
Introduction
"Mapping" the Journey
Contemporary Music Education
Social & Cultural Context of Education
Teaching All Learners
The National Core Arts Education Standards for Music Education
Chapter 2: Planning the Lesson
Component 1: Determine Learning Goals & Objectives
Component 2: Motivation & Introduction
Component 3: Instructional Activities
Component 4: Conclusion/Review
Component 5: Assessing Student Learning
Component 6: Reflective Practice
Putting It All Together
Part II: Engaging Music Learners
Chapter 3: Methodologies in Music Education
Orff Schulwerk Method​
Dalcroze Method​
Kodály Method
Gordon's Music Learning Theory
Chapter 4: The "INGS"
Singing
Playing
Moving/Dancing
Listening/Analyzing
Composing
Part III: Teaching Music in the K-8 Classroom: Experiencing, Engaging, and Exploring Music
Chapter 5: Melody
Chapter 6: Harmony
Chapter 7: Rhythm
Chapter 8: Form
Chapter 9: Timbre
Chapter 10: Expressive Qualities
Part IV: Secondary General Music: Experiencing, Engaging, and Exploring Music
World Music and Creating World Music Ensembles in General Musics
Chapter 11: Experiencing Brazilian Music Through the Rhythms of Maracatu and Samba
Elisa M. Dekaney and Joshua Dekaney
Chapter 12: The Art of Teaching Samoan Music: A Multicultural Approach
Rebecca Penerosa
Chapter 13: The Teaching & Learning of Music of East Africa: Songs and Dances of Tanzania
Jacqueline C. Henninger
Exploring New Realms in General Music
Chapter 14: General Music and Traditional Ensembles: Exploring New Realms in General Music
Fred P. Spano
Chapter 15: "I love Rock 'n Roll": Creating Alternative Music Making Ensembles
Suzanne N. Hall, Nicole R. Robinson, and Qiana Lamb
General Music and Curricular Connections in the Arts
Chapter 16: Radio Plays: Bringing Together Sound & Creative Drama
Tamara Goldbogen
Chapter 17: Roots & Culture: Exploring Afro-Caribbean Music and Dance​
A'Keitha Carey
Chapter 18: Contemporary Approaches to Integrating Visual Art and Music
Jane E. Dalton and Kelly Hrenko
Chapter 19: Music and Film
Melissa Blizzard
Technology and Music Industry
Chapter 20: Experiential Music Appreciation and the iPad
Seth Pendergast
Chapter 21: Teaching Marketing through the Internet and Social Media
Tonya Butler and Ana Reina
Chapter 22: Music Composition with Technology
Seth Pendergast
Music, Society, and The Individual Self
Chapter 23: Exploring Culture, Exploring Self: Trinidad and Tobago
Danielle Brown
Chapter 24: Exploring Social Justice Issues through Musical Theatre
Melissa Blizzard
Chapter 25: Music and Self, Music and World: Exploring Current Issues and Positionality Through Music
Juliet Hess
Ebook Package
$96.00
ISBN 9798765716151
Details Ebook w/KHQ 180 days