RETURN TO SEARCH RESULTS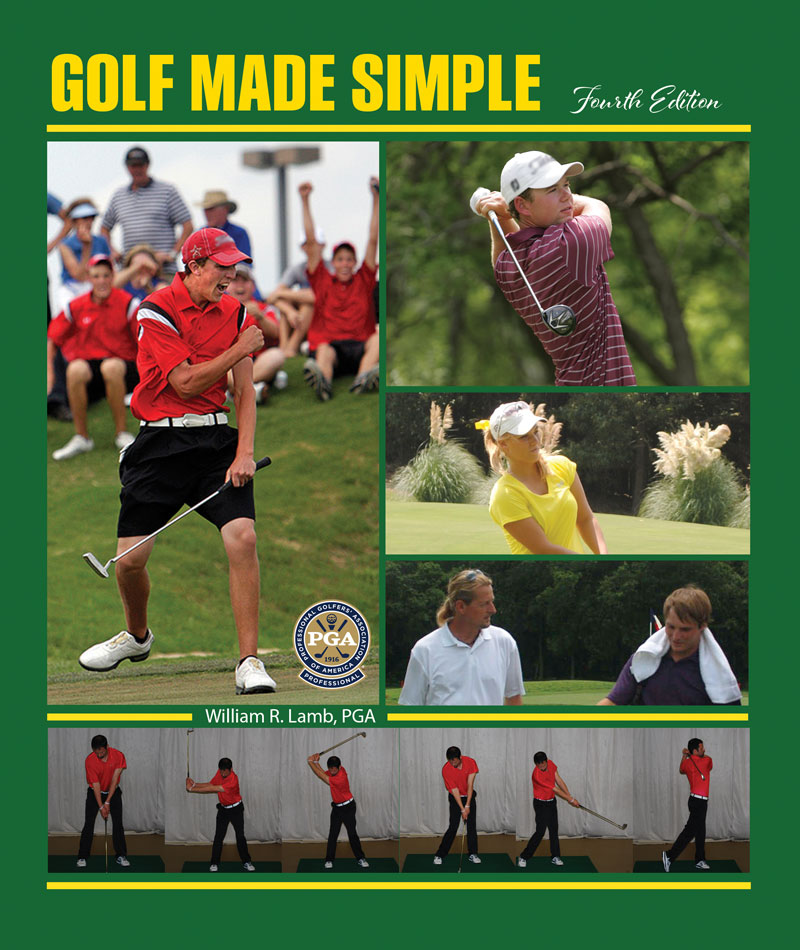 Golf Made Simple
Author(s): William R Lamb
Edition: 4
Copyright: 2019
Pages: 196




Details: Electronic Delivery EBOOK | 180 days |
Golf is more than a game; it's a journey. Along the way we develop lifelong friendships, learn much about responsibility, commitment, the benefits of hard work, and more than anything else, ourselves. The game can and should provide each of us with a lifetime full of enjoyment.
Although golf is perhaps the fastest growing sport in the world, many take up the game and then quit shortly thereafter. Frustration is perhaps the biggest culprit behind this quick exodus. Golf can be tremendously frustrating to a beginner, especially one who tries to take on the challenge alone. There certainly is enough material available for the beginner who wishes to teach himself; however, the information can be quite confusing and simply make matters worse.
The purpose of this Golf Made Simple is to provide beginners, intermediate players, and advanced players with the simple fundamentals necessary to play the game of golf. It also provides students with a much-needed look at others areas of the game. Understanding terminology, the history, learning good etiquette, the basic rules, scoring, and a little about equipment is instrumental in becoming a good golfer. This book addresses both the mental and physical aspects of the game, the right and wrong way to practice, the short game, trouble shots and yes, even how to swing a golf club. The golf swing is simple, often times difficult only due to a lack of understanding. You must develop good fundamentals. With good fundamentals and practice anyone can learn to play and enjoy this game.
Preface
Acknowledgment
Chapter 1: Golf: Truly A Lifetime Sport
History of the Game
The Game Today
Benefits of Playing Golf
A Game for Everyone
Chapter 2: How the Game Is Played
Course Layout and Terminology
Object of the Game
The Equipment
Scoring
The Handicap System
Chapter 3: The Importance of Equipment
Differences in Equipment
The Importance of Club Fitting
Grip Size, Grip Materials, and Swing Weights
Chapter 4: Rules and Etiquette
General Rules
Penalty Areas
Out of Bounds
Lost Balls
Provisional Balls/Second Balls
Pace of Play
Taking Care of the Course
Etiquette
Safety
Articles and Laws in Playing at Golf
Chapter 5: The Golf Swing
The Golf Swing
Fundamentals of the Golf Swing
Pre-Swing Fundamentals
Swing Fundamentals
Basic Ball Flight Laws
Do's and Don'ts of the Golf Swing
Drills
Chapter 6: The Iron Shot
The Iron Swing
Short Irons
Middle Irons
Long Irons
Some Do's and Don'ts
Drills
Chapter 7: The Wood Shot
The Fairway Woods
The Driver
Some Do's and Don'ts
Drills
Chapter 8: The Short Game
Importance of the Short Game
Basic Short Game Rules
Developing a Good Short Game
Choosing the Right Shot
Some Do's and Don'ts
Drills
Chapter 9: Putting
The Mechanics of Putting
The Grip
The Posture
Alignment and Ball Position
The Putting Stroke
Reading the Greens
Some Do's and Don'ts
Drills
Chapter 10: Chipping and Pitching
The Chip Shot
Some Do's and Don'ts
Drills
The Pitch Shot
Some Do's and Don'ts
Drills
Chapter 11: Hitting Trouble Shots
Hitting Trouble Shots
Playing from the Rough
Playing from the Woods
Fade Shots
Hook Shots
Sand Shots
Playing from Uneven Lies/Uphill-Downhill-Sidehill Lies
Playing Wind Shots
Chapter 12: Common Swing Faults
Hitting the Ball "Thin"
Hitting the Ball "Fat"
Slicing
Hooking
Shanking
Chapter 13: Mental Aspects of the Game
Mentally Involved
Mental Aspects of Learning
How to Practice
The Mental Aspects of Playing
Competitive Golf
Paradoxes of Golf
Chapter 14: Conditioning
Being Physically Fit
What Does it Mean to Be Physically Fit?
Some Benefits of Physical Fitness
Are You Aerobically Fit?
How Can I Get Aerobically Fit?
Strength and Muscular Endurance
Strength Training
Flexibility Exercises
Simple Warm-up, Stretch, and Flexibility Exercises
Summary
Chapter 15: Instruction
Taking a Golf Lesson
Technology
Digital Coaching Systems
How to Take a Lesson
Chapter 16: Golf Quotes, Jokes, and Anecdotes
Golf Quotes
Golf Jokes
Golf Anecdotes About My Friend Bob
Golfer's Prayer
Skills Test
Glossary
Ebook
$33.33
ISBN 9781524996178
Details Electronic Delivery EBOOK 180 days