RETURN TO SEARCH RESULTS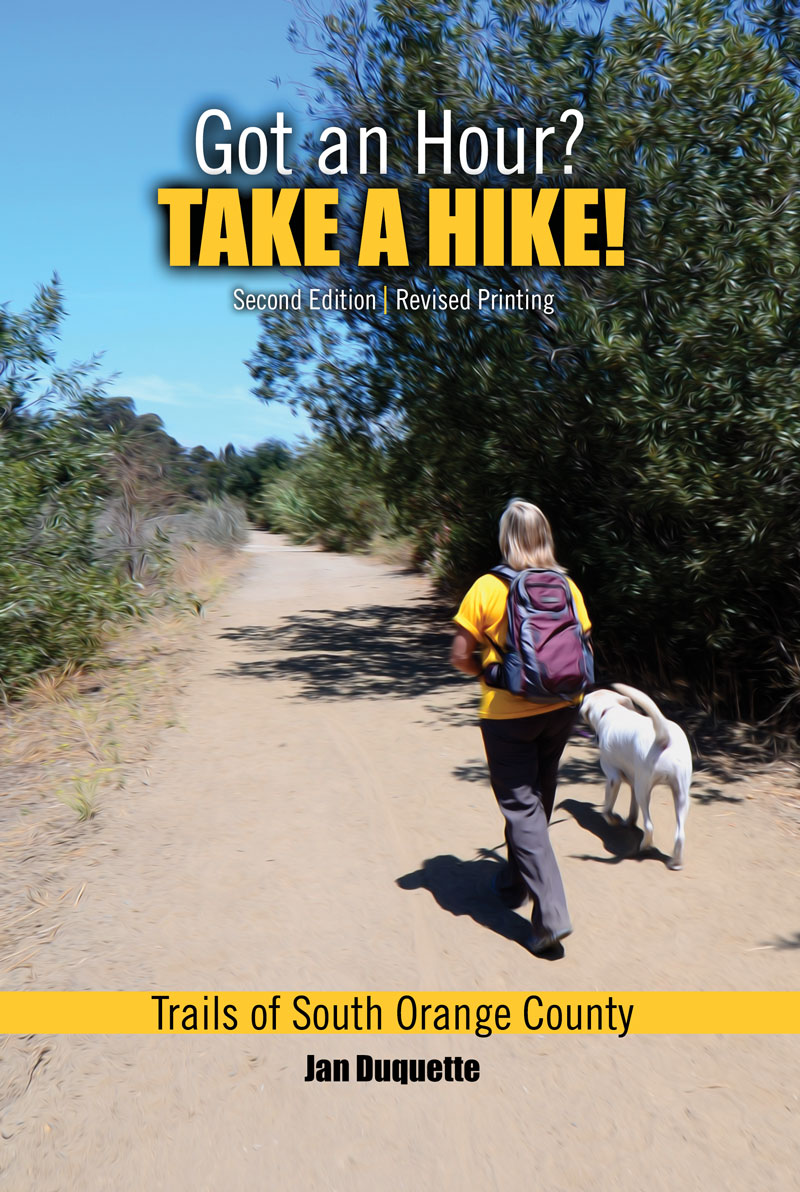 Got an Hour? Take a Hike!: Trails of South Orange County
Author(s): Jan Duquette
Edition: 2
Copyright: 2016
Pages: 172




Details: Print Product |
New Publication!
South Orange County has an abundance of trails, unknown by many residents and visitors to this stunning California Coastal area. The remarkable areas vary from sandy beaches, inland canyons, and trails with panoramic views of the sometimes snow-capped Saddleback Mountains, all the way to the majestic Pacific Ocean.

Unlike many hiking books written about Orange County, Got an Hour? Take a Hike! Trails of South Orange County covers an abundance of scenic trails in the hills. These trails offer hikers a wonderful experience, are less crowded with people, and are free. The cities of San Clemente and San Juan Capistrano have done an excellent job maintaining their trails with new trail signs, (providing aerial views and trail information), along with informative websites.

Got an Hour? Take a Hike! Trails of South Orange County:
Features hikes based on an average of a comfortable pace of 3 miles per hour.
Rates trails from easy to challenging – Variety for everyone - including families.
Includes the distance, rating, elevation gain, specific address of the trailhead, and parking information for each hike.
Showcases a list of Orange County's dog friendly parks, and beaches to share with your canine friends.
Part I – Basics of Hiking
Before You Go - Things You Need to Know
Benefits of Hiking
Fitness and Nutrition
Clothing, Footwear, and Gear
Trail Courtesy and the Environment
Precautions on the Trail

What to Bring For You & Your Dog
The Ten Essentials to Carry in Your Backpack
Don't Forget About Your Devoted Dog

Who Knows Where You're Going?
Plans for Hike & Trail Location

Part II – Trails of South Orange County
Dana Point & Capistrano Beach
1 Bluff Top – Heritage Park Trail
2 Dana Point Harbor Walk
3 Doheny Beach to Descanso Park
4 Headlands – Strands Beach Trail
5 Pines Park to Capistrano Beach Trail
6 Salt Creek Beach Trail (North)
7 Sycamore Creek Trail (South)
Laguna Beach & Laguna Canyon
8 Alta Laguna Park – West Ridge
9 Bluffs Trail at Heisler Park
10 Crystal Cove State Park
11 Dilley Greenbelt Preserve
12 Laurel Ecological Reserve
13 Nix Center Wilderness Park
14 Valido Trail to Aliso Peak
Laguna Niguel & Aliso Viejo
15 Aliso Summit Trail North to Wood Canyon
16 Aliso & Wood Canyons to Dripping Cave
17 Badlands Park and Seaview Trails
18 Canyon View Park to Wood Canyon
19 Colinas Ridge to Shea Trail
20 Colinas Ridge to Long View Park
21 Laguna Niguel Regional Park & Lake
22 Salt Creek Beach Trail (South)
23 Seaview Park Trail to Aliso Peak

Mission Viejo & Ladera Ranch
24 Aliso Creek Trail (West)
25 Arroyo Trabuco Trail (North)
26 Bluff Top Botanica Trail (Ladera)
27 County Regional Trail (Ladera)
28 Ladera Ranch Trail (Ridgeline)
29 Lake Mission Viejo (Florence Joyner Park)
30 Oso Creek Trails (North & South)
31 Riley Wilderness Park Loop Trail
32 Serrano Creek Trail (Lake Forest)
33 Sienna & Yukon Riley Botanica Trails (Ladera)

San Clemente & Talega
34 Calafia Beach to Cotton's Point (Trestles)
35 Cristianitos Trail South
36 Forster Ridgeline Trail (Los Rios Loop)
37 Prima Deshecha South to Vista Hermosa
38 Rancho San Clemente Ridgeline Trail
39 San Clemente Beach Trail @North Beach
40 Talega Trail (Cristianitos North)

San Juan Capistrano
41 East La Ronda Loop Trail
42 Las Vaqueras Loop Trail
43 La Ronda West Trail
44 Las Ramblas Loop Trail
45 Los Mares Loop Trail
46 Old San Juan Capistrano
47 Peppertree Bend to Shea Trail
48 San Juan Creek Trail East
49 Trabuco Creek Trail
50 Trabuco Ridge Trail
Dog Friendly Parks & Beaches
51 Corona del Mar "Main Beach"
52 Dana Point Dog Fun Zones
53 Huntington Beach Dog Beach
54 Ladera Ranch Wagsdale Park
55 Laguna Beach "Woods Cove"
56 Laguna Canyon Dog Park "Bark Park"
57 Laguna Niguel Pooch Park
58 Laguna Woods "A Place for Paws"
59 Rancho Santa Margarita Dog Park
60 San Clemente Dog Park
More Trails in South Orange County
61 Beebe Park Trailhead (Mission Viejo)
62 Big Bend Trailhead (Laguna Beach)
63 El Moro Trails (Laguna Beach)
64 Niguel Trail (Laguna Niguel)
65 Oso Creek Trail (Laguna Niguel)
66 Oso Rancho Capistrano (San Juan Capistrano)
67 Pacific Ridge Trailhead (Newport Beach)
68 Reata Park Trailhead (San Juan Capistrano)
69 Sea Summit Trailhead (San Clemente)
70 Wilderness Glen Park Trail (Mission Viejo)
Saddleback to the Sea
Personal Information
Journal of Hikes
Resources
Print
$31.53
ISBN 9781524919603
Details Print Product