RETURN TO SEARCH RESULTS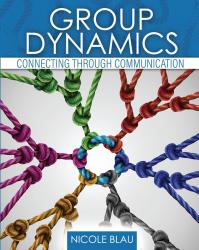 Group Dynamics: Connecting Through Communication
Author(s): Nicole Blau
Edition: 1
Copyright: 2021
Pages: 250




Details: Print Product |
As group dynamics are constantly changing, the need for up-to-date research and real-life examples are crucial learning tools. Group Dynamics: Connecting Through Communication features practical application of important group communication concepts in way that will grab the reader's attention.
Nicole Blau's Group Dynamics: Connecting Through Communication:
Is comprehensive! The publication integrates theories, cases, and references in each of its ten chapters.
Is practical! Students are provided access to a Group Presentation Toolkit to take the fear out of a group presentation. This provides hands-on advice and tangible tools that may be used in group presentations.
Is student friendly! Each chapter includes a summary, reflection questions, video clips of popular shows / movies, and more to assess comprehension of concepts presented.
Is interactive! Learning by Action and Contemporary Communication vignettes provide students with practical insight / tips to improve their communication within a myriad of groups.
Chapter 1 What is Group Communication? Foundations and Theory
The Importance of Group Communication
What is Communication?
Principles of Communication
What is Group Communication?
Group Communication Theories
Summary
Reflection Questions
Learning by Action
Video Clip
Contemporary Communication
Cases in Communication
References
Chapter 2 What Kind of Group is This, Anyhow? Group Types and Roles
The Importance of Group Roles
Group Development
Types of Group Roles
Role Conflict and Role Ambiguity – What Role Should I Play?
Group Socialization – Finding Your Way
Small Group Socialization Scale
Summary
Reflection Questions
Learning by Action
Video Clip
Contemporary Communication
Cases in Communication
References
Chapter 3 Embracing Difference: Diversity and Culture in Groups
What is Diversity?
What is Culture?
Cultural Orientation
How is Diversity in Groups Helpful?
Challenges to Diverse Groups
Summary
Tolerance for Disagreement Scale (Tfd)
Reflection Questions
Learning by Action
Video Clip
Contemporary Communication
Cases in Communication
References
Chapter 4 Decisions, Decisions! Problem-Solving and Decision-Making in Groups
Fisher's Model of Group Decision-Making
Additional Models of Group Decision-Making
The Standard Agenda: Dewey's Model
Barriers to Effective Decision-Making
Effective Decision-Making
Summary
Reflection Questions
Learning by Action
Video Clip
Contemporary Communication
Cases in Communication
References
Chapter 5 The Good, The Bad, and the Ugly: Power in Groups
What Is Power?
Who Has Power?
Bases of Power
Compliance-Gaining In Groups
Communicating Power in Groups
Power Plays
Other Powerful Messages
Balancing Power in Groups
Summary
Reflection Questions
Learning by Action
Video Clip
Contemporary Communication
Cases in Communication
References
Chapter 6 We Don't Always See Eye to Eye: Managing Conflict in Groups
What is Conflict?
Types of Group Conflict
Functional Vs. Dysfunctional Conflict
Task, Relational, Value
Conflict Management Styles
Conflict Resolution Strategies
What Impacts Group Conflict?
Tips for Groups in Conflict
Summary
Reflection Questions
Learning by Action
Video Clip
Contemporary Communication
Cases in Communication
Conflict Management Styles Assessment
Scoring the Conflict Management Styles Assessment
References
Chapter 7 Where is this Group Headed?: Leadership in Groups
What is Leadership?
Leadership Styles
Theories on Leadership
Becoming an Effective Leader
Effective Leader Communication
Summary
Reflection Questions
Learning by Action
Video Clip
Contemporary Communication
Cases in Communication
References
Chapter 8 Onward and Upward: Evolving from Group to Team
Groups Vs. Teams
What is a Team?
Developing into a Team
Team Identity
Productive Team Communication
Team Leadership
Summary
Reflection Questions
Learning by Action
Video Clip
Contemporary Communication
Cases in Communication
References
Chapter 9 Work Hard, Play Hard: Group Communication in Context
Why Study Groups in Context?
Health Contexts
Workplace Contexts
Workplace Group Communication Skills
Public Advocacy Contexts
Social Contexts
Aggressive Group Contexts
Summary
Reflection Questions
Learning by Action
Video Clip
Contemporary Communication
Cases in Communication
References
Chapter 10 Mute Your Mic! Virtual Group Discussion
Virtual Group Communication
Groups that Communicate Online
Participating in Virtual Group Discussions
Leading Virtual Group Discussions
Advantages & Disadvantages of Virtual Discussions
Summary
Reflection Questions
Learning by Action
Video Clip
Contemporary Communication
Cases in Communication
References
Appendix The Group Presentation Toolkit
Glossary
Print
$99.23
ISBN 9781792410680
Details Print Product