RETURN TO SEARCH RESULTS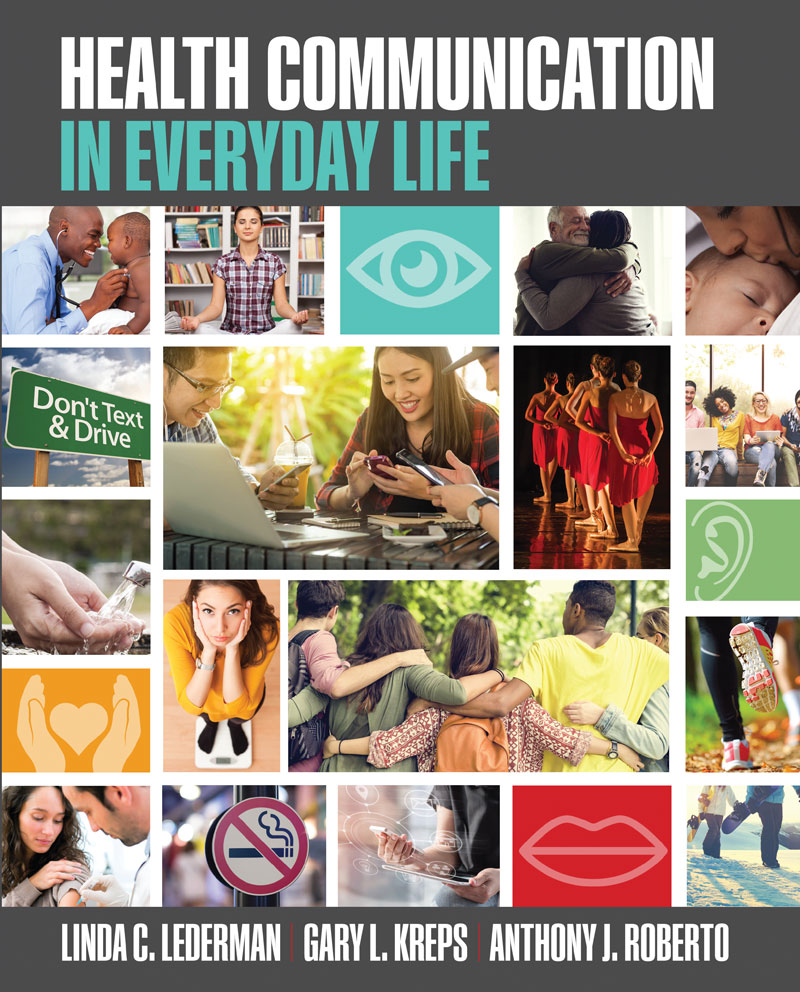 Details: Print Product |
We are all health communicators - whether it is interacting with our medical practitioners, wearing a fitness tracker, giving encouraging words to a friend or family member, or searching for health information online.
Health Communication in Everyday Life introduces students to health communication and teaches them how they can be more effective in their own communication about their health. The publication features examples about college students and college health issues to illustrate the many aspects of health and health communication discussed – demonstrating how health communication is more relevant to the reader's daily life than they may have thought.
Health Communication in Everyday Life by Linda C. Lederman, Gary Kreps, and Anthony Roberto:
Examines the changing role of patients in health care, formal health organizations and communication among health professionals, factors like gender and culture in health care, health care campaigns, and current and future trends in health communication.
Reviews the inception and growth of health communication, provides an explanation of how and why it has emerged as a central area of study in human communication over the last three decades, and the wide array of areas health communication now embraces.
Examines the plethora of health information on the internet – not all of which is created equal. Students will learn to obtain, understand, critically evaluate, and apply credible health information.
Is interdisciplinary! The publication includes aspects of human, interpersonal, group, and organizational communication along with public health, medical sociology, healthcare economics, and epidemiology.
PART I: COMMUNICATION AND HEALTH: AN OVERVIEW
1: The Role of Communication in Health Issues
Chapter Preview
Introduction
Doctors and Patients: Doctor as Expert or Partner in Healing?
Health Campaigns and Advocating Healthy Behavior
Overview of This Book
Chapter Summary
References
2: College Students' Health and Wellness
Chapter Preview
Introduction
Healthy People, Healthy Campuses
Major College Health Issues
Stress, Anxiety, Sleeplessness and other Emotional Health Issues
Sexual Health, Risky Sex and Alcohol and Other Drugs
Exercise, Physical Activity, Nutrition, and Weight Issues
Seeking Help with Health Issues
Treatment and Prevention on College Campuses: Services, Facilities, People, Programs
Role of Health Communication in College Health Issues
Health Care Provider-Patient Communication and College Health
Health Campaigns and College Health
Chapter Summary
References
PART II: PROVIDERS AND PATIENTS: THE CHANGING ROLE OF PATIENTS IN HEALTH CARE
3: Provider/Patient Communication
Chapter Preview
Introduction
Provider/Patient Communication: The Interaction
A Relational View of Patient Provider Communication
Health Communication: The Patient
You, the Patient
Difficult Topics for Patients: [Truthfulness, Self-Disclosure, Awkward Topics]
Health Literacy
Re-conceptualizing the Patient
Health Communication: Health Care Providers
Providers' Nonverbal Communication
Difficult Topics for Providers: Delivering Bad News and Other Difficult Subjects
Health Care Outcomes
Desired Outcomes
Unwanted Outcomes
Improving Provider/patient Communication
Becoming better communicators as patients
Becoming better communicators as providers
Chapter Summary
References
4: Social Support and Social Support Groups
Chapter Preview
Introduction
What Is Social Support?
Social Support and Uncertainty Reduction
Social Support and Stress Reduction
Effects of Social Support: When It Helps, When It Doesn't
Communicating Social Support
Social Support Skills
Social Support and Social Networks
Support Groups
Why People Join Support Groups or Self-Help Groups
How Communication Works in Support Groups
The Effects of Support Group Membership on Health Outcomes
Social Support in Mediated Communities
Chapter Summary
References
5: eHealth and Health Information Technology
Chapter Preview
Introduction
Advantages Health Information Technology
Disadvantages Health Information Technology
Health Information Technology and Health Information Seeking
eHealth Literacy
Interactive Health Information Systems
Health Information Technology and Patient-Provider Communication
Health Information Technology and Social Support
Health Information Technology and Health Communication Campaigns
Generic Messages
Targeted Messages
Tailored Messages
Chapter Summary
References
PART III: HEALTH COMMUNICATION IN ORGANIZATIONS, GROUPS, AND TEAMS
6: Health Care System Communication
Chapter Preview
Introduction
The Demand for Effective Health Care System Communication
Formal Channels for Communication in Health Care Systems
Informal Channels of Organizational Communication
Coordinating Internal and External Organizational Communication
Communicating to Balance Innovation and Stability in Health Care Systems
Advocating for Others within Health Care Systems
Chapter Summary
References
7: Communication and Health Care Teams
Chapter Preview
Introduction
The Need for Health Care Teams
Roles Performed in Health Care Teams
Functional Task Roles
Functional Maintenance Roles
Dysfunctional Roles
Working with Team Members
Interpersonal Dimensions of Health Care Teams
Chapter Summary
References
PART IV: GENDER, CULTURE, AND HEALTH COMMUNICATION
8: Communication and Health Disparities
Chapter Preview
Introduction
Culture and Health Disparities
Communication Competence and Health Outcomes
Promoting Culturally Competent and Sensitive Communication to Reduce Disparities
Culturally Competent Communication and Health Promotion
Chapter Summary
References
9: International and Global Health Communication
Chapter Preview
Introduction
Global Health Threats
The Demand for Sharing Relevant Health Information Across Nations
The Challenges to Coordinating International Health Promotion
The Future of International and Global Health Communication
Chapter Summary
References
PART V: PUBLIC HEALTH COMMUNICATION CAMPAIGNS
10: Health Communication Campaigns: An Overview
Chapter Preview
Introduction
Stage 1: Planning and Strategy Development
Background and Need
Goals, Objectives, and Strategies
Formative Evaluation
Focus Groups
Stage 2: Developing and Pretesting
Stage 3: Implementing the Program
Stage 4: Assessing Effectiveness and Making Refinements
Chapter Summary
References
11: Theories and Models of Behavior Change
Chapter Preview
Introduction
Health Belief Model
Modifying Factors
Individual Beliefs
Cues to Action
Social Cognitive Theory
Triadic Reciprocal Determinism
The Social Cognitive Theory Model of Health Behavior
Observational Learning and Role Models
Extended Parallel Process Model
Fear Control and Danger Control Paths
Theory of Reasoned Action and Theory of Planned Behavior
The Theory of Reasoned Behavior
The Theory of Planned Behavior
Chapter Summary
References
12: Stage Based Models of Behavior Change
Chapter Preview
Introduction
Response Shaping
Response Changing
Response Reinforcing
Diffusion of Innovation
Four Main Elements in the Diffusion of Innovations
The Innovation-Decision Process
Attributes of Innovations that Influence Diffusion
Adaptor Categories
Stages of Change
Conclusion
References
13: Demonstrating Your Health Communication Program Worked
Chapter Preview
Introduction
Survey Research
Types of Survey Items
Creating Good Survey Items
Levels of Measurement
Measurement Reliability and Validity
Experiments
Pre-Experimental Designs
Quasi-Experimental Design
True Experimental Designs
Factorial Designs
Conclusion
References
PART VI: LOOKING AHEAD
14: Communication, Alcoholism and Recovery
Chapter Preview
Introduction
Alcoholism
Alcoholism Is a Disease
Terminology
College Drinking and Alcoholism: How They Differ
Dominant Narrative of College Drinking
Dominant Narrative of Alcoholism
Competing Narratives: Is It a Disease or a Disgrace
Treatment for Alcoholism and Recovery
The Process of Recovery
Alcoholics Anonymous: Communication and Self Help
Alcoholism and Narratives of Drinking and Recovery
Recovery for College Students
Chapter Summary
References
15: The Future of Health Communication
Chapter Preview
Introduction
The Power and Promise of Health Communication
Advances in the Study and Practice of Health Communication
Opportunities to Become a Strategic Health Communicator
The Future of Health Communication Research, Education, and Practice
We Are All Health Communicators
Chapter Summary
References
GLOSSARY
INDEX
Print
$115.76
ISBN 9781524922665
Details Print Product