RETURN TO SEARCH RESULTS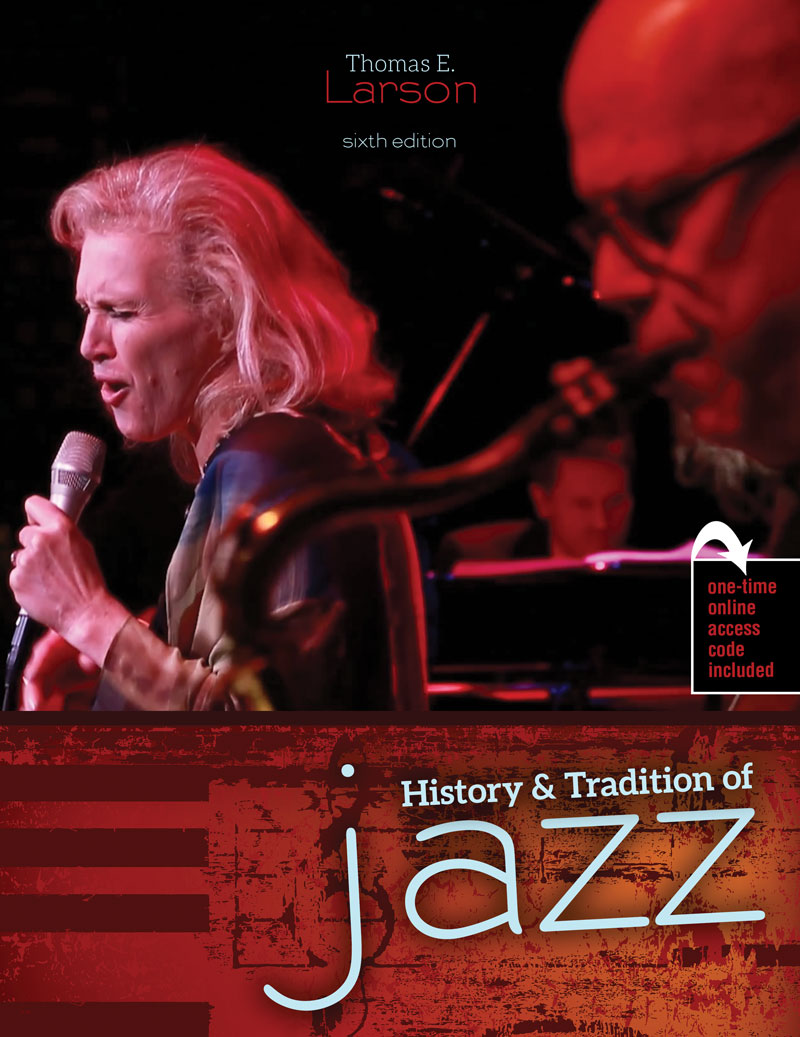 History and Tradition of Jazz
Author(s): Thomas E Larson
Edition: 6
Copyright: 2018
Details: eBook w/KHPContent and KHQ | 180 days |
History & Tradition of Jazz is not just a story of jazz music and musicians, but the struggle to achieve, create, and invent for the sake of this musical art form. The publication features stories and legends of important events and people who shaped jazz history, while addressing how the music has been an important lightning rod for race issues.
History & Tradition of Jazz:
Includes a four-month subscription to Napster, an online music service with access to over 32 million songs. In addition, the text contains written synopses on over 60 important recordings from classic to contemporary jazz. - providing interesting insights and information that assist in understanding the music and the recording artists.
Describes how and why New Orleans, Chicago, Kansas City, and New York became important in the development of jazz.
Features a new chapter on Jazz in the New Millennium. Topics include the emergence of electronic distribution of music and dwindling CD sales, globalization, technology in jazz, and the future of jazz.
Introduces additional key figures such as Ken Burns, Norah Jones, Kurt Elling, and more.
Includes expanded coverage on important jazz artists from the 21st century.
Preface
Acknowledgments
Music Analysis Cuts
About the Author
Chapter 1 Understanding and Defining Jazz
Introduction
Understanding Jazz
The Origins
Defining Jazz
The Jazz Soloist
The Instruments of Jazz
The Rhythm Section
Commonly Used Wind Instruments
Electronic Instruments
Melody, Harmony, Rhythm, and Form
Melody, Harmony, and Rhythm
Form
Some Commonly Used Jazz Terms
Melody
Rhythm
Harmony
Some Other Jazz Terms
Study Questions
Chapter 2 African Music and the Pre-Jazz Era
Introduction
African Music
African Musical Tradition
Characteristics of African Music
Music Analysis: "West African Drum Music"
The Instruments of Africa
The 19th Century African American
Slavery
Music Analysis: "Holler"
"Early in the Mornin'"
Slaves and Christianity
Minstrelsy
Music Analysis: "I'll Meet You On That Shore"
The Blues
The 12-Bar Blues Form
Blues Notes and the Blues Scale
Blues Poetry
Country Blues
The Mississippi Delta
Early Delta Blues Musicians
Music Analysis: "Cross Road Blues"
Texas Blues
Ragtime
Scott Joplin (1868–1917) Piano/Composer
Music Analysis: "Maple Leaf 27
Study Questions
Chapter 3 Jazz Takes Root
Introduction
History of New Orleans
The Crescent City
Musical Tradition in New Orleans
Brass Bands
Funerals
Music Analysis: "Just a Closer Walk with Thee (Part I)"
"Just a Closer Walk with Thee (Part II)"
New Orleans Ethnic Mix
Creoles of Color
African Americans
Separate but Equal
Storyville
The Birth of Jazz
The Earliest Jazz Bands and Musicians
The Cornet Kings of New Orleans
Charles "Buddy" Bolden (1877–1931)
Freddie Keppard (1889–1933)
Joe "King" Oliver (1885–1938)
Other Important New Orleans Jazz Musicians
Music Analysis: "King Porter Stomp"
Music Analysis: "Wild Cat Blues"
The First Jazz Recording
The ODJB and the NORK
Music Analysis: "Livery Stable Blues"
Stride Piano
Important Stride Performers
Music Analysis: "Tiger Rag"
Boogie-Woogie
Study Questions
Chapter 4 The Jazz Age
Introduction
Chicago
The Great Migration
The Black Belt
The Chicago Club Scene
Recording in Chicago
Music Analysis: "Dippermouth Blues"
Louis Armstrong (1901–1971)
Cornet/Trumpet/Vocal/Bandleader
The First Virtuoso
Music Analysis: "Black Bottom Stomp"
The Hot Five and Hot Seven
Armstrong's Trumpet and Vocal Style
Music Analysis: "West End Blues"
"Fatha"
Music Analysis: "Weather Bird"
Armstrong's Later Career
White Chicago
The Austin High Gang
The Chicago Style
Bix Beiderbecke (1903–1931)
Cornet/Piano/Composer
The First White Innovator
Music Analysis: "Singin' the Blues"
Tram
The Demise of the Chicago Scene
Classic Blues
The Blues as Popular Music
Race Records
The Empress of the Blues
Music Analysis: "Gimme a Pigfoot and a Bottle of Beer"
Study Questions
Chapter 5 New York and Kansas City
Introduction
New York City
The Harlem Renaissance
The New York Club Scene
Dancing and the Dance Halls
Tin Pan Alley
The Music Business and the Birth of Radio
The Earliest New York Bands
Jazz in New York: 1920
Birth of the Jazz Big Band
Paul Whiteman (1890–1967)
Violin/Bandleader
Music Analysis: "Rhapsody in Blue"
Fletcher Henderson (1987–1952)
Piano/Composer/Arranger/Bandleader
Music Analysis: "Hot 'n' Anxious"
Duke Ellington Part I: 1899–1931
Music Analysis: "Creole Love Call"
Kansas City
The Pendergast Machine
The Kansas City Club Scene
The Kansas City Jam Session
The Kansas City Style
Music Analysis: "One O'clock Jump"
The Kansas City Bands and Musicians
Territory Bands
The Bands
The Shouters
The Demise of the Kansas City Scene
Study Questions
Chapter 6 The Swing Era
Introduction
Swing and Popular Culture
Opening Night
Cultural Aspects of Swing
The Sound of Changing America
The Swing Band
Important Orchestras of the Swing Era: Goodman, Ellington, and Basie
Benny Goodman (1909–1986)
Clarinet/Bandleader
Meeting John Hammond
Music Analysis: "King Porter Stomp"
The Small Groups
Music Analysis: "Good Enough to Keep"
The King of Swing
Duke Ellington Part II: 1931–1974
Music Analysis: "Black, Brown, and Beige, Part I"
Music Analysis: "Take the 'A' Train"
William "Count" Basie (1904–1984)
Piano/Bandleader
Other Important Swing Era Bandleaders
Chick Webb (1909–1939)
Drummer/Bandleader
Jimmie Lunceford (1902–1947)
Bandleader
Cab Calloway (1907–1994)
Singer/Bandleader
Artie Shaw (1910–2004)
Clarinet/Bandleader
Charlie Barnet (1913–1991)
Saxophones/Bandleader
Other Important Swing-Era Jazz Stars
The Tenor Titans: Coleman Hawkins and Lester Young
Music Analysis: "Body and Soul"
Billie Holliday (1915–1959) Vocal
Music Analysis: "Strange Fruit"
Other Swing-Era Musicians
The End of the Swing Era
Study Questions
Chapter 7 The Bebop Revolution
Introduction
Winds of Change
The Critical Moment
The New Breed of Jazz Musician
The Bebop Counter-Culture
Minton's, Clark Monroe's, and "The Street"
Music Analysis: "Swing to Bop"
New Sounds
Diz, Bird, and Monk
Charlie Parker (1920–1955)
Alto Sax/Composer
Music Analysis: "Koko"
John Birks "Dizzy" Gillespie (1917–1993)
Trumpet/Composer/Bandleader
Music Analysis: "Manteca"
Thelonious Sphere Monk (1917–1982)
Piano/Composer
Music Analysis: "Rhythm-A-Ning"
Other Important Bebop Figures
Bud Powell (1924–1966) Piano/Composer
Kenny Clarke (1914–1985) Drums
Charlie Christian (1916–1942)
Electric Guitar
Max Roach (1924-2007)
Drums/Composer/Bandleader
Dexter Gordon (1923–1990) Tenor Sax
Theodore "Fats" Navarro (1923–1950)
Trumpet
Tadd Dameron (1917–1965)
Piano/Composer/Arranger
Oscar Peterson (1925–2007) Piano
J. J. Johnson (1924–2001) Trombone
Reaction to Bebop and Later Developments
The New Orleans Revival
Modern Big Bands from the 1940s
Music Analysis: "Four Brothers"
Vocalists
Music Analysis: "Lemon Drop"
The Demise of 52nd Street
Study Questions
Chapter 8 Fragmentation
Introduction
Cool Jazz
The Birth of the Cool
The Modern Jazz Quartet
Music Analysis: "Boplicity"
Lennie Tristano (1919–1978)
Piano/Composer
The West Coast Scene
Los Angeles and the Central Avenue Scene
Important West Coast Cool Musicians
Music Analysis: "Corcovado (Quiet Nights of Quiet Stars)"
Hard Bop
The Black Reaction
Important Hard Bop Musicians
Music Analysis: "Moanin'"
Music Analysis: "Boogie Stop Shuffle"
Other Jazz Styles from the 1950s
Soul Jazz
Third Stream
Modal Jazz
Music Analysis: "All About Rosie" (1st part)
The Piano Trio
Music Analysis: "Milestones"
Miles Davis Part I: 1926–1959
Chasing Bird and Diz
Miles' Style
The First Quintet
Kind of Blue
Music Analysis: "So What"
Study Questions
Chapter 9 The 1960s, 1970s and Beyond
Introduction
Free Jazz
Rebellion
Breaking Rules
Playing Outside
Important Free Jazz Musicians
Ornette Coleman (1930–) Alto Sax/Trumpet/Composer/Bandleader
Music Analysis: "Lonely Woman"
Cecil Taylor (1929–)
Piano/Composer/Bandleader
Eric Dolphy (1928–1964) Alto Sax/Bass Clarinet/Flute/Composer
Free Jazz in the 1960s
Miles Davis Part II: 1959–1991
The Second Quintet
"Bitches Brew"
Music Analysis: "Footprints"
Music Analysis: "Bitches Brew"
The Miles Davis Legacy
John Coltrane (1926–1967) Tenor/Soprano Saxophones/Composer
The Angry Young Tenor
Sheets of Sound
A Love Supreme
Music Analysis: "Acknowledgement"
The Coltrane Legacy
Other Important Jazz Artists in the 1970s
Keith Jarrett (1945–) Piano/Soprano Sax/Composer/Bandleader
Freddie Hubbard (1938–2008) Trumpet/Composer/Bandleader
Music Analysis: "Suite Sioux"
Jazz/Rock Fusion
Important First-Generation Fusion Bands/Performers
Music Analysis: "Watermelon Man"
Music Analysis: "Birdland"
Study Questions
Chapter 10 A New Paradigm: Jazz in the 1980s and 1990s
Introduction
Wynton Marsalis (1961–) Trumpet/Composer/Bandleader/Educator
Music Analysis: "The Majestyof the Blues (The Puheeman Strut)"
The Neo-Traditional Movement
Fusion Evolves in the 1980s
Pat Metheny (1954–) Guitar/Guitar Synthesizer/Composer/Bandleader
Music Analysis: "Last Train Home"
Michael Brecker (1949–2007)
Tenor Saxophone/EWI/Composer
Music Analysis: "Itsbynne Reel"
The New York Downtown Scene
Important Downtown Performers
John Zorn (1953–)
Alto Sax/Composer/Producer
Bill Frisell (1951–) Guitar/Composer
Dave Douglas (1963–)
Trumpet/Composer/Producer
Urban Jazz Styles
Music Analysis: "Shards"
Music Analysis: "Entruption"
Continuing the Big Band Tradition
Music Analysis: "Central Park North"
Other Developments in Jazz From the 1980s and 1990s
Jazz Education
Women in Jazz
Other Important Jazz Musicians From the 1980s and 1990s
Music Analysis: "Artistiya"
Study Questions
Chapter 11 Jazz in the New Millennium
At the Millennium: the Death of Jazz
Ken Burns to the Rescue
City of Glass
Important Jazz Musicians in the 21st Century
Esperanza Spalding (1984–)
Bass/Vocals/Composer
Music Analysis: "Endangered Species"
Jacob Collier (1994–)
Vocalist/Multi-Instrumentalist/Composer/Arranger/Producer
The Pianists: Mehldau, Iverson, Iyer and Moran
Music Analysis: "Exit Music (For a Film)"
The Guitarists: Monder, Rosenwinkel and Stryker
Music Analysis: "Echolalia"
The Norah Effect
Is It Jazz, Or Is It Pop?
Beyond Norah: Karrin and Kurt
Music Analysis: "Downtown"
Speaking of Pop/Jazz ...
Jazz+Technology
A New Guy in the Band
Turntablists, DJs and Laptops
Music Analysis: "west_coast_variant"
Globalization: Outsourcing Jazz
The World is Flat
Scandinavian Jazz: Dangerous Art
Music Analysis: "Elevation of Love"
Future Jazz
The Challenges Ahead
Old School/New School
Beyond the Big Apple/The Promise of the Future
Study Questions
Jazz Performance Review Sheets
References
Glossary
Key Terms, Songs, and Music Styles Index
Key Figures and Key Places
Index
I've been using Thomas Larsons' History and Tradition of Jazz for several years. After using and looking through other texts I settled on Larson's mainly because it balances the history of jazz through socio-economic issues and musical styles.
Mitch Paliga | Senior Lecturer
Lake Forest College
"History and Tradition of Jazz is a great way to introduce new students to the richness of jazz, as well as provide deep insight to those with past experience studying this art-form. The musical examples are excellent, and the highly visual style of the book makes it easier for students to learn the key concepts of each chapter."
David Camwell, Simpson College
"History and Tradition of Jazz is an excellent introduction to the world of jazz. It is both academically robust and user friendly."
Jeremy Brown, Mt. San Jacinto College
"I have found History and Tradition of Jazz to be rewarding for both myself and my students. It is concise and direct and covers the material in a very straightforward manner. Larson covers the high points of jazz, the individuals that created it, and those that moved it forward, and into a new realm."
Thomas Kittinger, Harrisburg Area Community College
"History and Tradition of Jazz is a great way to introduce new students to the richness of jazz, as well as provide deep insight to those with past experience studying this art-form. The musical examples are excellent, and the highly visual style of the book makes it easier for students to learn the key concepts of each chapter."
David Camwell, Simpson College
"History and Tradition of Jazz is an excellent introduction to the world of jazz. It is both academically robust and user friendly."
Jeremy Brown, Mt. San Jacinto College
"I have found History and Tradition of Jazz to be rewarding for both myself and my students. It is concise and direct and covers the material in a very straightforward manner. Larson covers the high points of jazz, the individuals that created it, and those that moved it forward, and into a new realm."
Thomas Kittinger, Harrisburg Area Community College
Ebook Package
$90.00
ISBN 9781524998509
Details eBook w/KHPContent and KHQ 180 days