RETURN TO SEARCH RESULTS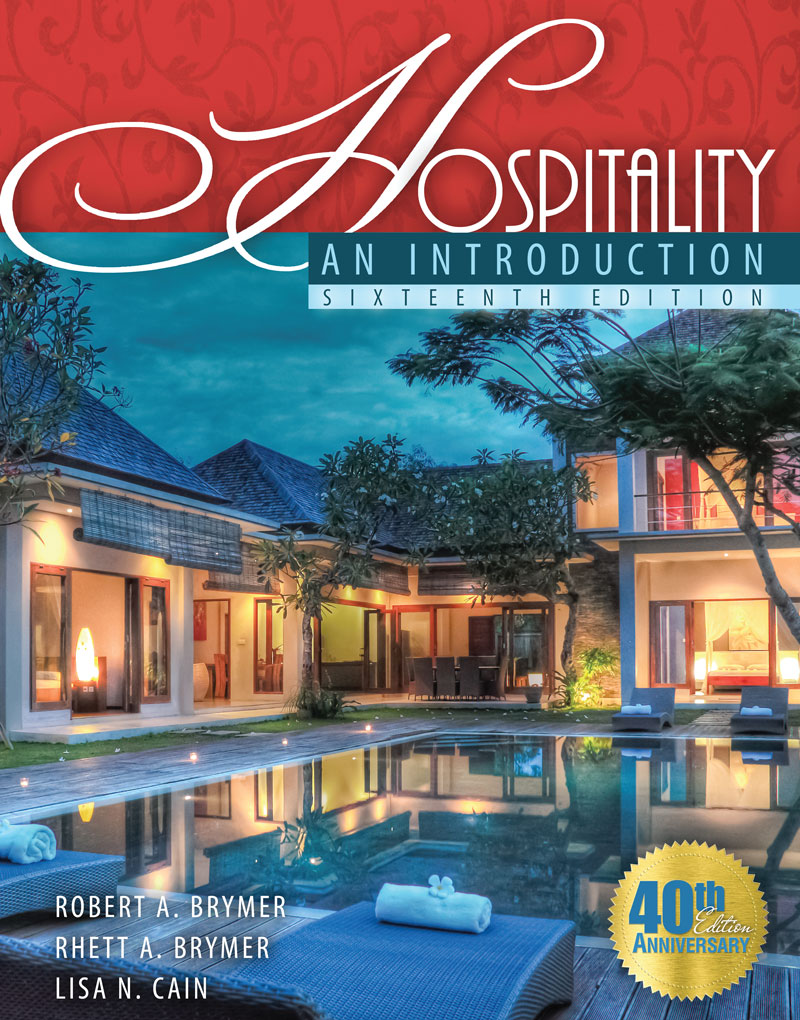 CHOOSE FORMAT ?
Details: Print Product Only (SA,CP, Pak, all Print) |
New 16th Edition Now Available!
Hospitality: An Introduction is celebrating 40 years in print with the 16th edition. This long-standing successful book introduces many of the "must know" topics important to hospitality, within a traditional business framework. It also provides readers with a snapshot of a wide variety of industry career paths, an attribute not found in other books. The goal is to provide a broad-brush survey approach to the hospitality industry, while offering the information needed to help students proceed into more advanced courses and readings. This text explores the topics that make hospitality distinctive.
Hospitality: An Introduction is divided into four distinct sections:
1. Hospitality Industry – gives an introduction, along with the history, future trends, and emphasis on service excellence
2. Hospitality Companies – explores the unique business models found in hospitality companies, and the various trade associations
3. Hospitality Operations – identifies the key functional disciplines such as leadership, ethics, marketing, revenue management, etc., practiced in hospitality businesses
4. Hospitality Career Menu – presents an exciting array of hospitality career options from hotels, restaurants, clubs, events, casinos, cruise ships, etc., with over 20 short chapters that can demonstrate some of the many possibilities for fascinating careers
Hospitality: An Introduction offers the reader a broad introductory view of the hospitality industry, a perspective that can stir-up excitement while creating a thirst for more information in specific career niches. This text provides the basics of the world of hospitality, and most importantly, where a student might fit in. This book is a must read for any students exploring interested in the fascinating hospitality industry.
Part 1: Hospitality Industry
1 Welcome to Hospitality
2 History
3 Emerging Trends
4 Hospitality Service Excellence
5 Industry Trade Associations and Rating Services
Part 2: Hospitality Companies
6 Independent and Entrepreneurial Operations
7 Chain Operations
8 Franchising and Referral Organizations
9 Contract and Asset Management
10 International Companies
Part 3: Hospitality Operations
11 Leadership and Ethics
12 Marketing
13 Managing Revenue and Expenses
14 Human Resource Management
15 Facilities, Safety, and Security
16 Technology
17 Law
Part 4: Hospitality Career Menu
18 Career Expectations and Realities, Lodging, Food, and Beverage
19 Lodging Industry
20 Hotel Operations
21 Foodservice Industry
22 Restaurant Operations
23 Culinary Arts
24 Beverage Industry
25 Bar and Beverage Operations, Club, Sports, and Recreation
26 Private Club Operations
27 Sports and Recreation Management
28 Spas and Fitness Centers
29 Sports and Entertainment Centers
30 Golf Management
31 Sports, Medicine, and Tourism Specialty Areas, More Exciting Career Options
32 Event Management
33 Meetings and Conventions Management
34 Casinos
35 Attractions Management
36 Cruise Ships
37 Senior Services Management
38 Healthcare Service Excellence
39 Management Consulting
40 Real Estate
41 Teaching, Research, and Service
Glossary
Index
Print
$115.00
ISBN 9781465299246
Details Print Product Only (SA,CP, Pak, all Print)