RETURN TO SEARCH RESULTS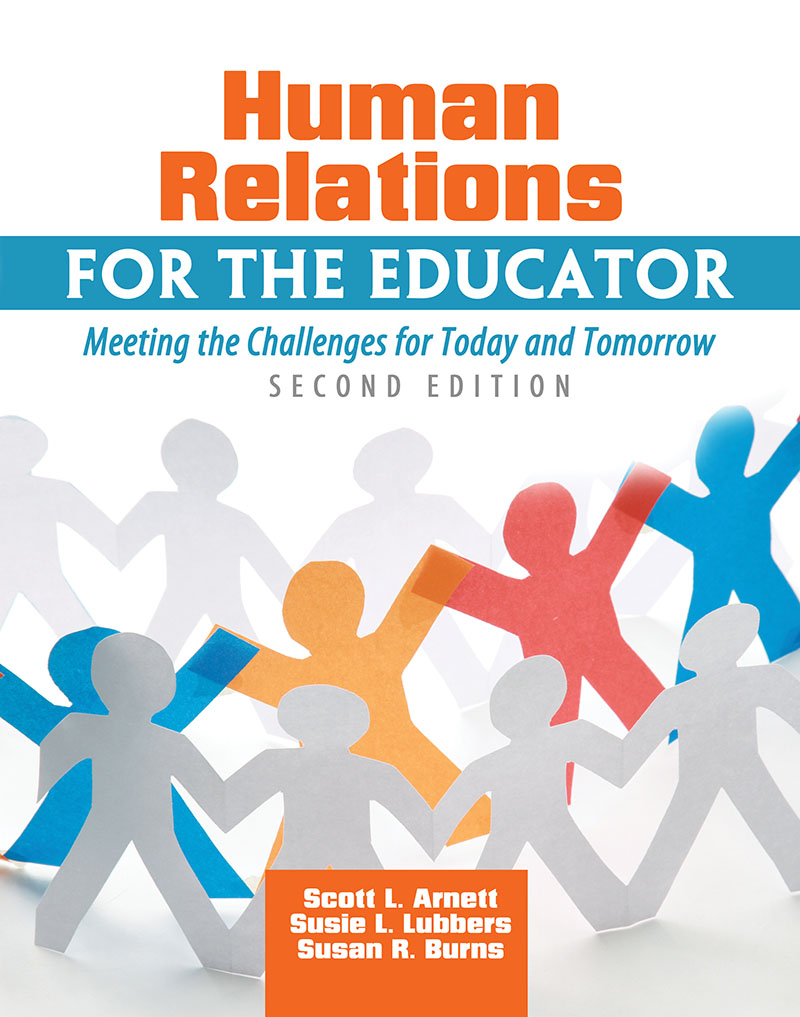 Details: Electronic Delivery EBOOK | 180 days |
The most important challenge facing teachers exists in the human exchange and relationship-building with those he/she works under and works with. Human Relations for the Educator uses an applied approach to give pre-service teachers the essentials skills to promote productive interactions and build on existing relations.

Human Relations for the Educator allows educators to:
see the importance of self-reflection in everything they do.
possess background knowledge in order to establish and maintain productive relationships.
understand, develop, and maintain relationships with students, parents, supervisors, colleagues, faculty, and paraprofessionals.
The new 2nd edition of Human Relations for the Educator equips pre-service teachers with skills in Human Relations needed to conquer the challenges of today's and tomorrow's world.

Topics covered include:
Self development
Understanding perceptions and drawing conclusions
Listening
Conflict management and student diversity
Verbal and nonverbal communication
Acknowledgments
About the Authors
Introduction
Chapter 1 The Development of Self
Objectives
Key Terms
Human Relations De?ned
The Development of Self
Summary
Case 1.A
Case 1.B
Case 1.C
Suggested Activities
Chapter 2 Who Is This Person People Call an Exceptional Teacher?
Objectives
Key Terms
Foundation of All Exceptional Teachers
Self-Re?ection
Effective versus Comfortable
Ethics and the Teacher
Moral Education
Teacher's Role
Code of Ethics
The Encouraging Teacher
How Should We Go About Encouraging?
How Should We Go About Encouraging While Disciplining?
Summary
Case 2.A
Case 2.B
Case 2.C
Suggested Activities
Chapter 3 Understanding Perceptions and Drawing Conclusion
Objectives
Key Terms
Shared Meaning
Interpretation of Perceptions
Johari Window
Summary
Case 3.A
Case 3.B
Case 3.C
Suggested Activities
Chapter 4 Listening
Objectives
Key Terms
Physiological Processes of Hearing
Psychological Factors of Listening
Becoming a Better Listener
Helping Your Students Become Better Listeners
Types of Ineffective Listening
Summary
Case 4.A
Case 4.B
Case 4.C
Suggested Activities
Chapter 5 Verbal Communication
Objectives
Key Terms
Communication
Language
Words Are Powerful
Meanings Are in People
Words Are Culturally Bound
Words Can Have Concrete or Abstract Meanings
Once Created, Communiction Can't Be Uncreated
Words Give Insight Into Thinking, and Thinking in Turn Impacts Behavior
Language Is Used to Name, Explain, and Understand
New Frontier
Words as Verbal Villains
Avoid Sexist, Racist, or Ethnic Language
Meta-Stories
Keeping a Conversation Going and Power Struggles
Communication Apprehension (Stage Fright)
How to Combat Stage Fright
Summary 129
Case 5.A
Suggested Activities
Chapter 6 Nonverbal Communication
Objectives
Key Terms
Verbal versus Nonverbal Communication
Characteristics and Types of Nonverbal Communication
Types of Nonverbal Communication/Behavior
The Touching Controversy
Reasons to Not Touch Students
Kinesics
Perceptual Categories
Oculesics
Vocal Cues and Paralanguage
Reading Nonverbal Cues: Some Helpful Hints
Nonverbal Activities
Other Items for Discussion
Summary
Case 6.A
Case 6.B
Chapter 7 Conflict Management
Objectives
Key Terms
Culture: Individualistic versus Collective
Types of Con?ict
Lack of Understanding
Moral Dilemma
Personal Con?ict
Managing the Con?ict
Brainstorming
Con? ict Resolution Strategies
Balcony View
Empathy Training
Collaborative Style
Disciplining Students
Summary
Case 7.A
Case 7.B
Case 7.C
Suggested Activities
Chapter 8 Student Diversity
Objectives
Key Terms
The Many Faces of Student Diversity
Students from Different Cultures
Race
Students with Disabilities
Students with Diverse Sexual Orientations
Homeless
At-Risk Students
In Summary of the Many Faces of Student Diversity
Culture
Ethnocentrism
Cultural Journey
Stereotyping
Culture Shock
What Is the Purpose for Everyone Being Different?
Summary
Case 8.A
Suggested Activities
Chapter 9 Relationships with Supervisors, Colleagues, Paraprofessionals, and Parents
Objectives
Key Terms
Teacher and the Supervisor
Sexual Harassment
Teacher and Paraprofessional
Teacher and Parents
Teacher and Colleagues
Summary
Case 9.A
Chapter 10 Relationships with Students: Before They Arrive
Objectives
Key Terms
Before They Arrive
Behaviorism
Contributions of Behaviorists
Rules for Teachers
Academic Progress Promotes Productive Relationships
Hierarchy of Needs and Self-Transcendence
Role Theory and Existential Phenomenology
Dependency Issues
Knowing When Not to Help Students
Summary
Case 10.A
Chapter 11 Relationships with Students: After They Have Arrived
Objectives
Key Terms
Idiosyncratic Credit
Self-Disclosure
Trust
Intimacy
Encouragement
Active Listening
We No Longer Blame Students for Educational Failures
Rules for Not Blaming Students for Academic Failures
Summary
Case 11.A
Case 11.B
Ebook
$49.61
ISBN 9781465216397
Details Electronic Delivery EBOOK 180 days