RETURN TO SEARCH RESULTS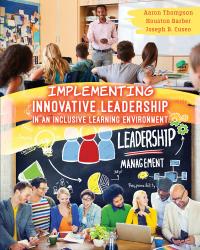 Details: Electronic Delivery EBOOK | 180 days |
"If ever we needed the transformative power of culturally competent educational leadership to drive deep learning, it is now. We need the Why, the What & the How. The Authors of 'Implementing Innovative Leadership in an Inclusive Learning Environment' deliver - with compelling clarity - on all three fronts."
- Anthony Mackay, President & CEO, National Center on Education & the Economy ( NCEE ), Washington DC
Renowned educators and leaders Aaron Thompson, Ph.D., Houston Barber, Ph.D., and Joe Cuseo, Ph.D., collaborate to share their collective knowledge on the successful implementation of diversity into the classroom and community—across all ages and levels.
This publication provides future and current educational leaders with ­effective, research-based strategies for delivering culturally competent, responsive, and inclusive school leadership. The tools offered serve to close the achievement gap while simultaneously promoting the academic achievement and personal development of all students. Created with P-20 students in mind, these proven tactics are applicable across the entire spectrum of education and community development.
Features include:
Authors' Experiences
Internet Resources
Practical Applications
Chapter Purpose and Preview
This is what Allison Slone, Special Education Teacher and Founder of Kentucky Teachers in The Know, has to say:
In a time when equity, diversity, and social justice are the center of societal unrest and revolution, now more than ever we need the kind of leadership in education that results in innovation, growth mindset, inclusiveness, and unbiased decision making.
In Implementing Innovative Leadership In An Inclusive Learning Environment, Thompson, Barber, and Cuseo share how the most effective qualities of school leadership increase buy-in, engagement, and success of both educators and students, especially minority students when diversity in curriculum is intentional, purposeful, and all-encompassing. Reading this book was like having everything I had ever personally felt, believed, or experienced in my own leadership journey spelled out in front of me.
Thompson, Barber, and Cuseo show how leadership often materializes from a place of need or passion rather than training or certification. My own leadership status came from a need to change the education system to ensure my son and others like him, diagnosed with dyslexia, received an appropriate, equitable education. That led to ensuring teachers had the information and resources they needed to stay in the know. I use many of the leadership best practices included in this book to lead twenty-two thousand plus educators by being transparent, dependable, reflective, and resourceful. I always say leading from the front isn't always the best leadership. Great leadership often means standing beside your charge, walking hand in hand. Accomplished leadership comes when you can stand behind them providing encouragement and guidance, as they pave their own leadership journey.
The book demonstrates exactly that, how good leaders encourage others to be leaders, form groups that set and meet goals, give presentations that immerse participants in the learning process, design assessments and activities that address cultural differences and achievement gaps, and strive to not only own, but also address, their own unintended biases. I've always considered myself to be fair and open minded, but as I read this book I often found myself self-reflecting about my own practices and misconceptions.
Through the use of personal stories, quotes, best practices, reflective questioning, and shared resources Thompson, Barber, and Cuseo naturally urge readers to reflect on their personal journey, evaluate prior actions and decisions, and develop a new mindset that includes a more solutions oriented, culturally competent, and inclusive approach to leadership. This book is the most relevant, comprehendible, and useful guide to date that addresses how leadership effectiveness positively impacts diversity in education and results in higher success rates for minority students.
Chapter 1
The Essence of Leadership:
Essential Attributes, Foundational Theories, and Powerful Practices
Chapter 2
The Benefits of Diversity Education:
What Every School Leader Should Know
Chapter 3
The Societal Context for Diversity Education:
Family, School and Community
Chapter 4
Leading Schools:
Models for Facilitating Teamwork & Student Success
Chapter 5
Models for School Leadership:
Creating a Sense of Belonging
Chapter 6
Leadership Application and Culturally Inclusive Assessment:
Evaluating Student Learning with Equity and Validity
Implementing Innovative Leadership in an Inclusive Learning Environment is absolutely marvelous. I started reading the book and then I had to stop because I had to go and get a pen and a notepad and a highlighter. I hadn't even made it out of chapter one without taking copious notes and a multitude of highlights. Everyone reading this book needs to start with a pen and a notepad and a highlighter by their side. I especially liked Chapter 5, Models for School Leadership, and Chapter 6, Leadership Application and Culturally Inclusive Assessment.
Here are my recommendations:
- Mandatory reading for all juniors in high school
- Mandatory reading for all freshmen entering college
- Mandatory reading for all first year teachers.
- A resource guide for all teachers administrators and leaders of nonprofit and community organizations
Outstanding.
- Edward Powe, founder of Focus on Race Relations (FORR), Frankfort, KY
Implementing Innovative Leadership by Thompson, Barber, and Cuseo is a timely contribution to professional educators in the era of COVID-19. The nation's schools are challenged by the task of delivering high quality and inclusive academic contexts to schools filled with diverse learners. The goal of providing appropriated and accommodating school settings has been further complicated by the recent adoption of online instruction, stay at home schooling, and limited opportunities for direct engagement. Thompson and colleagues provide just-in time guidance for school teachers and leaders struggling to make certain that all children have access to learning settings that enable them to acquire content knowledge and application strategies for the competitive marketplace of work and/or higher education. This volume delicately balances theory and practice in a manner that provides for both use as an academic text and personal resource guide. Implementing Innovative Leadership is a must have for any educator committed to creating safe and equitable learning environments for all students.
- M. Christopher Brown II, Ph.D., President, Kentucky State University
Thompson, Barber, and Cuseo offer valuable and authentic information and guidance for those leaders wishing to implement innovative leadership and create an inclusive learning environment. Each chapter is a thoughtful mix of information and inspiration. There is enough content here to carry an undergraduate or graduate course, to lead a series of workshops for practitioners, to satisfy scholars, and to enable an individual to manage her own professional development. This is a well-researched, audience-focused, authentic journey of a read. I highly recommend it for all levels of leaders and I encourage all measure of thought-partners to use this book to enrich our communities of learning and learners through the conversations Thompson, Barber and Cuseo invite.
- Beverly Schneller, Ph.D., Vice Provost for Academic Affairs and SACSCOC Liaison at Kentucky State University
Implementing Innovative Leadership in an Inclusive Learning Environment promotes acceptance and appreciation for all students. Deeper learning leads to the essence of leadership to be adaptive and bring about transformation for students. An exceptional read to bring about change in our schools.
- Randy Poe, National Center for Transformational Leadership Strategies (NCTLS); NKY Education Council
This is perhaps one of the most relevant and actionable resources for educators on the market today. I believe the best educators are leaders. While there are a many resources to develop leadership skills for those in the business world, there are too few that take the approach of explicitly lifting up educators as leaders. Today's educators need the skills of motivating, innovating and leading by example to successfully create a classroom culture of authentic relationships and shared respect.
The material is very relevant for what is happening in our world right now, while also offering timeless perspectives on the role of leadership in education. The many connections made to recent research, even the context of offering theories in development, provide the most current thinking on tough subjects. The storytelling component offers a historical context that illuminates issues of equity that society and education have struggled with throughout history - and yet, it is encouraging to see the window of opportunity to go faster in today's efforts to embrace diversity and inclusion as assets.
- Kimberly Lipp, Executive Vice President, Jobs for Maine's Graduates, Inc.
Ebook
$16.54
ISBN 9781792436802
Details Electronic Delivery EBOOK 180 days