RETURN TO SEARCH RESULTS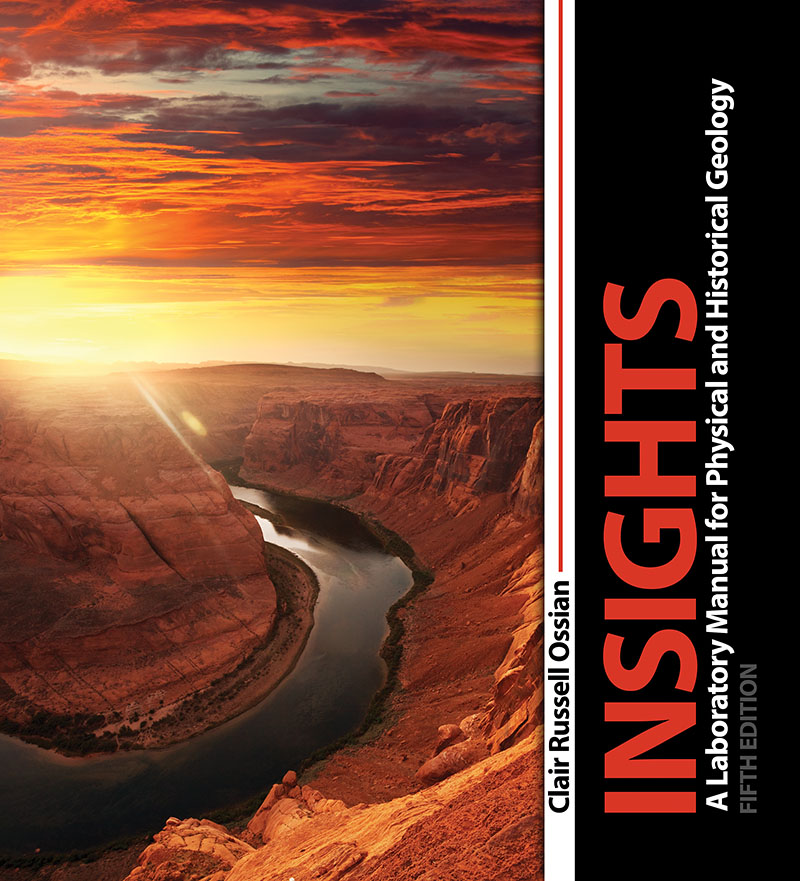 Insights: A Laboratory Manual for Physical and Historical Geology
Author(s): Clair Ossian
Edition: 5
Copyright: 2015
Insights: A Laboratory Manual for Physical and Historical Geology is the ONLY lab manual available which combines historical and physical geology. Separate lab manuals are available to fit specific course needs.
One of the major advantages of the Insights focuses tightly on essentials of both Physical and Historical Geology education and is not padded with filler material. By purchasing this combination manual, a student will acquire core materials for both courses without having to purchase two manuals, providing a significant price savings.
The content provides those essential tools needed for Geology Major students as they move to the next level of geological training. The Geological educator can use the materials in the manual at several levels. There is more than enough here to satisfy the most demanding students.
For students only needing to fulfill their science course requirements, Insights' content is lively, replete with engaging exercises and the illustrations will serve to hold their attention better than any other similar book on today's market.
For your students' needs in Physical Geology, exercises, activities, full-color photos, topographic maps and the varied resources in this book will give students a good understanding of:
identifying rocks and minerals.
maps and mapping.
pace and compass mapping.
geological lessons from maps.
Insights is beneficial for geology majors and non-majors as a powerful tool covering the basics of Historical Geology:
Identifying common fossils
Relative time and absolute time
The ordering of geologic events
Stratigraphy and correlation
Paleontology
Geological structures
Interpreting geological maps
The combination Insights manual emphasizes principles and methods by which geologists discover the origins and evolving nature of our planet over time. Study of these processes is essential in understanding how the Earth is changing, and to give students insight into the methodology and goals of Historical Geology. These topics are essential if students are to understand how planetary materials relate to our complex and ever-changing Earth.
Insights: A Laboratory Manual for Physical and Historical Geology features a 3–ring binder format allowing students to remove exercise work sheets, add their note pages, and gives instructors the ability to supply students additional handouts relevant to a section.
Links to Separate Manuals:
Insights: A Laboratory Manual for Historical Geology
Insights: A Laboratory Manual for Physical Geology


CHAPTER 1 Minerals
CHAPTER 2 Igneous Rocks
CHAPTER 3 Sedimentary Rock Identification
CHAPTER 4 Metamorphic Rock Identification
CHAPTER 5 Introduction to Maps and Mapping
CHAPTER 6 Topographic Maps
CHAPTER 7 Pace and Compass Mapping: Finding Your Way with Map and Compass
CHAPTER 8 Measuring Geological Time
CHAPTER 9 Stratigraphy and the Ordering of Geological Events
CHAPTER 10 Physical Stratigraphy
CHAPTER 11 Introduction to Paleontology
CHAPTER 12 Paleontology and Identification of the Major Phyla—Part One
CHAPTER 13 Paleontology and Identification of the Major Phyla—Part Two
CHAPTER 14 Applied Paleontology
CHAPTER 15 Geological Structures
CHAPTER 16 The Beginnings. Continental Drift and the Discovery of Plate Tectonics
CHAPTER 17 The Mechanisms of Plate Tectonics
CHAPTER 18 Geologic Maps—Part One
CHAPTER 19 Geologic Maps—Part Two
CHAPTER 20 Geology Lessons Learned from Maps
Print
$132.30
ISBN 9781792423574
Details Print Product